Review: Marvin's Room by Trinity Street Players
by Michael Meigs
The title of Scott McPherson's Marvin's Room appeared to me at first recollection to be puzzling or simply misleading. After all, we never do see Marvin, the father felled twenty years earlier by a stroke. That character lives in the dim light of an adjacent bedroom and we glimpse scarcely any of the space he inhabits.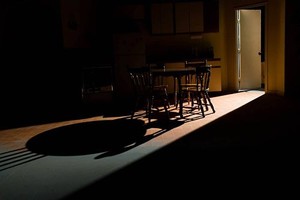 We're drawn instead into a different space, the room that is defined by family connections. It's a space that one may enjoy or flee or shun or simply accept. McPherson gives us the picture of those variations, providing most notably the contrast between two sisters: Bessie, stuck in a humble house in Orlando, who took on the responsibility of caring for their afflicted father and his sympathetic but infirm sister Ruth, and Lee, who cut all ties two decades ago and left to pursue her own life in the North.
That doorway to the blank space where Marvin exists offers a powerful symbol. Aunt Ruth (Laurie Coker), the chipper old woman with a permanently twisted spine, passes through it to visit Marvin and rouses grunts of incredulous delight from him simply by using a hand mirror to send spots of light dancing across the walls. What is he seeing? What's he understanding? Take that further: in our own limited existences in the room that is our lives, are we correctly perceiving our world or are we bemused by some misrepresentation of the eternal, living in a sort of Plato's cave?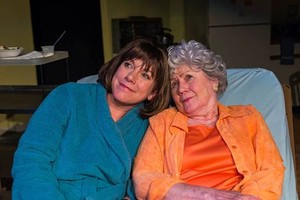 Two kōans occurred to me as I reflected upon Marvin's Room, each of them definitely Western. The first was No one here gets out alive, a phrase I eventually googled out as the title of the biography of Doors lead singer Jim Morrison; and the second was the admonition written above the gates to hell as imagined by Dante: Abandon hope all you who enter here. McPherson's story emphasizes the importance of immediate connections, particularly within families, and balances these against our shared unrealistic expectations of invulnerability.
McPherson's quiet family drama offers fully realized characters along with generous doses of wry humor as it seriously contemplates the human condition. An opening scene with Bessie being interviewed by distracted substitute physician Dr. Wally has the pep and amusement of a vaudeville sketch. Laurie Coker as Aunt Ruth is unconcerned and indomitable despite her frailty, birdlike and clever, speaking with such a sweet Southern lilt that some moments I could have sworn I was hearing my own Alabama grandmother talking. This 1989 play rides lightly over ironies and differences, maintaining our sympathy for all of the characters, and in that respect its emotional context reminded me somewhat of Robert Harling's Steel Magnolias, written only two years earlier.
Peggy Schott creates Bessie the stay-at-home sister as matter-of-fact and plain-spoken, someone who manifests very little reaction to trials and confusions. One might be tempted to read her at first as somewhat simple-minded, but it gradually becomes evident that her apparent lack of affect is misleading. Bessie left rancor behind long ago, and she lives in a resignation so pure that it is stoic in the sense of the Greek philosophers. We learn eventually that Bessie has medical symptoms of possible leukemia, news that she receives and considers without flinching.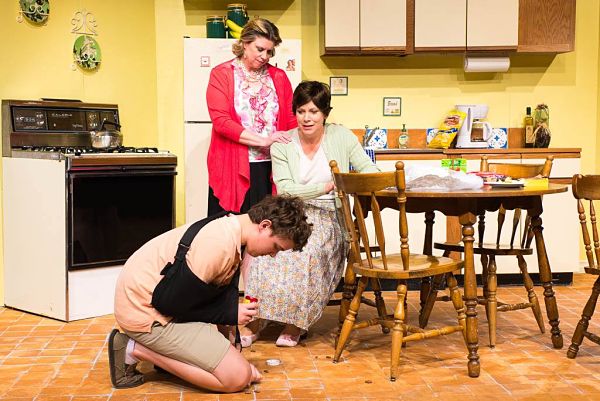 Bessie's malady and the prospect of obtaining material from a blood relative for a bone marrow transplant motivate the further discoveries in the work. Her sister Lee, estranged from the family for decades, is her opposite in character: loud, insistent, expressive and impatient. Lee has her own problems, including particularly a single parent's efforts to discipline and guide her sullen teenage son Hank (Nicholas Bradford). Trinity Street Players regular Linda Miller Raff endows Lee with energy and an alert sensitivity that belies her outward crassness. She hassles her son Hank with tough love, determined to instill good behavior and social awareness; perhaps we're seeing her unconsciously trying to atone for her own youthful irresponsibility.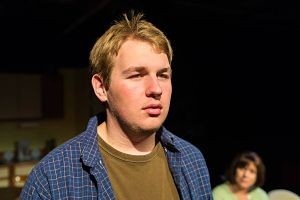 Lee, Hank and second son Charlie (Max King) come to Florida to be tested as possible tissue donors, with Orlando's Disney World a strong attraction for the boys. Within the newly constituted family circle -- or family room -- we see all of these characters discover one another in a succession of scenes that director Cathy Jones helps shape as amusing, dramatic or moving. . . and sometimes, all three. As Hank, Bradford carefully controls his reactions to his mother's insistent thrusts, giving the boy the motionless determination of a tortoise clamped stubbornly within his shell. By listening and demanding very little, his Aunt Bessie will eventually entice the boy out of that shell.
The search for love in a confusing world is the theme of this piece. The fugitive Lee left in search of it; the stay-at-home Bessie found it without realizing it. We hear those revelations and watch as this family creates its own confused affectionate bonds, almost without realizing it, in the everyday business of living together. And the reward of an expedition to Disney World is inevitable -- a moment of distraction and wonder in a life that remains, still, all too much with us.
Trinity Street Players perform at an intimate black box space on the fourth floor of Austin's First Baptist Church, downtown. The connection with the church -- the fact that it's a theatrical ministry -- is not emphasized, and at times the venue is referred to simply as 'First Austin on Trinity Street.' The Players have a clear notion of the role of theatre, however, as a mirror to the human condition, and their programming reflects this. So does their always accomplished theatrical craft.
Next up in this small space is Fiddler on the Roof, to be staged collaboratively with the newly established Austin Jewish Repertory Theatre July 31 - August 31. The TSP and AJRT will be providing both enormous entertainment and food for thought -- completely in keeping with the TSP mission.
---
Marvin's Room
by Scott McPherson
Trinity Street Players
March 28 - April 13, 2014
Trinity Street Players
Black Box Theatre, 4th floor, First Baptist Church
901 Trinity Street
Austin, TX, 78701
Performances are March 28-30, April 4-6, and April 11-13; Friday & Saturday performances at 7:30pm, and Sunday matinees at 2:30pm.

Tickets are FREE, but reservations may be made at http://www.trinitystreetplayers.com/reservations or by calling 512-402-3086. Donations are appreciated.