Review: Jacob's Ladder by Theatre en Bloc
by Michael Meigs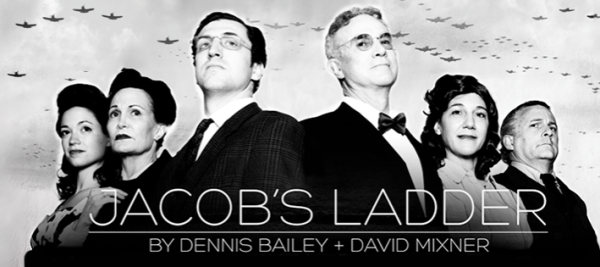 Blake Addyson's sound design for Jacob's Ladder uses big band dance music to paint the sound picture of the wartime home front in 1944. Those Glenn Miller recordings are a fine sound hook for the audience. But while reflecting on this new play by Dennis Bailey and David Mixner, I happened to hear some Sinatra recordings from that period. Perhaps the cheerful romanticism of Sinatra's early vocal work would have corresponded a bit better to the heart of this play than the rousing, smoothly coordinated orchestrations of Miller's commercial broadcasts on CBS. As our protagonist the earnest Jacob Greenfeld begins his initiation to Washington, Miller had been away in uniform for a couple of years with the Army Airforce Band.
That's not an entirely irrelevant quibble, given the tone of the piece. The script by Dennis Bailey and David Mixner is as smoothly constructed and interlocking as a Frank Capra movie. It centers about a hopeful young Jewish couple in Washington, DC. They're sheltered from hardship, devoted to one another and eager to support America's war effort. A tie to 'Uncle Henry' Morgenthau, Secretary of the Treasury, secures Jacob an assignment in the White House. He's both dazzled and intimidated as he carries papers in to FDR for signature. His unexpected vantage point gives him access to secret intelligence and knowledge of discussions about what the Allies should do about the Nazi death camps. Meanwhile, Jacob and his vivacious wife Sara are trying to decide whether to start a family. Important secondary characters are Patsy, FDR's ferocious secretary, Col. Welles the Pentagon liaison to the President, and Sara's Aunt Esther, who escaped from the Germans but left family behind. FDR is close by but unseen in the narrative, following the convention of films of the time.
To a 21st-century sensibility there's a huge pull and discrepancy of themes in this work. The enormity of the war and genocide hang metaphorically behind the sentimental dilemmas and comic confrontations at home and outside the Oval Office. Jacob intently follows debates over a proposal to conduct bombing raids against the death camps, the crematoria and support infrastructure. In the final scene he steps out into a spotlight at the forefront of the stage to address us as members of the World Jewish Congress and delivers a speech seeking to force the issue.
Our vision of the big picture is deliberately narrowed to Jacob's. The murders of European Jews take the forefront; meanwhile, he receives only the slightest of hints of the impending invasion of France. If this work were intended to allow us to grasp the risks and rationales of intervening against that death infrastructure, we would also need a better understanding of the positions of the most significant actors. Opinion was divided among Jewish organizations until it was too late, while technical, strategic and political considerations of the Allies were focused on invasion of German-occupied Europe. Monday-morning quarterbacking by some 1970s analysts suggested that more might have been achieved.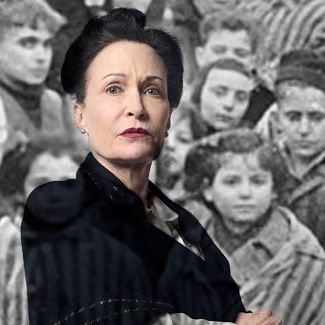 If you can pull back from that disturbing central theme you can enjoy solidly entertaining characters, the accomplished actors who inhabit them and the enchanting visual design of Jacob's Ladder. Zach Kleinsmith has an appealing, slightly goofy seriousness, and he gives us both Jacob's diffident awkwardness and his principled concern. The lovely Jenny Lavery sparkles throughout. Babs George has fully assimilated Aunt Esther's dour teasing manner, her Eastern European accent and her tormented back story -- George portrays both amusement and grief with an art so subtle and convincing that she transcends the limitations of a character written perilously close to stereotype.
Jacob stumbles into the Oval Office for the first time and meets an acerbic woman who introduces herself as 'Eleanor Roosevelt.' He falls for it. That's Patsy, FDR's guard dog secretary, her lines so trenchant and ironic that they almost but not quite conceal that heart of gold. With her direct stare and sharp delivery Johanna Whitmore reminds one of Eve Arden at her best.
Jacob's not much more than a tidbit for Patsy to chew and spit out. Balancing her is the Colonel Wells the Pentagon liaison, a curious and not entirely successfully drawn character. Jay Fraley has quite a span to deal with. He has to be dismissive of Jacob, bordering on contemptuous at first; he has to joust with Patsy onstage and romance her offstage, well out of our view; he has to represent military indignation against intrusive civilians and special interests including especially the Jews, and he embodies tensions among the Allies. Though he wears a U.S. uniform he speaks with a British accent, inherited from his mother (why?). Wells's eventual decision to volunteer classified technical information to Jacob is a useful plot device but it's hardly credible in that context and that era.
Tom Byrne as Uncle Henry Morgenthau is properly avuncular and supportive. He serves the plot and represents the voice of reticent and semi-assimilated American Jews. He offers Jacob a voice of reason and caution that Jacob doesn't want to hear.
The authors magic away concerns about espionage, classified material, confidentiality, leaking, proper authorization and oversight. It was simply unbelievable to posit that FDR's secretary Patsy would have sufficient authority to approve delivery of Jacob's policy-weighted speech, based on knowledge of internal discussions but drafted without consultation. His small victory onstage may make us feel good because we sympathize with him in his ethical dilemma, but it isn't remotely close to the real world either then or now.
May I mention a couple of puzzlers? Esther asks Sara to read a letter that arrives from Esther's cousin in the resistance; unaccountably, it's in English rather than Polish or Russian, so Sara has no problem doing so. And there's the 'loaded gun' moment that fails: Aunt Esther admonishes the unhappily quarreling married pair not to forget the brisket in the oven. Amid all the emotional turmoil of that scene, no one remembers the roast. It apparently turned off the oven by itself.
Jacob's Ladder is visually gorgeous. Director Derek Kolluri very effectively uses the spare but vibrant design and Steven Shirey's lighting. The play opens with the characters silhouetted against a brilliant blue scrim; framework windows and doors are flown in to establish the contours at home and in the White House. Transitions occur in silhouette as actors rearrange set pieces with swift economy of movement.
Click to view the program credits for Jacob's Ladder
---
Jacob's Ladder
by Dennis Bailey and David Mixner
Theatre en Bloc
Thursdays-Sundays,
March 27 - April 19, 2015
Boyd Vance Theatre
George Washington Carver Center
1165 Angelina Street,
Austin, TX, 78702
March 27 - 29, April 2 - 4, April 9 - 12, April 16 - 19
Thursday - Saturday @ 8 PM, Sundays 5 PM, Monday performances March 30 and April 13
No performance on Sunday, April 5
TICKETS: $15 -$40 Sliding Scale:
512.522.4083 or theatreenbloc.org