Review: Hamlet (7-person version based on First Folio) by Present Company Theatre
by Michael Meigs
It's undeniable: Hamlet is dark. When we first see him, the protagonist acknowledges to his mother his "nighted color" and replies that "'tis not only my inky cloak, good mother/Nor customary suits of solemn black." But mourning garb is only a minor symbolic indication of the vast darkness that lies across this story. It starts on darkened battlements with a ghost and soon returns there; and the darkness within men's souls is blacker and grimmer than any watch on the walls of Elsinore.
You wait for your escort at the Museum of Human Achievement, an anonymous repurposed warehouse near the railroad tracks in east Austin. A mute cast member with a flashlight opens the entrance door and ushers you into a space of darkness that seems to extend forever. You'll hear some rustling and muttering amongst the gathering audience, and you may well be momentarily blinded by the glare of the flashlight function of an iPhone clutched in someone's nervous hand. In that setting you might well accept the offer of wine to settle your nerves. If not, don't worry; this lengthy production will give you chances to refresh during its two intermissions.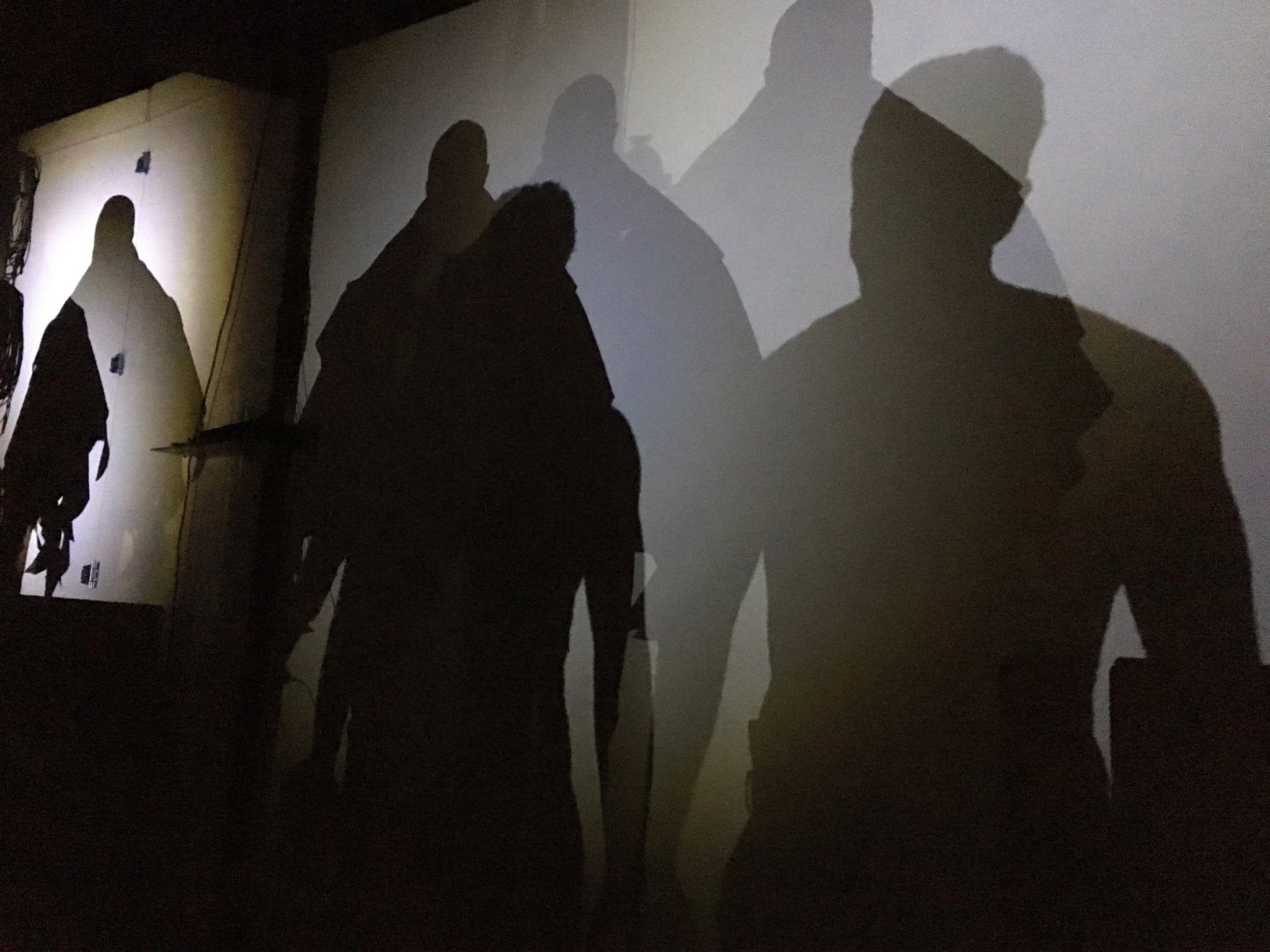 LED beams pierce the darkness as Bernardo and Marcellus stand watch. It's a fine and spooky effect. And when the battlements are cleared, a constellation of hanging bulbs emerges overhead to situate you in the royal court. You're not going to experience this Hamlet as a perpetual mole in a hole, although the darkness will wrap around you regularly enough. Though there are plenty of shadows, you will be able to see the action.
Director Stephanie Carll and a cast of seven present this First Folio version. There's a certain formalism that rules: the slightly curved arc of wall behind the playing space is divided into sections, each lit from below, and the actors sit or stand in those niches most of the time that they're not engaged directly in the action. They shift characters with simple change of costume. And Hamlet is crowded with characters. For example, Judd Farris is a solemn Laertes but with a prance and a fedora he becomes Rosencrantz; Reagan Tankersley is both Horatio and Guildenstern. Samuel Grimes is an exacting Polonius but quite different rough-hewn aspects of him are lit by a miner's headlamp as he's heard in the role of the gravedigger. Illuminated opposite Grimes as the assistant digger is Amber Quick, who appears most of the time as a Queen Gertrude, to the manor born. Hannah Adrian, the wan and distracted Ophelia, wandering through the dark rows of the audience and handing out her faded flowers, turns up after the burial as the fantastical courtier Osric.
Director Carll's humor comes through in the clever Tweedledum & Tweedledee presentation of Rosencrantz and Guidenstern. Their matched attitudes, suspenders, hats and movements reach just the edge of absurdity, as Farris and Tankersley speak almost as if in mind meld. Their twin swagger across the stage invites us to chuckle, but flashes of consternation and concern interrupt the pantomime. The same actors are paired as the Player King and Queen, using mysterious Germanic accents.
Assertive, abrupt and vigorous, Joseph Garlock as Hamlet is full of tension and energy. This Hamlet's brooding is on high boil throughout. Trevor Bissell's delivery of Claudius is eloquent and intent; Claudius offers precision of speech and coherence of character that are seductively appealing. Laertes sounded tired and hoarse, but Farris overrode the touch of larygnitis that gave him a world weariness particularly appropriate for the disasters and regrets of the final scene.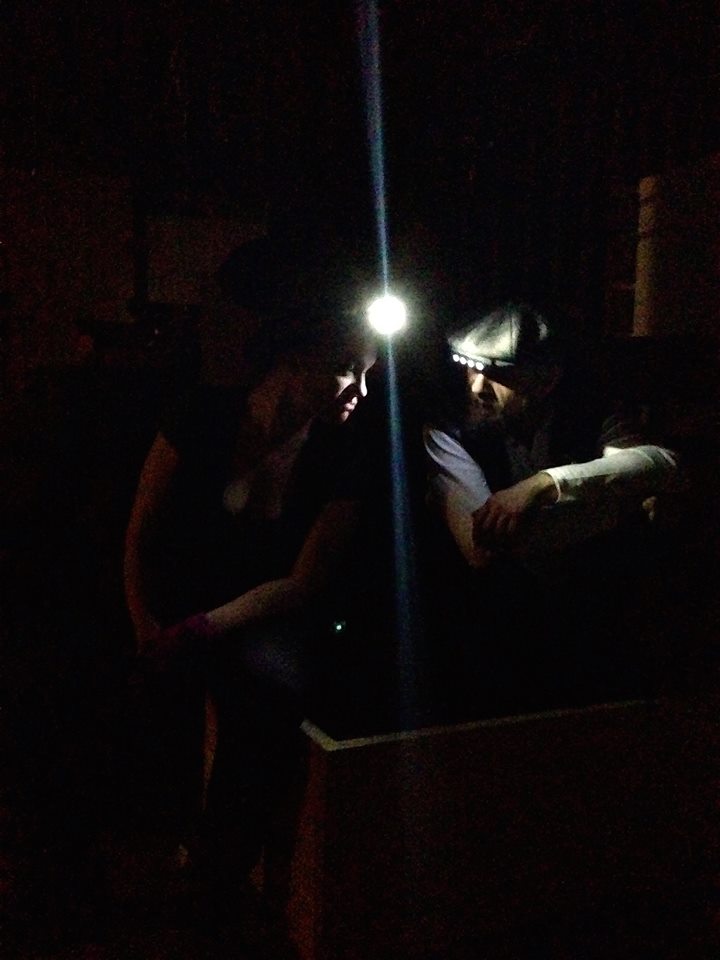 Present Company's Hamlet is an immersive experience, wrapping the spectators in shadows and surrounding them with the action. An elevated mezzanine runs two-thirds of the way around the playing space, so watchers in the floor-level chairs are apt to find soldiers stalking the ramparts behind them or Hamlet's ghost looming at their shoulders.
Stage furnishings are simple, with a coffin-shaped box serving as furniture in some scenes and moved amongst the floor-level audience members to serve as Ophelia's grave. The upper tier of seating has round tables with chairs for snug companies of four or five, who are just as apt to find Shakespeare's characters moving behind them or around them.
There's a particularly clever moment during The Mousetrap play-within-a-play, as Hamlet abruptly requires an audience member to vacate a front-row chair so that he can lie with his head in Ophelia's lap.
Most of the members of this group of Shakespeare confederates have worked together before. Their tight band and multiple responsibilities remind one of a multipurpose traveling company, although we're lucky that they're firmly stationary here in Austin. Director Carll at the 'will call' desk hams it up in Cockney accent and high hat, but she's also responsible for set design and the eerily ear-catching modern sound design. Grimes coordinated production and was responsible for subjects technical, while Garlock did fight choreography for the swift and convincing passes of foils between him and Farris.
This is a fine rendering of the story of the melancholy Dane and the dark world that eventually swallows him and those about him. You awaken from the spell at the end of the night to realize that you've been captivated in Shakespeare's bubble of eternity, and its intensity has absorbed more than three hours. . . and that you almost wish it wasn't at an end.
EXTRA
Program sheet from Present Company's production of Hamlet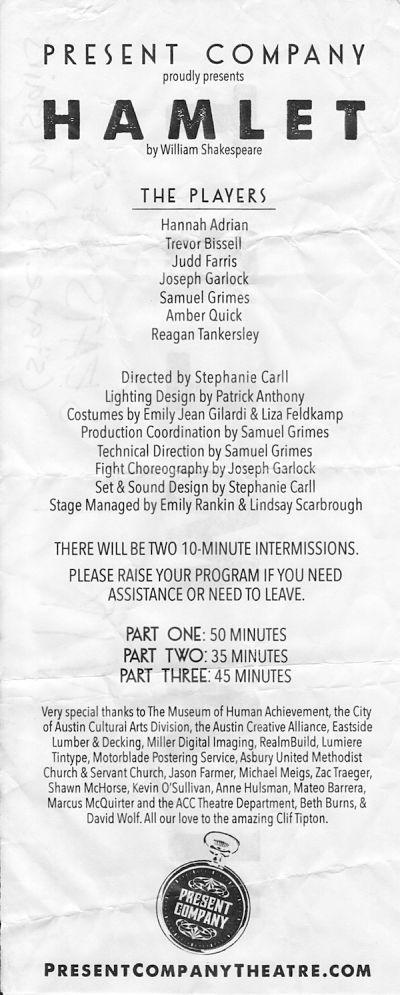 ---
Hamlet (7-person version based on First Folio)
by William Shakespeare
Present Company Theatre
Fridays-Mondays,
April 22 - May 09, 2016
Running FRIDAY APRIL 22ND THROUGH MONDAY MAY 9TH at The Museum of Human Achievement. Specific dates BELOW.
Promoting the philosophy of ACCESSIBLE ART, admission is FREE. A suggested $25 donation supports the artists and event.
RSVP required: visit www.presentcompanytheatre.com for more info, or https://www.eventbrite.com/e/hamlet-by-william-shakespeare-tickets-24040728466 to RSVP.

ONLY 13 PERFORMANCES:

Friday April 22 at 8 pm
Saturday April 23 at 8 pm--stay after to celebrate opening weekend and Shakespeare's Death Day!
Sunday April 24 at 8 pm

Thursday April 28 at 8 pm
Friday April 29 at 9 pm
Saturday April 30 at 8 pm
Sunday May 1 at 8 pm
Monday May 2 at 8 pm INDUSTRY NIGHT!

Thursday May 5th at 8 pm
Friday May 6 at 8 pm
Saturday May 7 at 8 pm
Sunday May 8 at 8 pm
Monday May 9 at at 8 pm