Review: Footloose by Zilker Theatre Productions
by Michael Meigs
I attended Zilker Theatre Production's Footloose ten days ago on opening weekend, and I'm only just now writing it up. They've got a nice long run -- six weeks, four nights a week -- and an Austin tradition of celebrating the summer that stretches back 53 years. Judging from the full parking lot and the large, cheerful crowd lounging on the slope above the Hillside Theatre, Zilker Productions doesn't need much help in selling the production, either. Except for the modest $3 parking fee that probably serves to renovate the Zilker lawn after the summer, the price is zero, nada, free admission for summer theatre entertainment of good quality under the moon and stars.
After all, in classic economic theory, as the price of a good approaches zero, demand approaches infinity. If you were really determined to do so, you could attend this show for nothing at all -- bicycling or walking in and not budging at the intermission when the energetic young cast bounds out to seek donations (suggested: $10 per blanket).
Plus, they will get their reviews. For last year's production of The Music Man, both Elizabeth Cobbe of the Austin Chronicle and Clare Carnavan of the Statesman wrote up the production about halfway through the run.
Male lead Andrew Cannata with his confident tenor, sure dancing and leading boy presence has an admiring following in Austin and will become even better known with this show. He and the core cast of teens rock and clown it up with the showy choreography of Danny Herman and Rocker Verastique. The live band led by Susan Finnigan rocks it out through the muscular sound system, initially from backstage and then later at stage center.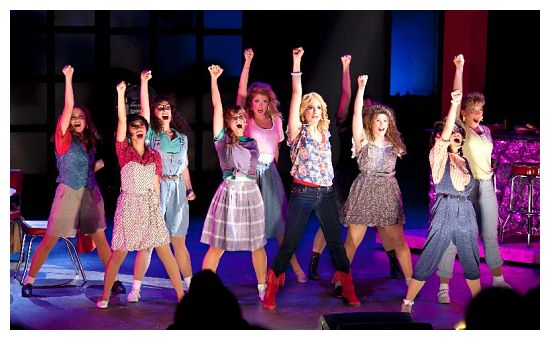 It's a good time. Despite my uncertain hold on American popular culture, even I recognized the principal tunes -- I'm Holding Out for a Hero, which became a mid-80's pop hit and music video for Bonnie Tyler and Kenny Loggins' Footloose, which animates the prom scene in the Paramount Pictures film. I discovered that this stage version dates only from 1998. It has become a standard, especially for community productions. SummerStock Austin has done it, and Anderson High School staged it in January of last year.
Granted, recognized and applauded -- but for a viewer who'd never seen the film or the stage production, the book for Footloose was really, really lame. We're talking Elvis-Presley-movie levels of dumb. Cannata as high schooler Ren must move with his mother from Chicago to the nowheresville town of Bomont (people there are so stupid that they can't even spell the name of the town) because his father has abandoned them. Every adult in Bomont is a pathetic caricature corresponding to a 15-year-old's self-dramatizing view of oppressive adults. Inevitably, Ren is subjected to hazing by the yokels but turns out to be smarter, sexier and more promising than anyone in the place. Chief oppressor of the town is the Rev. Shaw Moore, who has caused dancing to be banned. Ren takes up the cause of dancing and joy, taking his group and groupies to a nearby honky tonk and then heroically lobbying for a high school prom. City council votes no in a patently loaded meeting, but Ren courageously calls on the good reverend and pushes the right buttons. In church the rev. announces there will be a dance, after all (note that he doesn't bother to consult with the city council).
Even with the dice loaded heavily against him, Scott Shipman manages almost to make Rev. Moore believable and human. There's an embarrassing moment of bathos in Act II when the show reveals that the ban was the consequence of an automobile accident in which his son died. Shipman plays it straight in the tune I Confess, establishing for one brief moment that he has understandable feeling and motivation. One other nice moment in this world of doltish adults is the duet between Shaw's wife Vi (Sarah Flemming-Walker) and Ren's mother Ethel (Sheree Bristol), Learning to Be Silent -- even if it is reinforcing the contention that these women are complicit in their own oppression.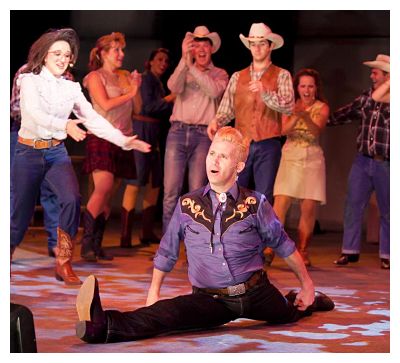 Most fun of all is peroxided shit-kickin' young cowboy Willard Hewitt, delivered with terrific goofy abandon by Leslie Hethcox. It's a role without subtlety, the necessary foil to smart city-boy Ren. Willard tries to be a bully but can't, is too embarrassed to talk to the cute girl who adores him, and supposedly has no idea how to dance (but those reptilian reflexes deep in the cowboy physiology eventually kick in). This show is written for us to admire city boy Ren, but if I had my choice, I'd much rather hang out with Willard, the boy of perpetual wonder and enthusiasm.
Photography is not permitted, and that prohibition is stressed both in the program and in the pre-show announcements, so I have no images to show you (except those added today, two days before the end of the run). Zilker Productions has not posted any performance images at its website. (So who was the guy with the camera bag and all the long lenses, sitting next to me in the very first row below the handicapped terrace?) That's too bad, for Footloose is a bright, showy show with some fine dance moments, and all of those young persons are good looking.
Michael McKelvey's direction is nimble, and, typically, several of the musical numbers wind up with lyrics and poses that in a conventional theatre would cue general applause. In this setting that applause was almost always delayed and often sporadic, with some audience members simply hooting approval. I puzzled and puzzled over that one. Eventually I concluded that in the pleasant summer night, sprawled out on blankets and leaning back in their low beach chairs, a lot of those folks up there had sunk blissfully into Couch Potato-dom. They were happily following the music and the pictures, as if the Sheffield Theatre were a big HDTV. The disposition of the audience didn't correspond to the compression and critical mass that spark enthusiastic, shared approval of the lively and very accomplished performers.
Thanks to all those sponsors listed in the large format 24-page program available for free at the concession stands, and bravo to the company for renovating the dressing rooms at the Sheffield. (Objective for next year: toilets for use of the performers.) Executive Producer Melinda Parr announced with understandable satisfaction that Zilker will be performing The Sound of Music next summer.
Review by Elizabeth Cobbe for the Austin Chronicle, July 21
Review by Rachel Perlmutter in the Daily Texan, July 25
EXTRA
Click to view extracts from the program for Footloose by Zilker Productions
---
Footloose
by Dean Pitchford, Walter Bobbee
Zilker Theatre Productions
July 08 - August 13, 2011