Review: Evita by McCallum Fine Arts Academy
by Michael Meigs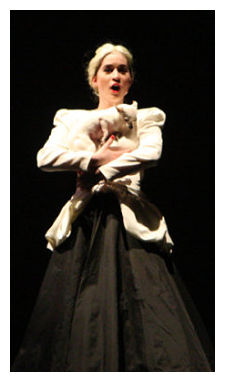 McCallum Fine Arts Academy's production of Evita, playing last weekend and next, is a bravado performance, a challenging musical act carried out on the tight wire between two languages.

Technical director Scott Tatum greeted the opening night audience with the news that this is not only a bilingual performance; it is the first bilingual performance of the 1978 piece by Andrew Lloyd Webber and Tim Rice. The McCallum staff spliced together the scores and libretti used for the performances on Broadway in 1978 and in Madrid in 1979. Titles projected above the stage provide the translation into the alternate language.

Upping the theatrical ante, they've double-cast the leading roles in this strenuous, cynical musical version of the life of Evita Perón. That may well encourage supporters to attend more than once -- for example, I happened to sit next to the grandmother of the alt-Evita, Aline Mayagoitia. Aline was part of the undifferentiated chorus that evening.

A theatre reporter already hard pressed to cover the hellzapoppin Austin theatre scene can't help but feel a pang of regret at missing that alternate performance, with a fully bilingual leading singer.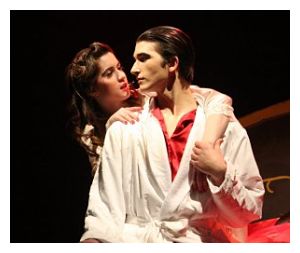 For opening night, Sarah Miller-Crews as Evita was intense, melodic and convincing, making Evita's
deliberate apotheosis entirely believable. Miller-Crews manifested the self-possession of a seasoned player, betraying never a quiver of nerves, not even during a minor costume problem. She showed a serene but fierce body consciousness, essential to the role. In this musical, parvenue Eva Péron is a sexual adventuress, climbing her way to the top -- a British interpretation that so offended the Argentines that the show has never been produced in their country.

Avery Martin as her Juan Péron was solid earth to Sarah's air and fire. His lanky frame and slicked-back dark hair suggested the animal charm of Péron.
Director Julianna Wright, musical director Paul Pew, choreographer Brazie Adamez and the students put their heart into this one, and it showed. There was a palpable sense of excitement throughout, with high energy and decisive action. Ensemble dance numbers were swift-moving and vivid. Women's costumes by Isabel Simpson evoked the time and place. Men's military uniforms were less convincing, looking a bit comic, especially when the pseudo-marching choreography of the discontented officers was not perfectly synchronized. The 16-member pit orchestra hidden offstage and conducted by Carol Nelson deftly handled a challenging score.

Brennan Martinez plays the unnamed mistress of Péron, displaced by Evita. It's a minor role but she nearly stopped the show with the beautiful, melancholy grace of her number "Another Suitcase, Another Hall."

These students and this production travel to Costa Rica this summer, where they will perform at the National Theatre. They'll get a terrific reception there, particularly for the initiative of taking a cross-cultural approach to the material. It doesn't matter that the Argentines are offended; other Latin Americans less tied to Evita as godhead nevertheless remain intrigued by her story. For example, a wildly applauded semi-professional production in the National Theatre of the Dominican Republic a few years ago ended with Evita levitating Christ-like to the heavens.

Even so, for a superb performance, a bilingual score and libretto require a fully bilingual cast. There's a curious disconnect in this show between the languages, due to the Spanish reworking of the texts to fit the music and due to awkwardness of monolingual English speakers delivering Spanish by rote. At times, imprecise diction even in English made me wish fleetingly for English-language super-titles for some numbers. Instead of capturing the nuances of either language, one had to ride the sonorous music and enjoy the movement and the rhythms.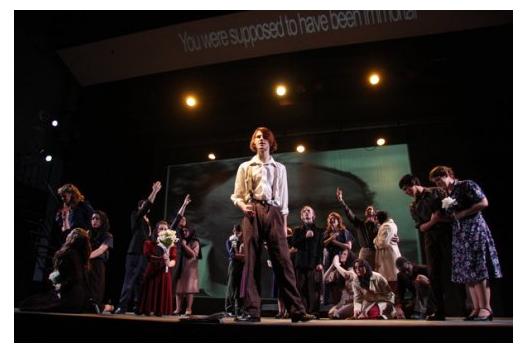 One particular complaint, and excuse me for raising the matter: men's haircuts. Argentines in the 1930s, particularly the military, just did not look like they'd been cruising Texas blacktop roads in pickup trucks. Avery Martin as Péron managed the problem in handy fashion with the equivalent of Vitalis and a comb, as did Sloan Buffum-Robbins, less elegantly, while playing the tango singer Augustín Magladi. But fluffy hair just doesn't go with a military officer's cap. Rush Evans as the narrator-commentator figure Ché Guevera doesn't have to look like the real Ché, but the show would benefit if he and the other guys submitted to a sharp trim or at least a Latino styling.
Robert Faires' feature for the Austin Chronicle, March 4

EXTRAS
Click to view McCallum's dramaturgical guide to Evita
Click to view list of musicians in orchestra for Evita
Click to view program for Evita by McCallum Fine Arts Academy (7.5MB)
Cast performance at KLRU television fundraiser (No. 2 of 2)
Hits as of 2015 03 01:3886
---
Evita
by Andrew Lloyd Webber
McCallum Fine Arts Academy
February 25 - March 07, 2010