Review: Dulcey and Roxy at City Hall by Breaking String Theater
by David Glen Robinson
"This is a strange play about hope."
That is the self- assessment of Playwright Maksym Kurochkin speaking in a video at the very end of his play Dulcey and Roxy at City Hall, A Play for the Theater of Arrhythmic Bullshit.
By that point the audience cannot deny the truth of his words. The strangeness of the work is its informal structure as a black comedy, but one that offers strong drafts of surrealism and absurdism on the way to hope. The way is somewhat circuitous and often obscured by thickly woven dialogue patterns. But there is a way to follow, and an unusually clear-spoken cast, exceptional by even Austin's high standards, points it out. We follow that pathway, laughing and astonished all the way, and discover a play that's a cry from the heart. Its shout spans the globe and casts headlines that will appear in the future. And the future is not pretty at all.
Originally subtitled A New Play for Austin, the work is set in an American city, superficially Austin, Texas. The central playing space at the Salvage Vanguard represents the sumptuous chamber of the mayor and city council, located among downtown skyscrapers. Designer Ia Ensterä gives us this, and she once again tops herself and delights our senses. The surreal council table is grounded on a floor pattern resembling black and white TV static, seemingly flickering and insubstantial, the sole support of all the imagery of the play, leaving us to wonder at the reality of anything that happens here. Not unlike our thoughts at anything that issues forth in "real life" from City Hall at Cesar Chavez and First Street.
Lights come up on Council member Paul (Ryan Hamilton), alone in the chamber, indulging in tortilla chips belonging to Mayor Sean (Judd Farris). Paul shows exactly this level of integrity and commitment throughout the play.
Comes the mysterious Vadim (Noel Gaulin), attired like an old caricature of an anarchist and speaking halting English with a thick European accent. He urgently insists on meeting with mayor. Vadim the outsider is a mysterious figure, a potent mixture of Marxist, prophet crying in the wilderness, homeless person, trickster, city and regional planner, shaman, a reincarnated Buckminster Fuller, and Master of Thunder. His messages are all over the lot, ranging back and forth from salvation to condemnation, several times. The casually corrupt and shallow city council responds like a herd of virtual chameleon lizards changing color and intent. They want to abuse Vadim, ignore him or exploit him, support his insistent random notions, deny his existence and accusations, flee, attack the intruder or co-opt him. In Vadim's dizzying and at times almost incomprehensible monologues, playwright Kurochkin touches on moon towers, O. Henry (and the conspiracy theory that he was Jack the Ripper), breakfast tacos, street closures, South By Southwest, and the Mongol sack of Kiev in AD 1240.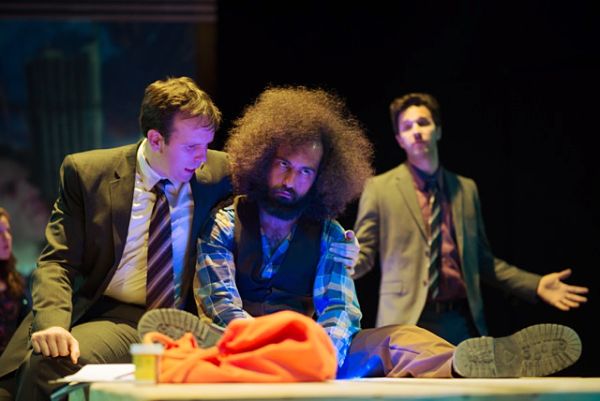 Noel Gaulin as Vadim finds profundity in this performance and commits to it utterly. The show is full of larger than life characters, necessary for this play, and Gaulin's Vadim leads the pack. Gaulin has immense work to do in it. He never falls out of his accent and Vadim is wrought to perfection, a goldilocks characterization. It's just right, and great credit goes to Gaulin and his director, Graham Schmidt. One can enjoy the show fully for Gaulin's Vadim hair alone, the wildest mane on recent theatre record in Austin. And it's not a wig; it's Gaulin's own natural hair.
The audience participation is rambunctious but gentle, at its best when Vadim stands in an upper row and pronounces his ten commandments. Hitting people—take that out of your life. Don't take over municipal land. Of course, don't murder. Do away with breakfast tacos. He gives the rest of the hilarious and idiosyncratic list, taking on a messianic quality that carries through the rest of the play.
Judd Farris's Mayor Sean never falls out of the feckless smile and twinkling eye that say to the world "open for business." For a time in the second act he takes full command of the comedy when he staggers around the table in boxers, dragging around the coveralls he could not remove from his legs. Farris's balance is impressive; he never lost it.
Ryan Hamilton as Council member Paul almost matches Mayor Sean for mismatched underwear and embarrassing fuzzy socks. His one-liners and improvisational sense are the best in the play. He follows Sean around trying to learn how to take payments from "investors." He'd sell his soul cheap if he had one.
Roxy, played by Katy Taylor, is the officious and oppressed office runner who is easily good enough to drink heavily on the job and get away with it. A subtlety conveyed well by Ms. Taylor is that the drunker she got, the more insightful and comprehending she became. Along with that growth came less acceptance of being pushed around. Unlike other recent plays in the city that feature heavy character drinking without much visible impairment, Ms. Taylor actually played drunk as she imbibed too much.
Gricelda Silva's Dulcey is a marvel of clarity, elocution and physicality. Her diminutive quality was played for doll-like affection by and with the taller actors around her. This was an aspect that conveyed a slightly unsettling undertone of child abuse. Of course, that fit right in with the atmosphere of decadence in the council chambers. But when this Dulcey decided to take charge, she was ferocious.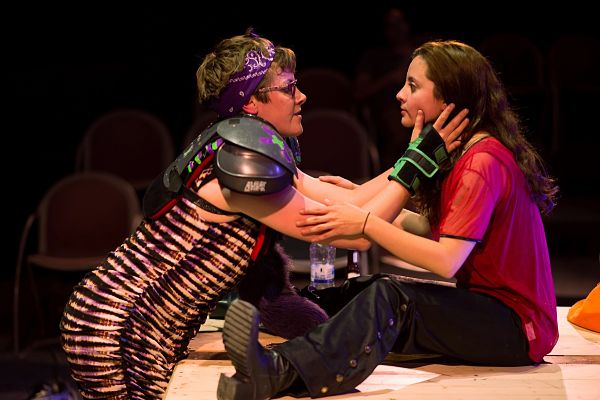 The rest of the design deserves comment, especially the excellently realized costumes designed by Pam Fletcher Friday. And is that a Russian army overcoat on Vadim? Sergio Alvarado's choreography was sharp and very well defined, especially in Act II. The same can be said for the sound design by Buzz Moran. Lee Webster's video had that jumpy, interrupted quality reminiscent of news video smuggled out of war zones.
When Breaking String did a staged reading in November, 2013 of Kurochkin's work in progress, one principal concern of the audience was the apparent lack of depth in the female title characters. Now we have the play in full, one feels that these two female characters may be intentional complementary opposites forming a synthetic whole.
How are they opposed? Dulcey is a shallow taker, who enters asking for money and credit cards. Roxy is a hard-working, wage-earning giver who's thoughtful—and perhaps that's why she pursues inebriation. She holds fast, and that's why she reveres her father's love of O. Henry. Dulcey's frivolity and promiscuity keep her ahead of the power curve. Roxy's drunkenness shuts the world out, giving her a slightly different version of control. Between them they incorporate strategies women employ in our time of too many Austins, too many Ukraines. Perhaps their names in the title are our cues to look for thesis and antithesis in these two characters, not in any male/female matchup.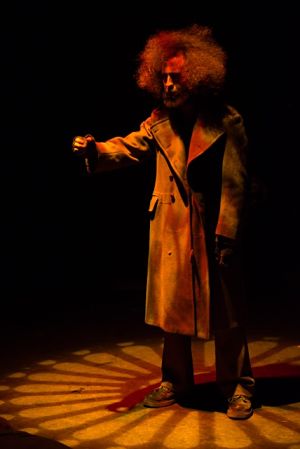 Act I ends with all the strands brought together, in a pivotal and transformative moment. Vadim raises his glass and swears a heroic oath, the hair-raising poem A Slavic Oath by Shalamov. He stands in a column of light created by designer Steven Shirey, compounded of blood, sunlight, and the flames of burning barricades. The oath is on the warrior's fury, the righteously inflicted deaths of enemies, his own death, and death itself. The time could be A.D. 1240 or it could be tomorrow.
Since the November workshop playwright Kurochkin's focus shifted completely to the catastrophe unwinding in Ukraine. He's a Russian-speaking Ukrainian. Instead of simply revising this play commissioned by Breaking String Theater, he continued and extended it, writing as he was compelled by events. The play brings the final locus of hope in the world to the Maidan, the central square of Kiev. Act II is too full of surprises to spoil with any description. It suffices to say that some characters stay in Austin.
Dulcey gives the signature speech of the play, on the helpless "What can we do?" feelings of the audience. Standing on the visionary council table Gricelda Silva speaks clearly, her tones varying between pleading and anger. "Think!" she begins, speaking to the council but pointing directly at all audience members. "They have learned how to disconnect. They are bored; they can go home. They don't believe it is happening to them."
Of course, it is happening to us, and we must not disconnect. Playwright Kurochkin points out the risks and the heavy price to pay for failing. If hope is a smoky, fading ember in a dying world, we must search for it in the ashes of the barricades in Ukraine. The strangeness of this play may well be our guide and comforter.
Dulcey and Roxy at City Hall. A Play for the Theater of Arrhythmic Bullshit runs from May 2 to May 17, 2014 at Salvage Vanguard Theater, 2803 Manor Road in east Austin. I expect the play to have a future and a life far beyond this inaugural run in Austin.
Kurochkin's fierce, satirical despairing work has arrived at the peak of the Austin theatre season, when the theatres are crowded with plays.
No matter. Do not miss this one.
EXTRAS
Click to view the program for Breaking String's production of Dulcey and Roxy at City Hallby Maxsym Kurochkin
Review by Jessica Hinds-Bond in Theatre Review, p. 343ff, via director Graham Schmidt June 2015
---
Dulcey and Roxy at City Hall
by Maxsym Kurochkin
Breaking String Theater
WHEN: 2014 May 2, 3 May 5, 8, 9, 10 May 14, 15, 16, 17 All Performances Start at 8 PM.
TICKETS: General Admission: $15 - 30, Sliding scale Monday, May 5: Artists Pay-What-You-Can Industry Night Student rush tickets released 10 minutes before curtain for all performances: $10 Available at breakingstring.com/tickets and 512-761-3247