Review: Coriolanus by Trinity Street Players
by Michael Meigs
In his March 2010 profile of Austin theatre for World Theatre Day, Austin Chronicle arts editor and theatre artist Robert Faires noted that certain works, including Shakespeare's 'Scottish play' and A Midsummer Night's Dream, "circle round again and again like pop songs in heavy rotation. In fact, Austin theatre companies have a curious tendency to remount all kinds of plays that were staged in the area within the past 10 or so years, as if it were part of the city's recycling effort."
That hasn't changed, as least as far as those Shakespeare stalwarts are concerned. Since that time Austin Live Theatre has noted stagings of Macbeth and Macbeth take-offs by Philip Kreyche, the Sam Bass Youth Guild, a 20-minute version by Robert Deike for the 2012 FronteraFest, the Proxy Theatre in San Antonio, a 1930's gangster style version at the EmilyAnn Theatre in Wimberley and -- now entering its final weekend -- Trouble Puppet Theatre company's Toil and Trouble in which Zac Crofford speaks for the Macbeth puppet as he animates the bloody thane.
In like wise, there's been a surfeit of cavorting of the original rude mechanicals on their midsummer nights: following those of the Baron's Men at the Curtain Theatre in September, 2010, in 2011 there came Shakespeare in Winedale, Playhouse Smithville, the Weird Sisters Theatre Collective, and Actors from the London Stage. This year has seen the rudes riffed in Will Hollis Snider's Messenger #4 and a wheeled outdoor production by the Austin Bike Zoo; San Antonio's Woodlawn Theatre will do it next year. High school productions were offered in Dripping Springs and Cedar Park, and Austin High School's Red Dragon Players are doing A Midsummer Night's Dream this week.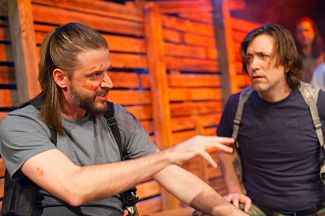 But now we're seeing a more adventurous exploration of the Shakespeare canon, thanks to Kevin Gates and a determined band of relatively young Austin Shakespearians. Gates has the lead as Caius Marcus Coriolanus in a vigorous modern dress production about to wind up a three-weekend run at the black box theatre at the First Baptist Church used by the Trinity Street Players. And auditions have just been held for the equally infrequently performed
Richard II
, to be staged at the Elizabethan-style outdoor Curtain Theatre in February-March, 2013. Gates and Aaron Black will both play protagonist Richard and antagonist Bolingbroke, with each night's assignment of roles to be determined by a coin toss. The ad hoc company calls itself The Poor Shadows of Elysium -- from the epithet used in Act V of
Cymbeline
by Jupiter as he descends from the heavens, seated on an eagle and throwing a thunderbolt.
Does this all sound a bit too obscure and brainy for the Austin public? Perhaps -- but given the evidence provided with Coriolanus, directed by Bridget Farias, the Gates/Black head-to-head promises to be thrilling, both for the plebes seeking entertainment and the patricians enamored of Shakespeare's language and vast inventiveness.
Directing Richard II will be Christina Gutierrez, Ph.D candidate at UT who has done dramaturgy for Austin Shakespeare and others, including this production, and who directed the late Elizabethan revenge tragedy 'Tis Pity She's A Whore by John Ford, staged last year at the Cathedral of Junk. Gates, seeing the writing on his personal wall, has begun a graduate program at Texas State University, commuting for classes but working in Austin, where he just directed Marlowe's Doctor Faustus for the Last Act Theatre Company. These are serious and capable folks, people who know how to interpret and deliver classic drama.
It might be counted ironic that I first saw Gates onstage as Oberon the fairy king in A Midsummer Night's Dream, where he commanded the satyrical Puck of rotund Casey Weed. I wrote that that his Oberon was "as sharp as his Puck is round; that black garb, those electric blue eyes and the tension of his gestures suggest that fairy land may not be for boys and girls."
Ralph Fiennes' film of Coriolanus last year may have put this late work of Shakespeare back into the public mind, however dimly. I first saw the play performed by the Shakespeare Theatre in Washington DC in January of 2000, and I was astonished. Not only by the staging and by the performance of Andrew Long, but also by the fact that Coriolanus is apparently so little performed.
Warrior Caius Marcus prevails over the enemy Volscians, plunging alone into an enemy city and emerging victorious; back in Rome he is hailed by the aristocrats and put forth for election to the post of Consul. He is undone by his reluctance to bend his stiff neck to beg for the votes of the rabble led by two malicious tribunes. They goad Coriolanus into intemperance and outbursts contrary to Roman law and civility. He is eventually condemned to death, with the sentence commuted to banishment. He goes over to the enemy and leads back an army to wreak revenge upon Rome. Conflicts are extreme: clashes of arms, hand-to-hand combat with the Volsican leader Tullius Aufidus, the vicious scheming of internal politics, trials for treason that pervert justice, plebs versus patricians, honor versus duty, manly revenge versus humane reconciliation. Coriolanus is undone, finally, and his fall is that of a hero who never understood or cared for the subtle arts of persuasion.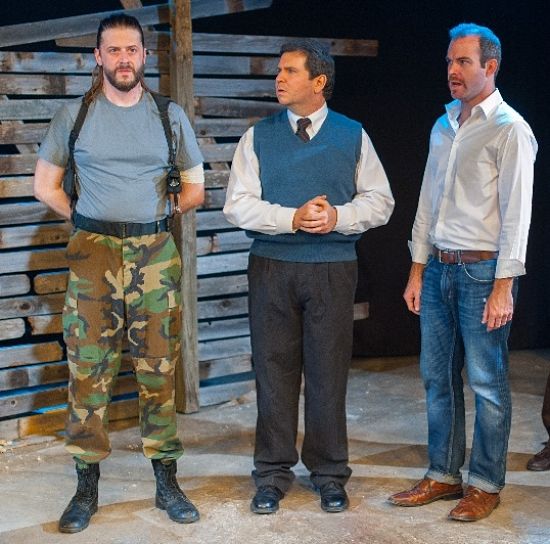 What enchanted me was the arrogance of the man, the swiftness of his attack and the hard-eyed dismissal of the common folk. One critic commented that Coriolanus was "the ultimate Tory" -- a man deeply convinced of his superiority and entirely intolerant of all but a handful of family members and fellow patricians. Shakespeare stresses this quality, both in the comments by his opponents and in Coriolanus' fierce speeches. There's no talk of "the 47 percent" here -- but Coriolanus never doubts that privilege is his natural right.
At the same time, Coriolanus has the spirit of a fierce young boy who never reached maturity of judgment -- he is very like his own son, described by an aristocratic Roman dame as a child who repeated captured a butterfly and then released it, then tired of the game and impatiently tore the creature to shreds. The very last insult to Coriolanus, just before knives are drawn to assassinate him, is Aufidius' dismissal of him as a "boy."
Heroism is undone by infantilism; honor is overthrown by filial duty; Coriolanus' life admits of no shades of gray.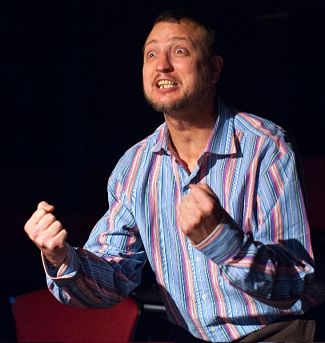 The black box theatre is a virtually empty canvas for this staging, accented only with an abstract construction by Steve Williams and by the lighting of James Jennings. Director Farias, with her ample experience of staging Shakespeare, has chosen a cast that features some real standouts: Gates, of course, but also the scheming tribunes Junius Brutus (David Boss) and sly Sicinius Velutus (Japhy Fernandes) and Sam Mercer as antagonist Tullius Aufidius.
Primus inter pares is Charles P. Stites as Meninius Agrippa, the confident, humorous old patrician who's equally at home chaffing the rabble or reproaching and coaching the impulsive Coriolanus. His is the most reasonable and attractive role in the piece, and Stites makes every syllable and movement count. His presence is so vivid that at times he upstages the whole crowd of players without appearing to move a muscle.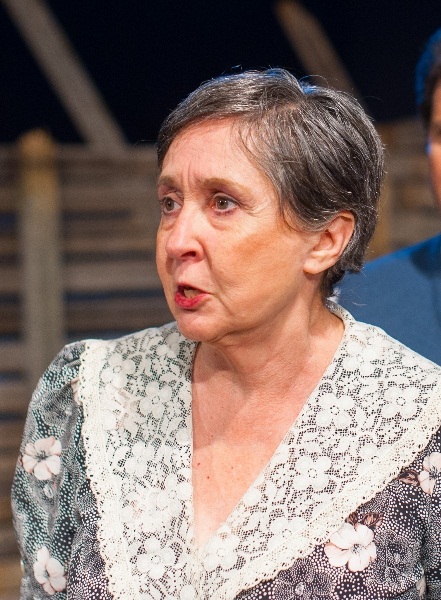 Volumnia, the decisive and dominating mother of Coriolanus, is key to the emotional movement of the piece, and I had imagined her to be larger, fleshier and louder than Chris Humphries. After all, this work is to some extent a tragedy of maternal domination in which Volumnia is something of a she-devil, a woman who exults in the blood lust of her son's battles and scars. Humphries is more focused than that, however, and drier. Her intensity is that of grim conviction. She uses calculated emotional blackmail, first to oblige Coriolanus to stand for the consulship and finally to oblige him to renounce the destruction of Rome.
Action in the fight choreography by Toby Minor occurs almost within arm's reach of the audience. The intensity and energy keep spectators in willing awe.
In 2000 Andrew Long's Coriolanus struck me as if with a broadsword; Fiennes' portrayal in the film is drawn more finely but is still a warrior with a glint of madness, set in a modern world much like that of the unforgiving Balkan wars. Kevin Gates serves us a Coriolanus who's a thinker, a man ready for a fight either physical or rhetorical but who is boiling with feeling. This twenty-first-century Coriolanus shows moments of nervousness and regret when forced into new situations such as the obligatory plea for the voices of the people.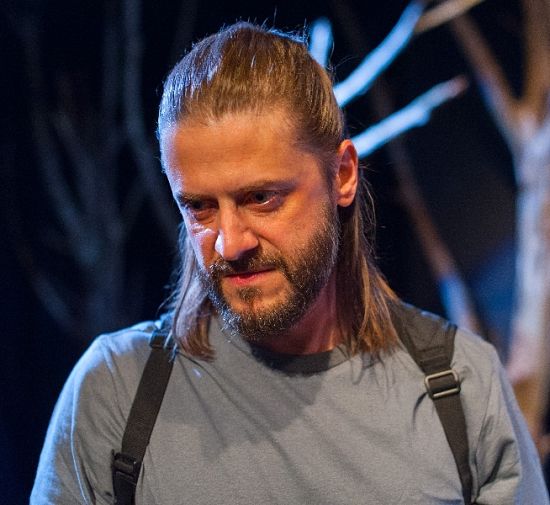 The Trinity Street Players have moved beyond the comfortable confines of the twentieth century with Coriolanus, and they've crafted an impressive and exciting production. There's much food for thought here, as well as the pleasure of witnessing a strong story well told.
Perhaps Caius Marcus Coriolanus, drawn from Plutarch but rendered full and convincing by Shakespeare in 1608, has been neglected because he's so defiantly anti-democratic. Coriolanus offers a challenge to the political correctness of our own day.
Failure, however, is instructive. The insouciance of English royalty over the following twenty years led to civil wars, the trial of Charles I for treason, his execution, and the protectorate of Cromwell. A bit more humility would have gone a long way.
EXTRA
Click to view the playbill of Coriolanus by the Trinity Street Players
Hits as of 2015 03 01: 1611
---
Coriolanus
by William Shakespeare, adapted by Frank Benge
Trinity Street Players
November 02 - November 18, 2012
Trinity Street Players
Black Box Theatre, 4th floor, First Baptist Church
901 Trinity Street
Austin, TX, 78701