Review: Buried Child by The City Theatre Company
by Michael Meigs
Tom Waits' discordant, sardonic music is a perfect match for Sam Shepard's Buried Child. The program gives no credit for sound design, but City Theatre's artistic director Andy Berkovsky tells me that director Caleb Straus made the choice. Like Tom Waits, Shepard brings us into a world of discord and grotesque despair. Shepard creates a distorted vision of the all American rural idyll.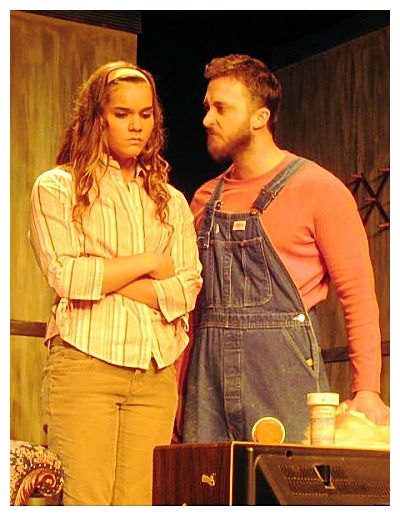 Think you've had a tough time visiting the prospective in-laws? Forget it. Shepard topped your experience, all the way back in 1978, just as Waits was stumbling into alcoholic stardom.


Vince and Shelly take a road trip, heading through Illinois, the heart of America, on their way to New Mexico for an unannounced visit on Vince's dad. Shelly puts up with Vince's enthusiasms and anecdotes about this school, that playground and his other narcissistic memories, and then they pull into the drive of a ramshackle farmhouse in the middle of nowhere. Into the middle of a very bad dream.

Grandpa Dodge is a bleary-eyed immobile mass on the sofa, fixated on getting his whiskey and angrily unwilling to acknowledge any family relationship. Grandma Halie is off spending the night with the parish priest. Vince's own dad, Tilden, turns up, a burned-out case whose attention span can barely reach any further than collecting ears of corn and carrots from nearby plantings that may or may not exist. Vince clears out on the pretext of buying whiskey for the old man. Shelly is left to deal with these whackos all alone. Oh, and there's an Uncle Bradley in overalls, a red shirt and a wooden leg, who intimidates Shelley into a symbolic act of fellatio.

And when Grandma Halie comes back next morning with the priest in tow, there's hell to pay.


This is the play that made Sam Shepard famous. Under the direction of Caleb Strauss from Texas State, the powerful, rhythmic version at the City Theatre shows you why. It entertains as a giant, vivid cartoon of a hopeless outpost at the end of the world.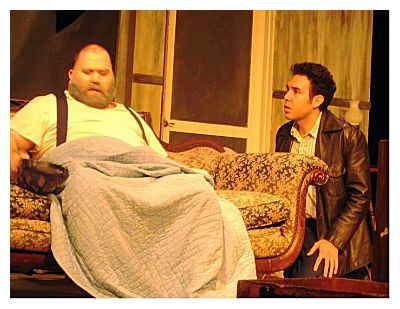 Wray Crawford as Grandpa Dodge is a mean-spirited unfunny Jabba the Hut. Despite the evidence of his eyes, he insists that there has been no corn planted behind the house since 1935. Sons Bradley (Errich Petersen) and Tilden (Rod Mechem) are proof that as the trunk is twisted, so will its offshoots grow crooked. Stephen Cruz as visiting grandson Vince looks clean-cut and hopeful but crawls into a bottle quick as Grandpa did. Samantha Brewer as Grandma Halie is deranged and self-righteous, a termagant from the heartland.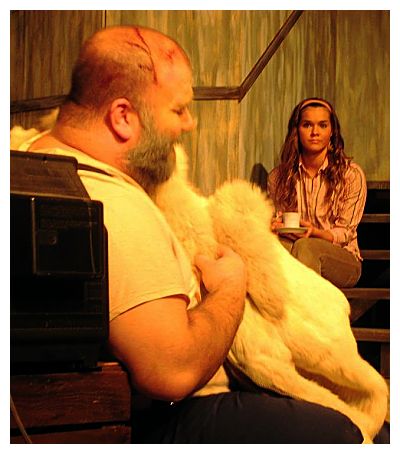 Keylee Koop as the ingénue Shelley is the only healthy one here. This L.A. girly-girl does her best to deal with this world of relentless downers, but she, too, gets to a point when she's goaded to the attack.

Thirty years on, Buried Child has lived beyond its relevance as a cryptic trashing of the American dream. For one thing, the television before Dodge's dirty sofa is mute throughout. Tilden as former all-American sportsman, now virtual derelict, is dwarfed as symbol and morality figure in an age that has seen O.J., Michael Jackson, and Tiger Woods.

In contrast, the corn field image does serve. In fact, that mirage of unending plenty has gained some impact. It still drives us, despite the woes of the economic downturn.


Shepard fashions the script as a tragedy and morality play. Wray Crawford stumbles to his feet for a powerful, wheezing revelation of the version of original sin that brought these characters so low.

Logical? Not particularly; but it's an argument that even if we don't really deserve our misfortunes, we will find some way to explain our loss of hope.
Review by Ryan E. Johnson at examiner.com, February 11
Review by Elizabeth Cobbe for the Austin Chronicle, February 18
EXTRA
Click to view program for Buried Child by City Theatre
Hits as of 2015 03 01: 3225
---
Buried Child
by Sam Shepard
City Theatre Company
February 04 - February 21, 2014