Review: Bajo Terapía by Pedemonte Productions
by Michael Meigs
Argentine writer Matías del Federico's Bajo Terapía places three couples in an absurd and ethically unacceptable group therapy situation, but we're so captivated by the wit and the fast-moving comedy that we don't care a bit about that.
Their psychotherapist Antonia has summoned them to the equivalent of a 'locked-room' group therapy session. Three couples in their 30s and 40s, evidently with no connections other than Antonia, turn up in a room furnished with starkly contemporary furniture, abstract art and a pile of sealed envelopes. The bar has whiskey, coffee and water. Those numbered envelopes contain a sequence of tasks to be completed, and Antonia has left them a horn to be blown to mark the completion of each assignment.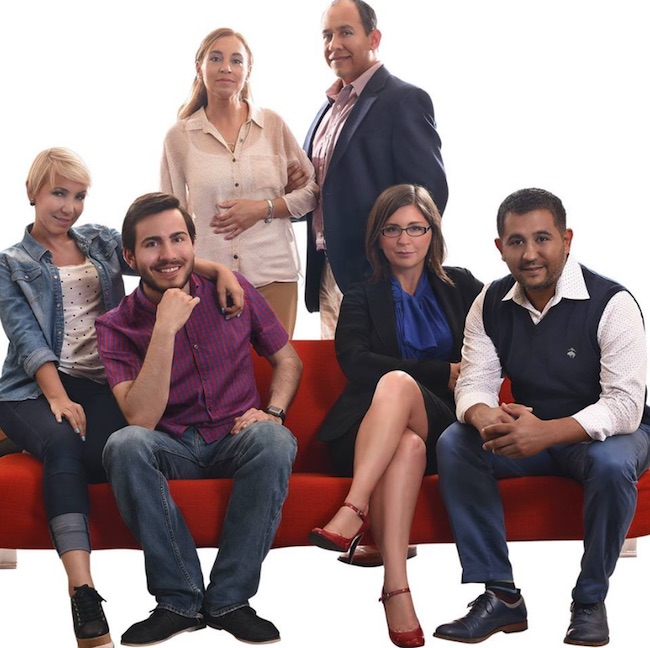 As in any encounter group this becomes a process of revelation. The playwright and this lively international cast of Spanish speakers create three couples who are distinct, vivid educated middle-class city dwellers. Ariel and Paula, married for twenty years, have two sons; she's a busy lawyer. Esteban and Tamara have been together as a couple for several years; he has tried to persuade her they should move in together. Demure and hesitant Andrea gave up teaching to take care of son Robertito; her husband Roberto has only reluctantly agreed to participate in the exercise in couples' therapy.
Alex Pedemonte from Peru directed Austin's annual 'Pastorela' Christmas play in 2011 with a clever counter-traditional contemporary script titled 'Natividad' by Miguel Angel Santana and in 2014 he staged Burundunga by Catalan writer Jordi Galceran. Both of those were for ALTA Teatro, the Austin Latino Theatre Alliance. From November 4 - 19, 2016 with his Pedemonte Productions he directed Bajo Terapía, staged it with assistant director Claudia Chávez at the Santa Cruz Center for Culture on 7th Street across from Huston-Tillotson University, and took the role of Ariel.
Pedemonte has the first sustained comic bit of the evening. After initial ice-breaker exercises, the therapist's notes ask Ariel and Paula to share their most recent concerns. Pedemonte tells the story of his teenage son's automobile accident. He minimizes the incident but his wife Paula (Daniela Ruiz) contradicts him and holds him responsible because of his inattention. Their annoyed bickering sets two principal themes of the evening: the small but persistent conflicts inherent to the lives of any couple, and the ongoing challenges of what James Thurber once expressed as 'the war between men and women.' As discussions continue, boisterous talk and teasing from the guys contrast with women's sympathy and solidarity with one another.
Somewhat younger and more fun-loving, Esteban or 'Tevy' (Rodrigo M. Zaragoza) invented his own successful job as a personal shopper, an enterprise that brought him into contact with Tamara, on the rebound from another relationship. Monica Fossi's Tamara is energetic, mischievous and fun -- but reluctant to commit to shared quarters.
Quietest of them all is Andrea. Veronica Pomata drifts diffidently through all the fast talk as if not quite believing her ears, while her stolid husband Roberto (Miguel A. Santana) does his best to comply with the tasks without really opening up to the increasingly spirited goings-on of the evening.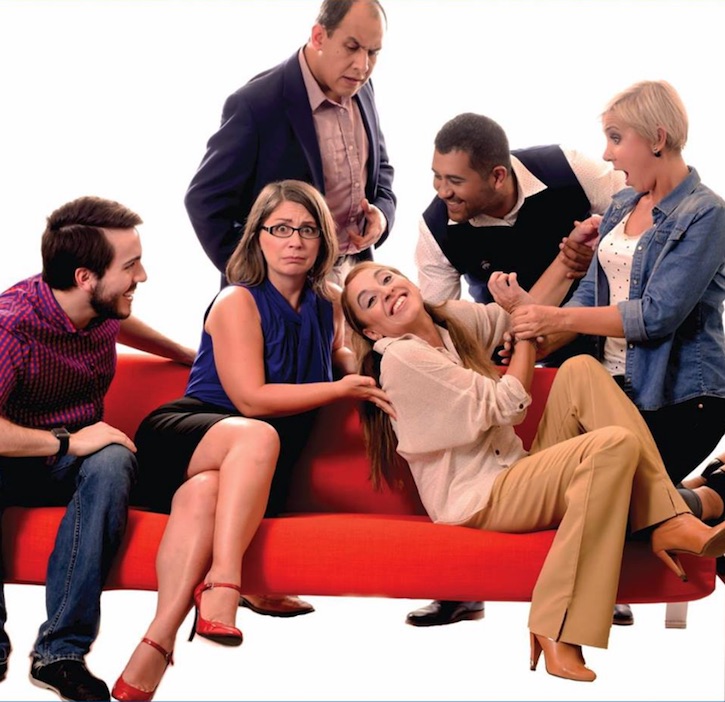 Pedemonte sets a lively pace for the group, both in words and in actions. He takes full advantage of the wide stage, varying points of focus and keeping the actors in persistent motion. As the therapist's directions push deeper into sensitive areas, hilarity of some is offset by bewilderment of others. The bar becomes the focus of a running gag, as quiet Andrea tipples, hides the drink, passes it off to others, and becomes more and more animated. Pomata in that role transforms gradually into a would-be mouse that roars, marking a progression of engagement and feelings that captures more and more of our attention. She reaches a moving climax late in the action, bursting into tears -- real tears, not just wailing.
Bajo Terapía presents itself as bouncy comedy and then brings us to understand and sympathize with each of the fully drawn characters. These actors are all intensely attractive and believable, so much so that one almost wishes that one had the opportunity to step into the same imaginary room and interact with the characters. And to top it off there's a final plot twist that's likely to take your breath away. It won't entirely resolve the early misgivings about the therapist's apparent disregard for professional ethics, but it will leave you in admiration -- and wishing even more for the opportunity to know these characters better.
Alex Pedemonte is as solid, perceptive and unsurprised as his character Ariel. His knowing gesture of tapping the nose indicates a sense for hidden motivations and secrets -- a quality of a fine, perceptive director. This was a production as convincing and professional as any I've seen in this town.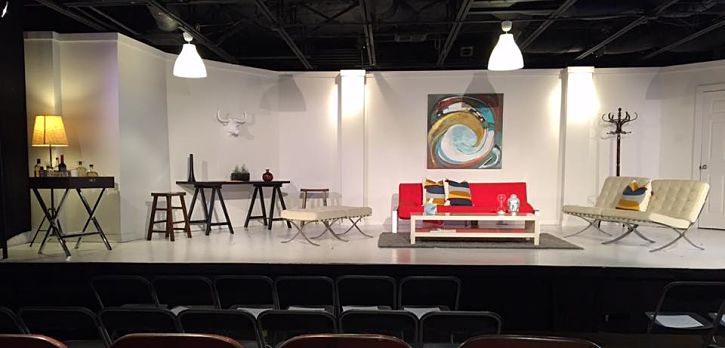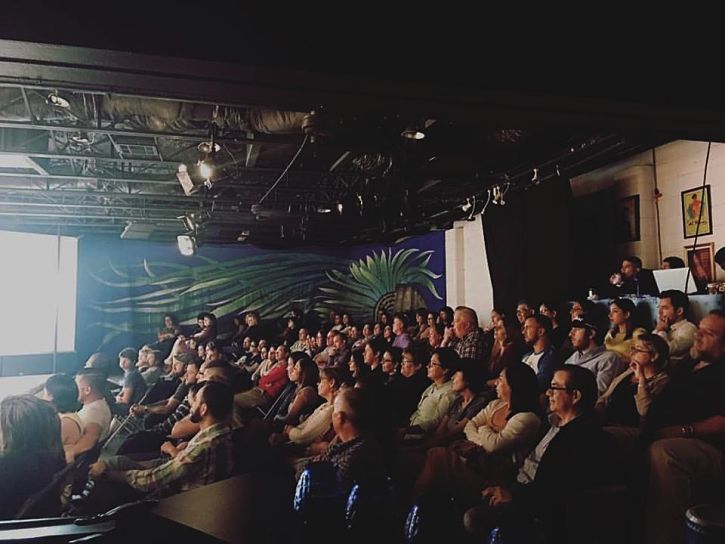 The Santa Cruz performing space is adequate, the technical aspects were impressive, including the music composed and recorded for the play, and there was even a running translation into English projected at far stage left.

In comments to El Mundo newspaper (Austin-San Antonio), the director noted that the Hispanic community in Austin is not particularly engaged in theatre but he and his collaborators hope to change that by offering high quality Spanish-language productions. The enthusiastic reactions of audiences at the 2014 Burundunga and this month's Bajo Terapía confirm that Pedemonte has certainly done that. Moreover, his choice of contemporary work enriches the offerings of Austin's already adventurous stages.
---
Bajo Terapía
by Matías del Federico
Pedemonte Productions
Thursdays-Sundays,
November 04 - November 19, 2016
Thursdays and Fridays at 8 p.m.
Sunday, November 13, 2016 at 5 p.m.
Saturday, November 19, 2016 at 6 p.m. and 9 p.m.
Santa Cruz Center for Culture