Picasso at the Lapin Agile, by Present Company
by Michael Meigs
Usually during performance the theatre artists of Present Company have breeze ruffling their hair, as they stand out on their epic set constructions at Rain Lily Farm in east Austin or scamper around the roof terrace at Whole Foods Market. Not so in Picasso at the Lapin Agile. Their charming production of Steve Martin's clever, goofy play set in 1904 Paris offers a different experience.
Director Stephanie Carll and Production Coordinator Samuel Grimes bring you inside, creating the spacious interior of a turn-of-the-century bistro in an imaginary space that could be Montmartre. That's no small feat, for the Museum of Human Achievement, for all the grandiosity of its name, is an echoing warehouse by the railroad tracks. You step through the doorway into a corridor leading to steps and up to a reception desk where the gracious Carll and friends are checking you in; as you wait, you're serenaded by vigorous live accordion music. An odd mix including not only "La Vie en Rose" but numbers by Dylan and by the Doors gives you a hint of the cheerful time warps awaiting inside. Thanks to Clif Tipton for that.
Present Company proclaims that art should be affordable, and they add to that the corrollary that artists should be paid. Since the house is spacious but not vast, and there are only about as many seats as you might expect in a modest neighborhood bistro, RSVPs are required. Those who can afford to pay are encouraged to do so, with premium seating on and in the playing space given to the generous. And there's a Kickstarter, too.
Martin's concoction brings us to the Lapin Agile ('Nimble Rabbit') where we're greeted by proprietor Freddy (the amiable newcomer Nathan Raley), who circulates in character among the tables opening bottles of wine proportioned to the premium tables. Adding to the apparent authenticity of the experience is the fact that the play itself doesn't get underway until about twenty minutes past announced curtain time. Freddy's girlfriend Germaine (Liz Beckham) and grumbly ancient regular Gaston (Robert Deike) populate a space and time that seem endless yet unchanging. In the shenanigans of the evening Martin repeatedly brings in quirky genius and ties it to lunatic passion. Aaron Black, wearing a derby hat and exaggerated mustache, is Sagot the art dealer, lecturing on aesthetics and gleaming with avarice. Michael Ferstenfeld is Albert Einstein, still toiling by day in the patent office but about to finish the short treatise that will revolutionize physics, and he's eagerly looking for the arrival somewhere, sometime of a mysterious countess. In this piece Ferstenfeld is cast in a role where he can fully exploit his natural Groucho in fine visual and verbal comic style.
Impulsive and fragile, Suzanne (Jenny Lavery) enters the bistro searching for a painter who won her heart and took her body along with it. Joseph Garlock as Picasso is another bit of sublime casting. Those prominent cheekbones and lowering look give him the aspect of a hungry wolf or rampant bull (the stamping on the floor was funny, but perhaps a tad too much). Einstein and Picasso debate the essence of genius and duel with scribbling pencils, and talk turns to the hope for the dawning twentieth century. Our characters are inspired to make predictions, which Martin predictably makes outrageously wrong. Tipton's accordion underscores the predictions and, unfortunately, overrides some of them.
Carll's direction crafts clever interplay between the characters, the accompaniment and the audience. The tempo is brisk, and surprises pop forth like nimble bunnies out of a derby hat. Lavery appears in three different roles, suitably transformed, although I found unfortuante the decision to conceal her face entirely with a lavish hat for one of them.
Where there are two, another must follow: who's the third genius? The playwright tosses two at us, the enthusiastic inventor Schmindeman (Dan Dalbout) and a polite visitor from later in the century (Mateo Barrera). Either seems plausible, although Schmindeman's something of a self-satisfied oaf (a comic type that Dalbout masters).
All in all, Picasso at the Lapin Agile is fine inconsequential fun. Steve Martin's insouciant wit provides an entertainment that brings you up close with an energetic team of artists clearly entertaining themselves while entertaining you. At some point in the evening there's likely to be a break in the theatrical time continuum as a hooting and roaring freight train passes by, and you'll be delighted by the dizzying spectacle that erupts onstage to fill it. Dancing, prancing, audience interaction, a happily chortling accordion and Raley's spectacular juggling in motion are the aspects that stay in memory.
EXTRA
Click to view the program for Picasso at the Lapin Agile by Present Company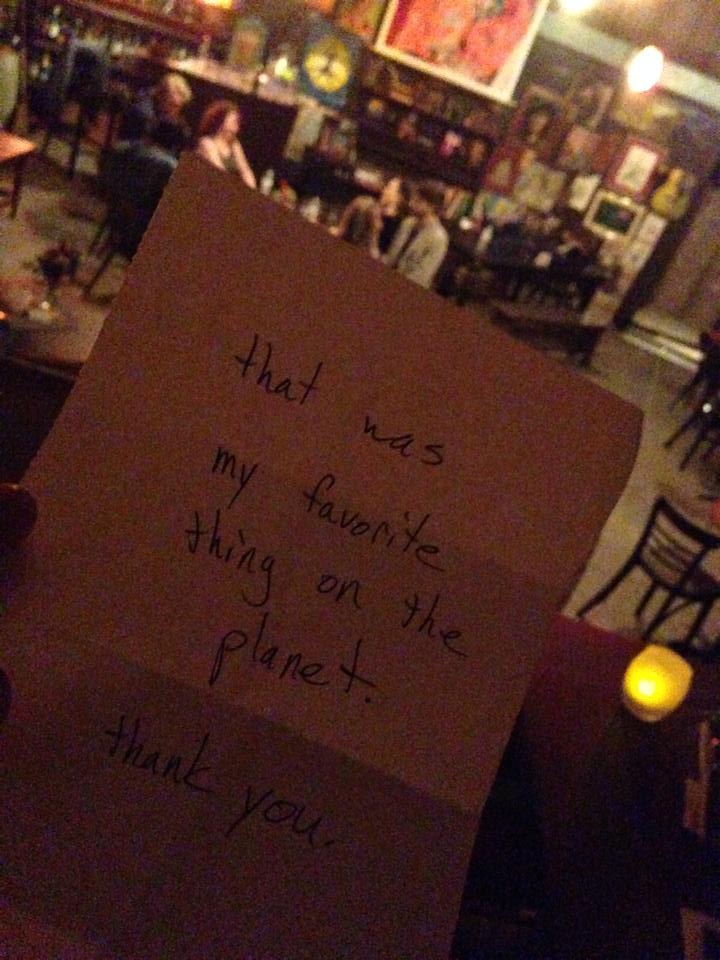 ---
Picasso at the Lapin Agile
by Steve Martin
Present Company Theatre
January 29 - February 16, 2015
Join us for this historic hysterical occassion. The event starts at 8.
Promoting the philosophy of ACCESSIBLE ART, Picasso at the Lapin Agile will be FREE, with a suggested $25 donation to support the artists that make this possible. RSVPs REQUIRED.