Review #2 of 2: Mack and Mabel, A Musical Love Story by Alchemy Theatre Company, Austin
by Brian Paul Scipione
Mack and Mabel opened on Broadway in 1974, garnered eight Tony nominations, and closed after only eight weeks. It is known for the songs "I Won't Send Roses," "I Promise You a Happy Ending," and "Hundreds of Girls" which were composed by Jerry Herman, who also brought the world La Cage aux Folles and Hello, Dolly! The musical was written by Michal Stewart, known for Bye Bye Birdie, Carnival!, and 42nd Street. The debut production starred Robert Preston and Bernadette Peters.
All that talent behind the proscenium arch poses the question why did this production closed so quickly. Kenneth Bloom called it "the saddest failure of Jerry Herman's career." Some suggest that the play was just not in keeping with the fashion of the times; others believe that having a cocaine addict and a bombastic megalomaniac as the leads of the play turned audiences off. Still others blamed the meandering story line and a lack of emotional resonance.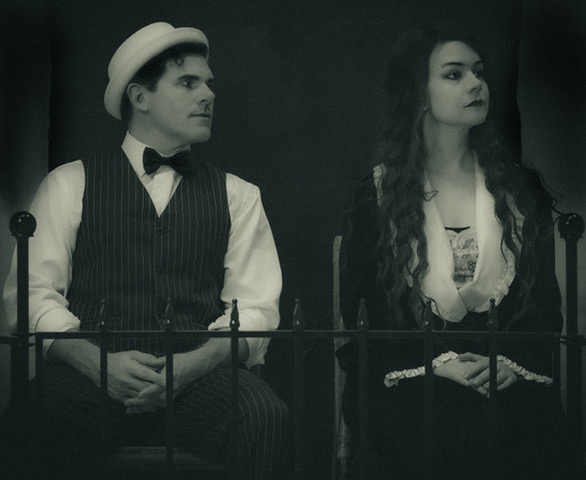 The story centers around the on-and-off-again relationship between Hollywood director Mack Sennett, famous for his creation of the Bathing Beauties and the Keystone Cops, and Mabel Normand, one of Hollywood's biggest silent era celebrities. In addition to acting in many films with Charlie Chaplin and Fatty Arbuckle, Normand directed, wrote, produced, and owned her own film studio. This part of her biography unfortunately doesn't make it into the play as her character is trimmed to a feisty (difficult), funny (immature), drug-addled muse, first for Sennet and later for rival director William Desmond Taylor. This approach gives us a play without any sympathetic characters, which isn't not too much of a problem for horror or comedy but is a big ask for drama. From the very beginning Sennet's abusive treatment of Normand is normalized as a product of the times. Once she strikes out on her own and leaves him for Taylor (which is of course not really going out on her own —it's more like switching abusers), there is not much hope generated for the character.
In opening scenes, Mack Sennet (Sebastián Vitale) reflects on his past cinematic glories and his first outrageous encounter with Normand (Sarah-Maire Curry) whose angry behavior and bold demeanor instantly convinced him that she could be a great comedy star. Normand soon falls in love with Sennet who warns her in "I Won't Send Roses" that he has no time for romance with her. He's committed to pursuing fame and fortune. However, the only movies he wants to make are comedies so when Normand wants to begin working in drama, he will not accommodate her. This leads her to leave and go to work for Taylor. Her number "Wherever He Ain't" proclaims her intention never to work with Sennet again. He shrugs it off. In "Hundreds of Girls" he points out just how replaceable she is. And so ends Act I.
The second act toys with the possibility of the pair reuniting for good, but since the play has begun with a solitaire Sennet, we know that this will not pan out. There are some interesting moments in Sennet's career switch from the silent era to the talkies. They reaches a pinnacle when Katya Welch as Lottie Ames preforms her show -topping dance and vocal routine "Tap Your Troubles Away."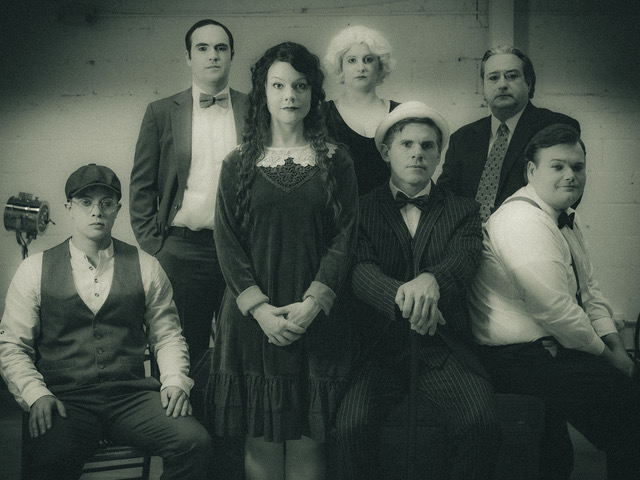 As the hyper-animated Normand, Sarah-Maire Curry is a delight. Her charming voice and larger-than-life mannerisms capture the audience during the show's second number "Look What Happened to Mabel." Curry's >unrestrained emotions and enchanting personality achieve a flawless embodying of a silent screen star. Even though her character is diminished by the plot and the two-dimensional writing, Curry she creates a stage persona that transcends those limitations. Her rendition of "Time Heals Everything" pulls the audience into her miasma of longing and regret, lending the show a welcome moment of raw emotional authenticity.
Vitale, on the other hand, plays Sennet with an over-the-top preening pantomime certainly appropriate to the character's shallow persona. He enjoyed every opportunity to draw out any moment that he could as if he thought he was basking in his own personal spotlight.
Accents marked a further contrast between the leads. Curry entertains by accurately capturing the old-school frisky nasal accent twe've come to associate with the stars of the silver screen. Vitale goes over the top with his performance but stays with the natural inflections of his own voice, especially while singing.
The story of Mack and Mabel is not often told but it is a story as old as Hollywood itself, full of goals and aspirations as big as the letters of the famous Hollywood sign. And as with many Greek myths, the higher one reaches for dreams, the farther there is to fall.
---
Mack and Mabel, A Musical Love Story
by Michael Stewart, Jerry Herma n
Alchemy Theatre Company
Thursdays-Sundays,
April 29 - May 29, 2022
April 29 - May 29, 2022
Thursday, Friday, Saturday evenings at 8 pm, Sunday matinee at 2 pm
Tickets: $40 general admission, $30 students, $55 VIP, plus service fees