Review: Mack and Mabel, A Musical Love Story by Alchemy Theatre Company
by Michael Meigs
An image comes to mind for the musical theatre piece Mack and Mabel (1974) by Michael Stewart and Jerry Herman: a black pearl, infinitely rare, darkly lustrous, almost never seen.
I see so many ways to approach this piece: Michael Cooper's darkly intimate staging of it in the oddly shaped forty-seat Mastrogeorge Theater used by the Carol Hickey Acting Studio; discussion of the sparkling, sometimes blazing talents of this choice cast; examination of why this piece, one of twelve musical works of Jerry Herman that ran on Broadway, disappeared almost instantly from U.S. stages despite receiving eight Tony Award nominations; and perhaps meditations on the tastes of American audiences in stage entertainment.
A précis, then, and after that we'll take those topics roughly in the order cited.
Mack Sennett pioneered silent film comedies, starting in New York around 1910 and moving later to California and becoming part of the nascent film industry in that sunny clime. He adopted a frenetic, slapstick style that kept 'em rolling in the aisles. His Keystone Cops films were hits from 1912 to 1917 or so. The young Charlie Chaplin, not yet the Little Tramp, appeared in a dozen of his short films.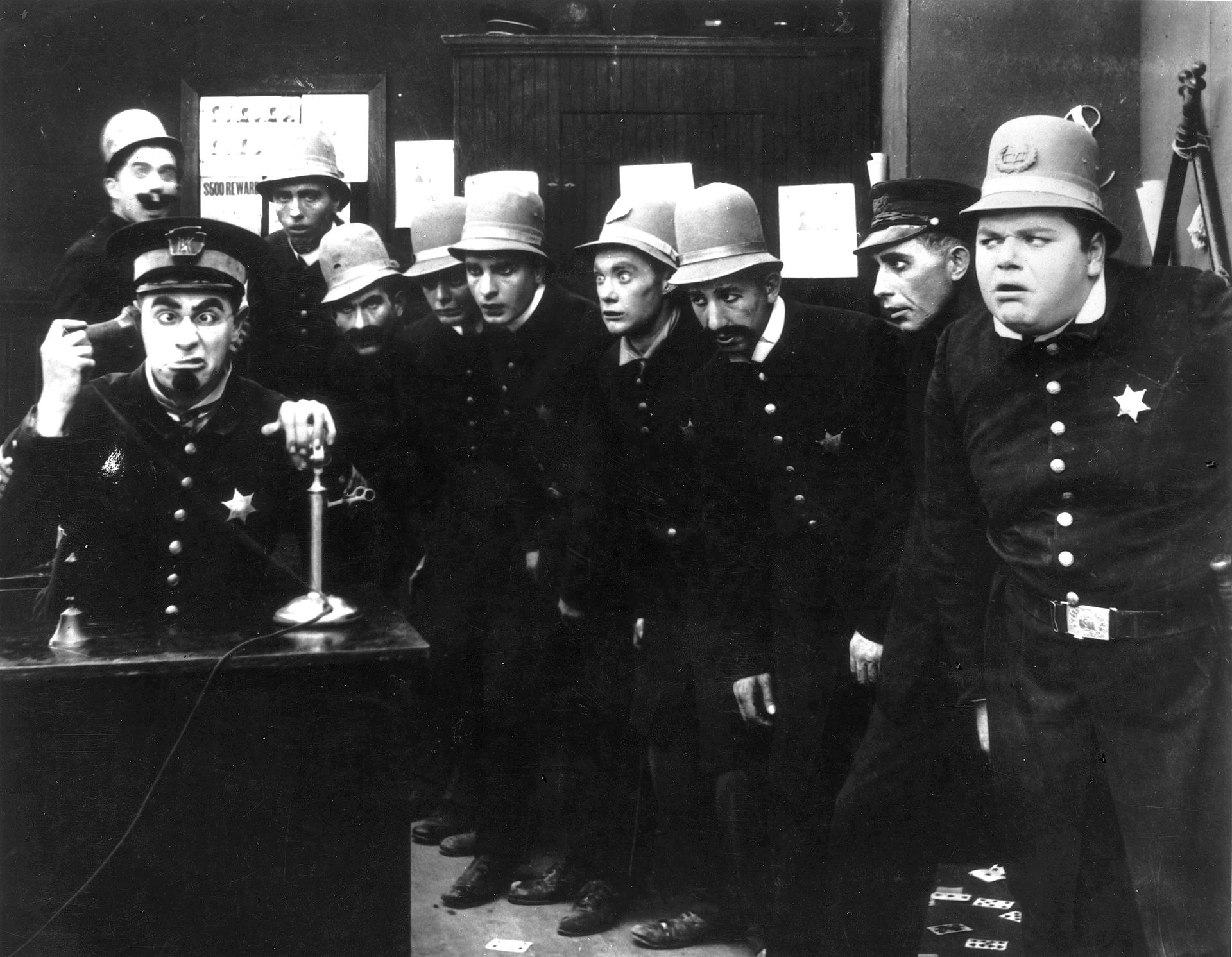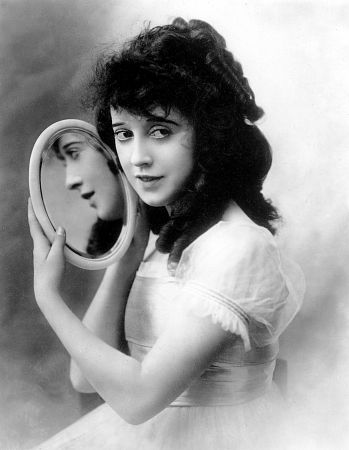 Others who became stars through Sennett's films included Roscoe "Fatty" Arbuckle, Marie Dresser, and Mabel Normand, the character who shares top billing in the Stewart/Herman musical. Mack and Mabel is laid out chronologically as a frustrated romance between the producer and his star, and that reshaping of what must have been a complex relationship omits significant elements of the history. There's a breakup, a rivalry, and Mabel slowly goes to pieces as Mack bulls his way ever onward. She died of tuberculosis, an unhappy drug addict, in 1927; the opening and closing scenes at the Sennett studio in 1938 show a bewildered and embittered Mack.
The Alchemy Theatre Company program notes that Mabel owned a film studio but doesn't explain that was in partnership with Sennett in the late teens. The book suggests that she was an underpaid, overexploited star rather than a full participant in the work.
Much is omitted. There's no mention of Chaplin and none of the trial of Arbuckle, prominent in Sennett's roving cast of movie makers, who was acquitted of responsibity for a starlet's death at a drunken party in 1922. The piece does build on Mabel's relationship with producer William Desmond Taylor, shot to death by an unknown assailant that same year, but it doesn't mention that in 1924 her chauffeur used Mabel's pistol to shoot an oil millionaire. Those scandals turned the public against Normand.
Of course, considerable editing was necessary to focus on the Mack and Mabel relationship. For example, the work is structured to suggest that Sennett invented the Keystone Cops late in the relationship, perhaps to put off filming the "real movie" starring Mabel.
To be fair, temporal confusion is entirely possible in a two-act musical with fourteen scenes, several of them shifting mid-scene to other locations.
The Mastrogeorge Theater was relatively dimly lit during much of the action. Scenes of Sennett black-and-white silents were projected on screens high on the back walls, and occasionally Christopher Shea's contemporary black-and-white portraits of Sarah Marie Curry as Mabel appeared there. The rectangular space is a bit awkward, especially for large-scale movement and dance scenes, but canny choreography by Richard Cerato, aimed at the southwest corner of the playing space, made the most of it. During much of the performance actors not active on the scene/screen sat visible behind the playing area, just one additional reminder that Sennett's art was always a team effort. Ellie Jarrett Shattles adroitly coaxed Herman's melodies out of a rather loud electric keyboard disguised as an upright piano.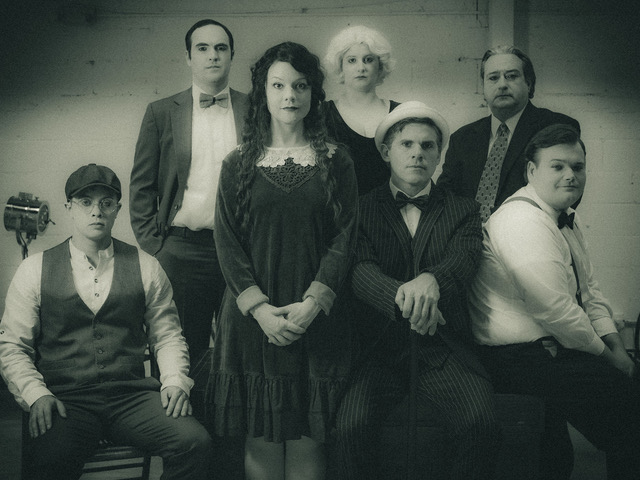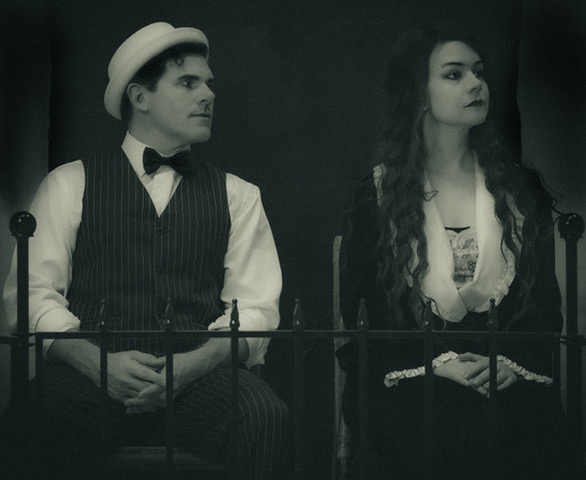 Sebsastian Vitale as Mack and Sarah-Marie Curry as Mabel have fine, expressive voices that come close to overshadowing the couple's progressively unhappier and more alienated moods. Vitale shows his vitality and variety, shifting from the pensive warning "I Won't Send Roses" to the wah-wah vaudevillian deliveries of "Movies were Movies" and "I Wanna Make the World Laugh." Sarah-Marie's rendition of "Time Heals Everything" grabs the heart, the essence of longing and resignation. Cooper's blocking and Cerato's choreography of Herman's jolly ensemble numbers delight, particularly the pratfall-filled celebration of the Keystone Cops "My Heart Leaps Up" and the thunderous "Tap Your Troubles Away" sung and led by the exuberant Katya Welch.
The Alchemy Theatre Company program doesn't provide a list of the musical numbers. I had to Google them . . . with the bonus that I found those neglected, almost forgotten numbers are available on YouTube, including recordings by the original cast led by Robert Preston and Bernadette Peters. You can sample the music by clicking the titles above. (I favored music-only YouTube postings and apologize in advance for those obnoxious initial ads. For a visual spectacular, here's Rita Moreno doing "Tap Your Troubles Away" at the 2018 tribute to Herman at the Hollywood Bowl.)
Herman told everyone that this was his favorite score.
There's lots of emotion and lots of lively from the composer who brought us Hello, Dolly! (1968), Mame (1966), and La Cage aux Folles (1984). So what went wrong with Mack and Mabel? For half a century it's hardly been produced in the United States; it's had better results in the United Kingdom, though they haven't been spectacular. It was nominated for eight Tony awards and received none; The Wiz swept away seven.
That may give us a clue. Tony voters admired Mack and Mabel, but they went for the happy soul-infused rendition of the familiar Oz fantasy. Jerry Herman and Michael Stewart were sailing against the current when they set out to make a musical tragedy about the demise of pre-talkies dreams.
Mack's obsession, his tragic flaw, is the need to make 'em laugh, and he knows it. He warns Mabel, both in song and in behavior. Cruelly, the person who suffers the most and the most directly is the fragile shining starlet from Brooklyn. Mack's bitter realization of the futility of his hubris, shown in opening and closing scenes, isn't nearly enough punishment for the harm done to her and by extension to the very public Mack sought to entertain. Talk about a downer!
Mack and Mabel is cited in the Lehman Engel and Howard Kissel's Words with Music, the comprehensive history of the Broadway musical libretto—in the lengthy chapter entitled Failures:
One of the most perplexing of failures is Jerry Herman's Mack and Mabel, which has some of his—or anybody's—best songs, like "I Won't Send You Roses" and "Time Heals Everything." There have been several versions since the original Broadway production, which starred the unmatchable Robert Preston as Mack Sennett and the radiant Bernadette Peters as Mabel Normand. But their story ended in an ugly way, and no ingenuity can undo the shadow that ending casts on an otherwise effervescent evening.
The show opened in the fall of 1974, at a time when its producer, David Merrick, had lost interest in the theatre. Twenty years earlier he'd taken a show with comparable problems, Fanny, and turned it into an undeniable commercial hit. Had he had the will, he might have worked similar wonders with Mack and Mabel, but the will was lacking.
The general U.S. public is even less prepared today for Mack and Mabel than it was in 1975. You live in the age when most touring shows and many local productions are retreads of the old hopeful musical theatre happy stories. For example, just yesterday Lake Travis Music Theatre announced Herman's Hello, Dolly! as its summer show. Practically every 2022-2023 season announcement in Central Texas except for that of San Antonio's Public Theatre offers familiar, reassuring vibes. It's a Disney world; life in plastic, it's fantastic.
Mack and Mabel plays in Austin every weekend in May. Some performances are already sold out. That's hardly surprising, given the limited seating. This is almost certainly your last chance to enjoy in person the heights and experience the depths of Herman's gorgeously sad musical tragedy. Do so; this production and these performers will stay with you long after the applause fades.
EXTRA
Click to view the Alchemy Theatre Company program for Mack and Mabel
---
Mack and Mabel, A Musical Love Story
by Michael Stewart, Jerry Herma n
Alchemy Theatre Company
Thursdays-Sundays,
April 29 - May 29, 2022
April 29 - May 29, 2022
Thursday, Friday, Saturday evenings at 8 pm, Sunday matinee at 2 pm
Tickets: $40 general admission, $30 students, $55 VIP, plus service fees