Review: Sweeney Todd by Tex-Arts, Lakeway
by Michael Meigs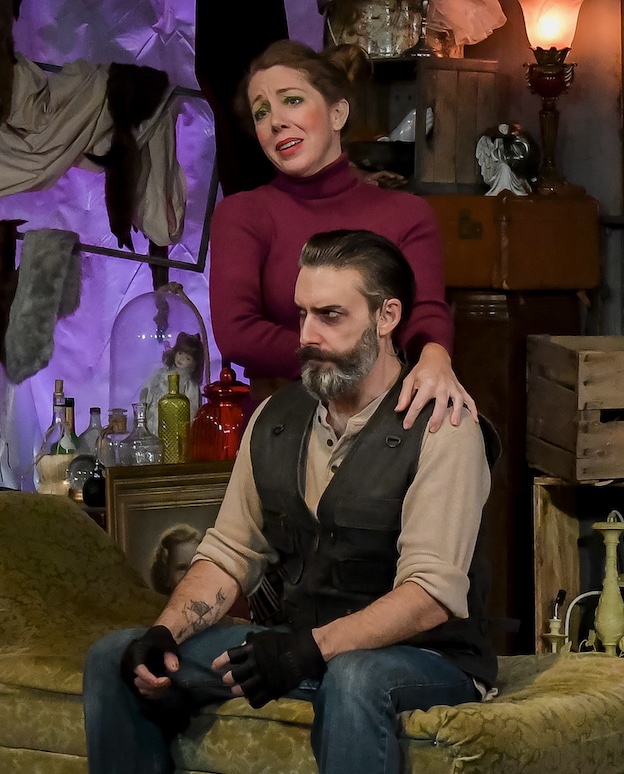 We could call this Austin's year of Stephen Sondheim, who unexpectedly passed away on November 26, the day after enjoying Thanksgiving with friends. After all, the Zach Theatre had marked its emergence from COVID the previous month with a cleverly inverted outdoor run of Into the Woods; City Theatre Austin put together Moments, a February weekend's celebration of his musicals; and now here's Tex-Arts with Sweeney Todd, and Austin Opera has announced another Sweeney production for next January.
Actually, though, pretty much every year since 1970 and the production of Company has been a Sondheim year on Broadway. And that's been even more true in recent years in Central Texas. A quick look at the CTXLiveTheatre back pages (recording events since mid-2008) provides a list including sixteen productions of Into the Woods, ten of Sweeney Todd (with Austin Opera's yet to come), five each of A Funny Thing Happened on the Way to the Forum and West Side Story (with another by Danrie Productions coming in San Antonio), four of Assassins, and three each of A Little Night Music and Sunday in the Park with George.
The pandemic had blocked Tex-Arts' production of Sweeney Todd, and on February 11 artistic director Jarret Mallon was exhilarated to welcome an audience to this long postponed production.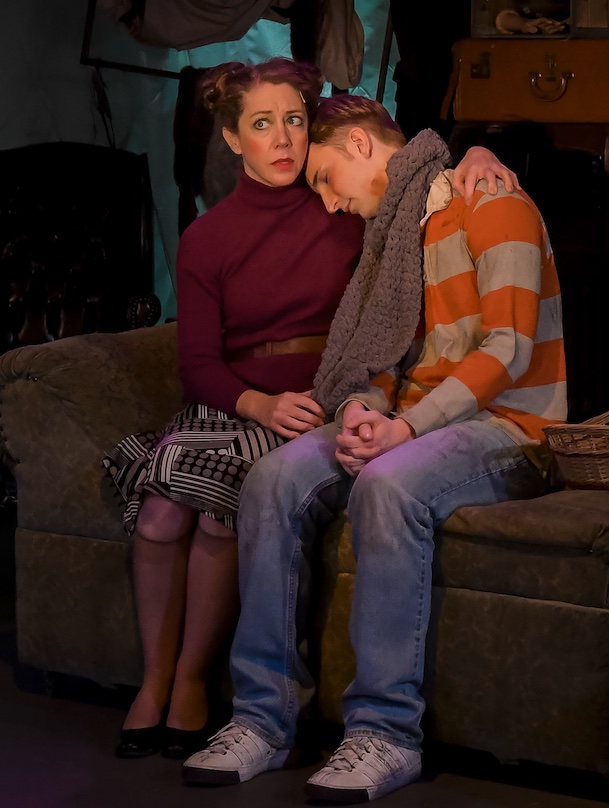 Like most of the works cited just above, Sondheim's work is stretchable -- that is, it can be produced in many different locales, just one additional reason we see his pieces produced throughout Central Texas. In the case of Sweeney Todd, the Demon Barber of Fleet Street, Sondheim wrote with that adaptability in mind. He said so during interviews with D.T. Max that provided the substance for a long piece in the February 14 New Yorker magazine entitled Stephen Sondheim's Lesson for Every Artist:
SONDHEIM: I rarely have something in the future, unless it is an obligation for a company or something like that. I'm usually dragged into work. Occasionally, I've had my own ideas.
Which ones are your own?
SONDHEIM: "Sweeney" was one.
But "Sweeney," if I'm hearing right—is it fair to say that was the most purely you?
SONDHEIM: Well, I had to persuade people, that's all. Hugh [Wheeler, the book writer] didn't require much persuasion. [Producer] Hal [Prince] did. He only wanted to do big productions, 'cause he liked to show off his skills. I wanted it to be intimate and scary. But I wanted Hal, so I thought, It can always be done small, and if Hal wants to do it big then let's do it big and see if it works.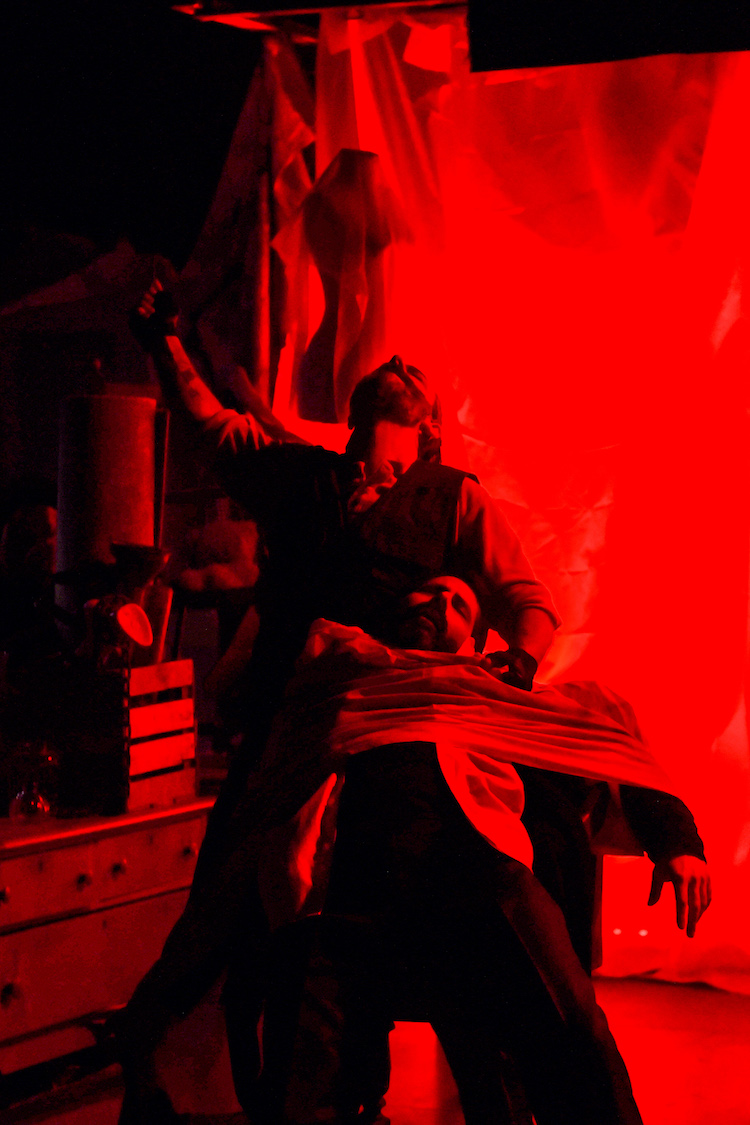 Mallon and Tex-Art's team of performers and designers prove triumphantly that Sweeney Todd becomes a powerfully intimate piece when condensed into a small space such as the Kam and James Morris studio theatre in Lakeway, west of Austin. The design elements—lighting, set detail, sound, makeup, costumes—are executed with breathtaking impact (especially when the vengeful barber executes his victims). Lyn Koenning is the sole musician, supporting this fantasmagoric opera on a digital keyboard, but the intensity of the music and the emotions are all the more powerful for that.
Director Kasey RT Graham reduces Sondheim's cast of nine characters, setting Rachel Pallante to double two supporting roles. The audience recognizes the actor but unhesitatingly accepts the convention, just as it accepts the conventions of movement for this compact playing area that define a living space, a pie storefront, an upstairs barbershop, a street, a basement bakery, and a madhouse. The playing space allows no sleight-of-hand disposal of the increasing number of cadavres with slashed throats, so one accepts the dignified ambulatory departure of the slain.
Sarah Fleming Walker's appealingly comic matter-of-fact portrayal of Mrs. Lovett, baker of the delicious but appalling meat pies, provides a serene counterpart to bass Matt Wade's ferocious malevolence as Todd. The delicious wickedness of Todd's singleminded pursuit of vengeance, abetted by Mrs. Lovett, is beautifully balanced by the yearning of the two young lovers -- Sarah Zeringue as Todd's daughter, captive of evil Judge Turpin (Ray DeJohn), and aptly named Anthony Hope (Alex Rudd).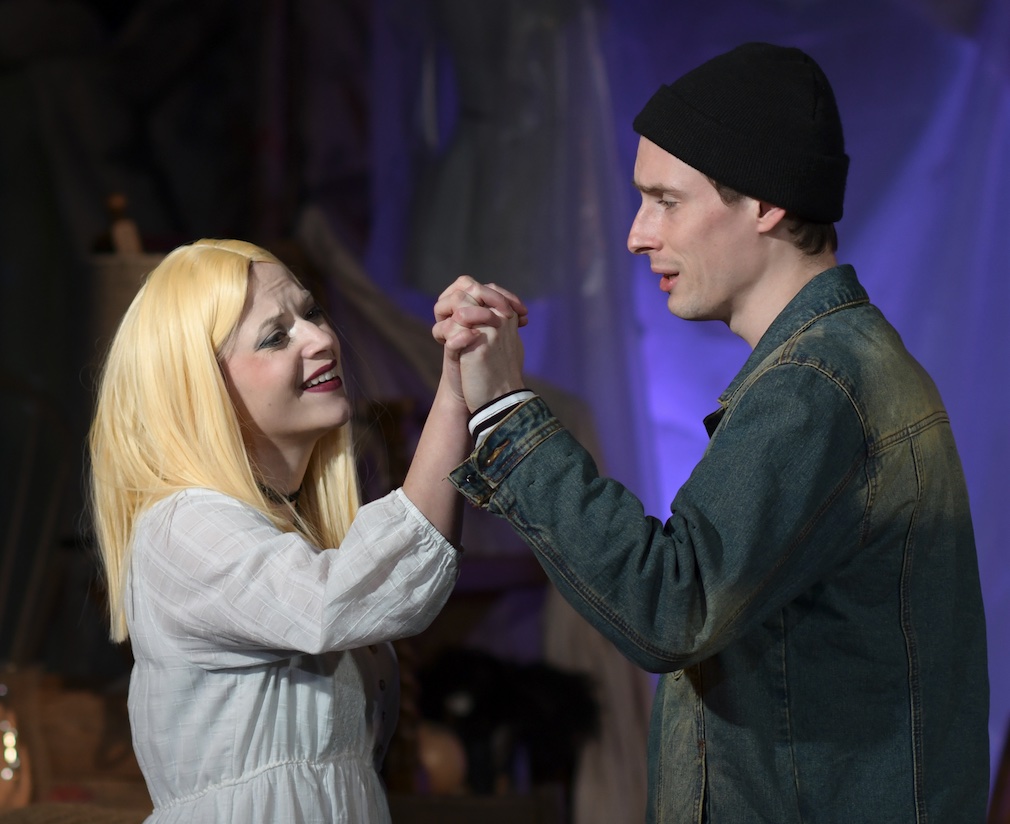 Sondheim's quietly sardonic contrasts are powerful stuff, distasteful to some; I noticed that some in the audience slipped away at the intermission, never to return. That was their loss; Sondheim has a clear and classic vision of the tragic, in which the protagonist's unheeded character flaw inevitably leads to disaster. Those same audience members would do well to depart Into the Woods at the intermission and to avoid Assassins altogether.
In the New Yorker interviews, Sondheim noted a shocker in 1979 that seems to have become triviality today:
My son used to go around singing "The Barber and His Wife." It's got the word "shit" in it, you know.
SONDHEIM. I deliberately did that. I always wanted to be the first person to use a four-letter word on the musical stage.
So you'll probably not be surprised by the master's similar choice for the original lyrics for West Side Story's "Gee, Officer Krupke" . . .
---
Sweeney Todd
by Stephen Sondheim
Tex-Arts
Fridays-Sundays,
February 11 - February 27, 2022
February 11 - 27, 2022
Thursdays - Saturdays at 7:30 p.m.; 2 p.m. matinees on Sunday and on Saturday, March 26
$60 table seating; $40 regular seating.
Seat reservations and ticket purchases available HERE.
A Note about Reopening Safely
By attending an Event at at the Kam & James Morris Theatre located at TexARTS Association for Visual and Performing Arts, all patrons are acknowledging their consent to, and agreed to abide by, the COVID-19 protocols that have been adopted by the venue.
Travis County is currently at a high transmission rate for COVID-19. Because of this,
All patrons are required to wear masks at this event regardless of vaccination status.
Hand sanitizing stations will be provided throughout the space for patron usage.
If you are feeling ill or someone in your household is ill, we ask that you please stay home.
Food and drink will not be allowed in the facility. For this production, TexARTS will not offer a concession stand and outside food and drink is NOT permitted.
For the safety of our performers, patrons, and staff, TexARTS has installed in-duct air purifiers to ensuring excellent indoor air quality and upgraded the building's air filters to the MERV 13 level.
Review all Covid-19 Safety Protocols