Review: The (R)evolution of Steve Jobs by Austin Opera
by Michael Meigs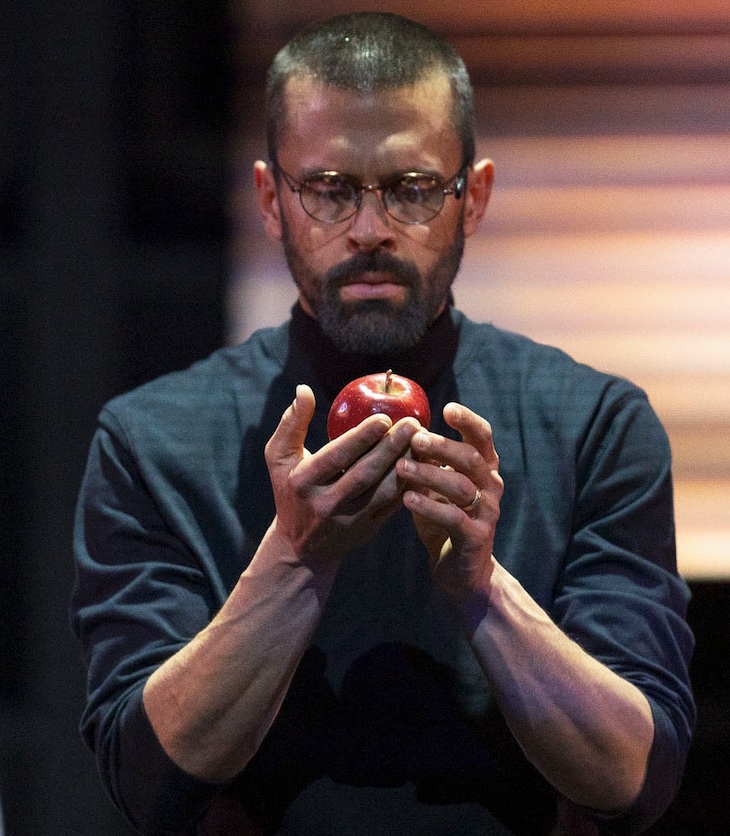 This second, redesigned and redirected staging of The (R)evolution of Steve Jobs (1917) opened in Austin and will travel to Kansas City and to Atlanta. Marketing and some reviews promise a new look into the epic world of changing technology and its guru Steve Jobs (1955-2011).
Austin Opera has brought in superb singing talent for all the principal roles. John Moore's appearance as Jobs convinces us, as does the stalking and glowering that stage director Tomar Zvulun has defined for him; his voice resounds. Bille Bruley as "Woz" (Steve Wozniak), buddy from the early days and co-founder of Apple Computers, skates the fine lines on the Venn diagram associating young upstart, clown, and appalled older acquaintance. I felt particular sympathy for Madison Leonard as repudiated hippy girlfriend Chrisann Brennan. . . and even more sympathy for the COVID-diminished chorus from Austin, wearing their black masks throughout as if in mourning for us all.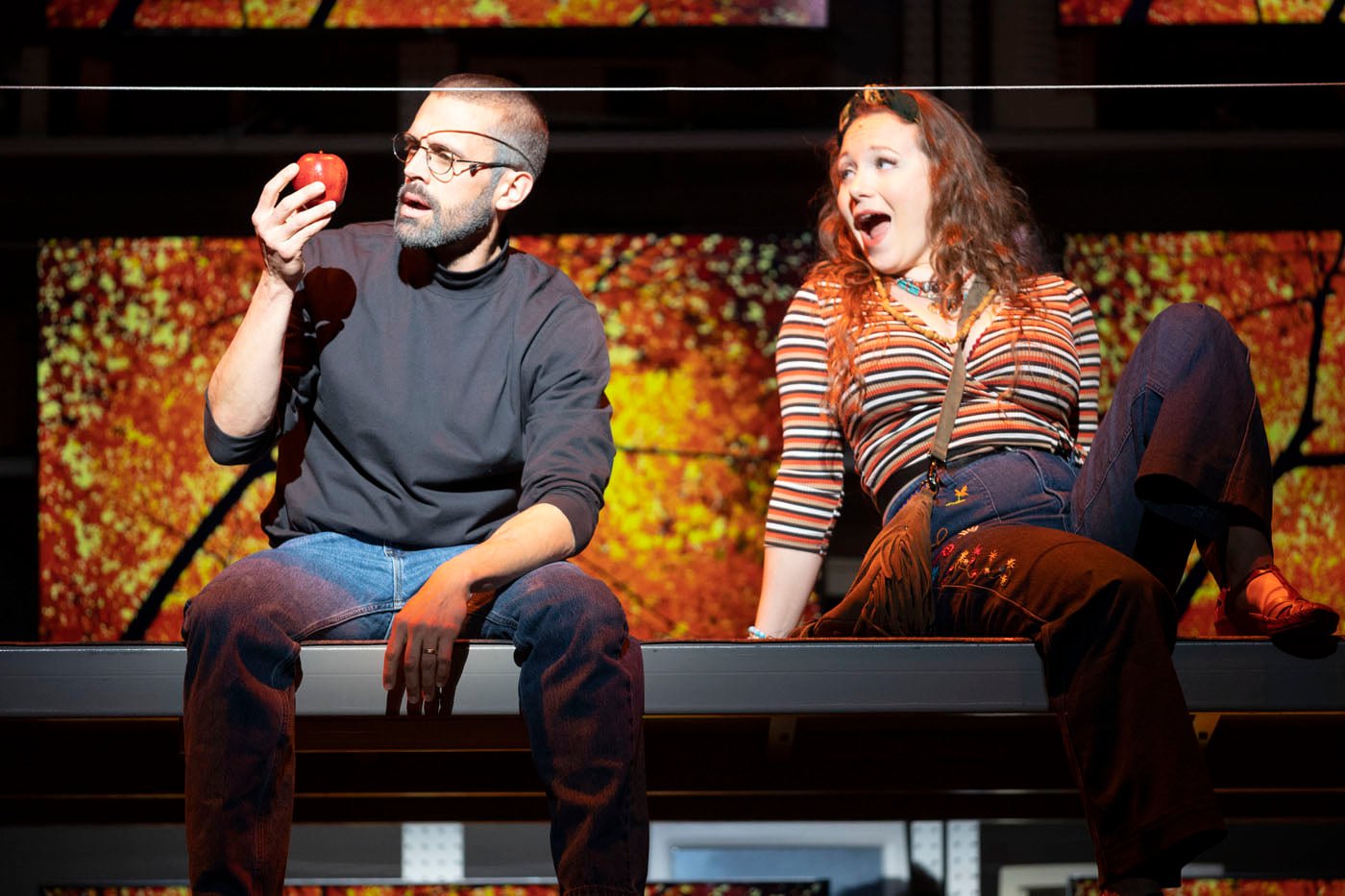 Jobs was co-founder of Apple Computers but was pushed out; he came back a dozen years later, insistent and dictatorial, with the direction SIMPLIFY! Apple flourished, the little computer that could, the David standing up Bill Gates' Goliath Microsoft (a rival and company never mentioned in course of the evening).
All of which, the opera posits, made him a modern hero, a name known to all , a man whose genius is embodied in almost every waking moment of every day. I say that while writing on an Apple magic keyboard connected to a MacMini, while wearing an Apple watch and with my iPhone less than a grab away. Oops -- there's the alarm on my iPad. Time to shape that Einkorn bread rising in the kitchen!
Every era needs a hero. They abound in ancient literature, of course. Edison with his electric light was a 19th-century Prometheus; Nicolai Tesla, perhaps even more deserving, is remembered today mostly in the electric vehicles of Elon Musk (another example).
How to portray the intensely complicated world of advanced technology and high-risk business, mostly incomprehensible to the great majority of us, especially those who'd prefer to sit in Dell Hall to watch and listen instead of plugging into computer games or VR?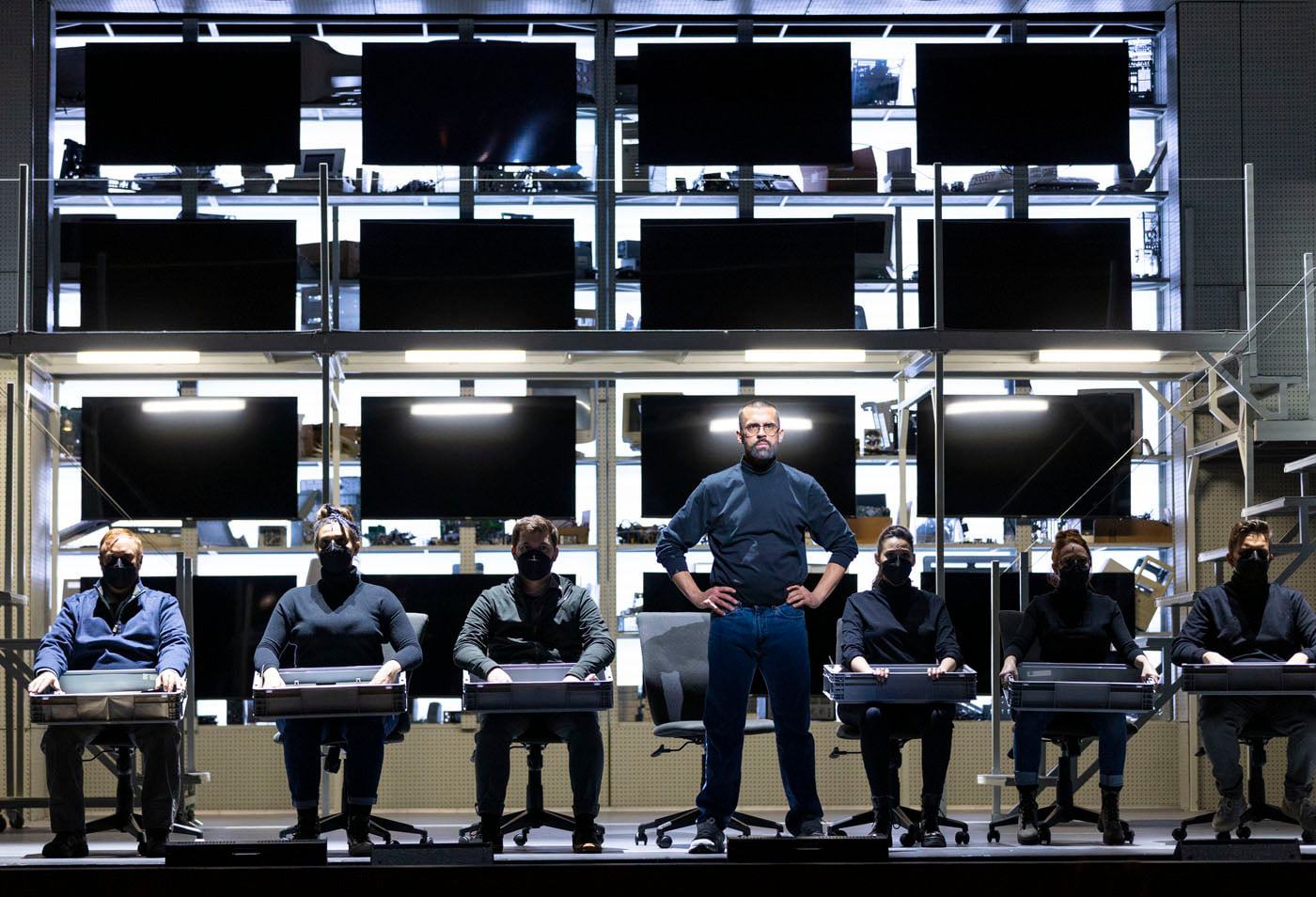 The team of librettist Mark Campbell and the talented composer Mason Bates boils that story down to Steve Jobs, the man, and they carry it along with Bates's energetic, complex, percussive, often electronic music. Bates, conductor Timothy Myers, and the orchestra shovel out musical suprises and inventions by the wheelbarrowful -- a mixture so rich that one really needs to acquire the soundtrack in order to begin to appreciate it. Not erudite in music theory or sophisticated in my grasp of the many influences in that music, I'm not the one to do a close analysis. It's a soundscape of great reach and appeal.
It's probably inevitable that librettist Campbell should depict a transcendent trajectory for such a big name. He traces out some personal events but inserts so little personality or motivation into any of the roles that one's tempted to shrug afterward and wonder: So what? We accept—maybe even take on faith—that the imposing figure in the turtleneck shirt was a genius; we may even be tempted to try to understand why he seems to have been such an asshole.
Yes, as Jobs insists, one must simplify. But librettist Campbell doesn't delve into the psychology of his frankly offensive title character or establish much depth to those around Jobs. And he makes such omissions! The libretto doesn't mention Jobs' origin story, given up for adoption as a baby, or of his late-life discovery of his birth mother and father, a Syrian Ph.D. student who eventually owned a restaurant in Palo Alto (check out Wikipedia on that astonishing story). From the opening scene, where baritone Mark Diamond, identified as Jobs' father without a hint of the adoptive relationship, proudly presents young Stevie with a desk/workbench all for himself, to the eclipse of this bright 56-year-old tech star, surrounded by gawkers and their mobile phones, the reasons for Jobs' torment are never clear.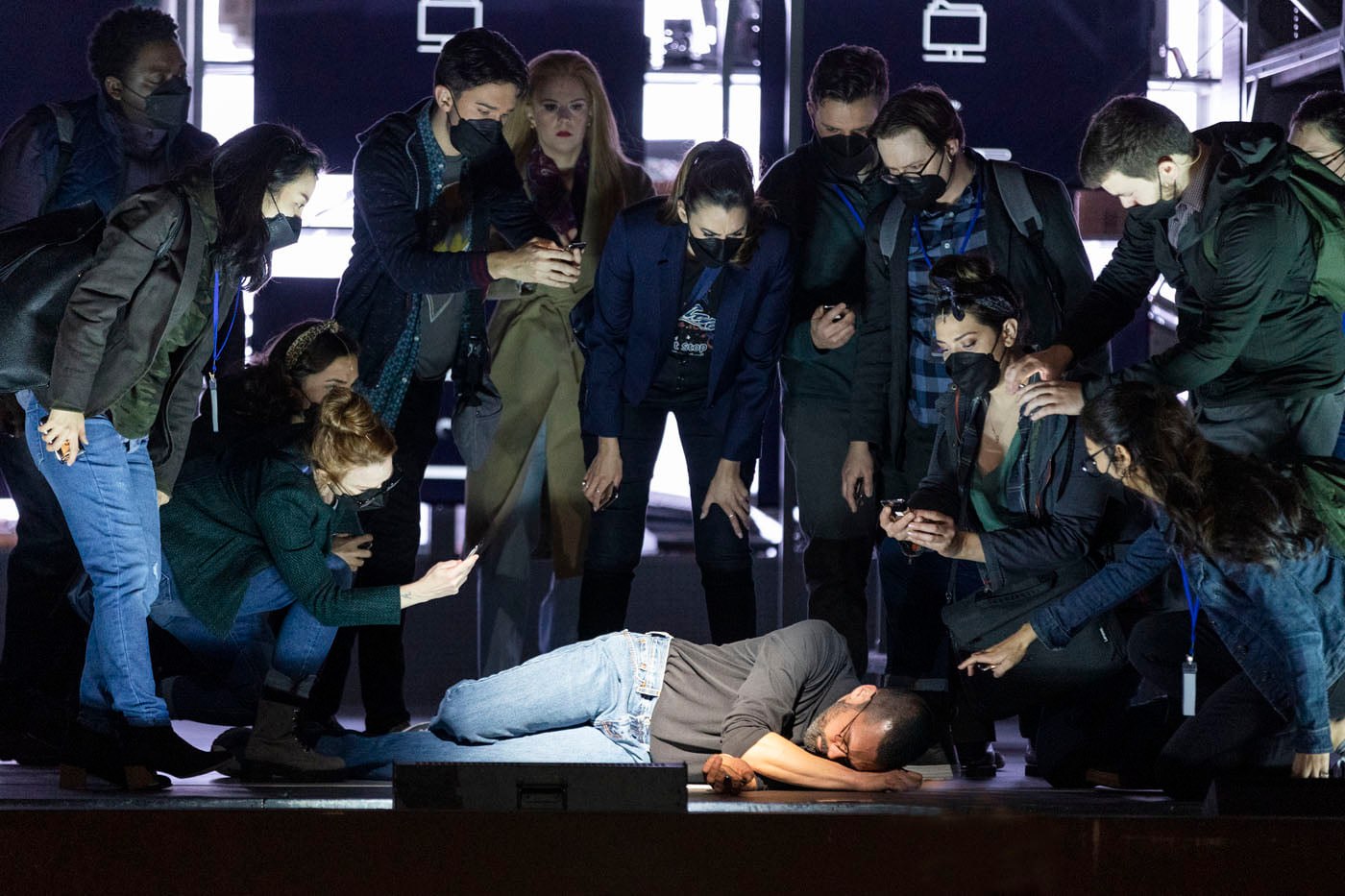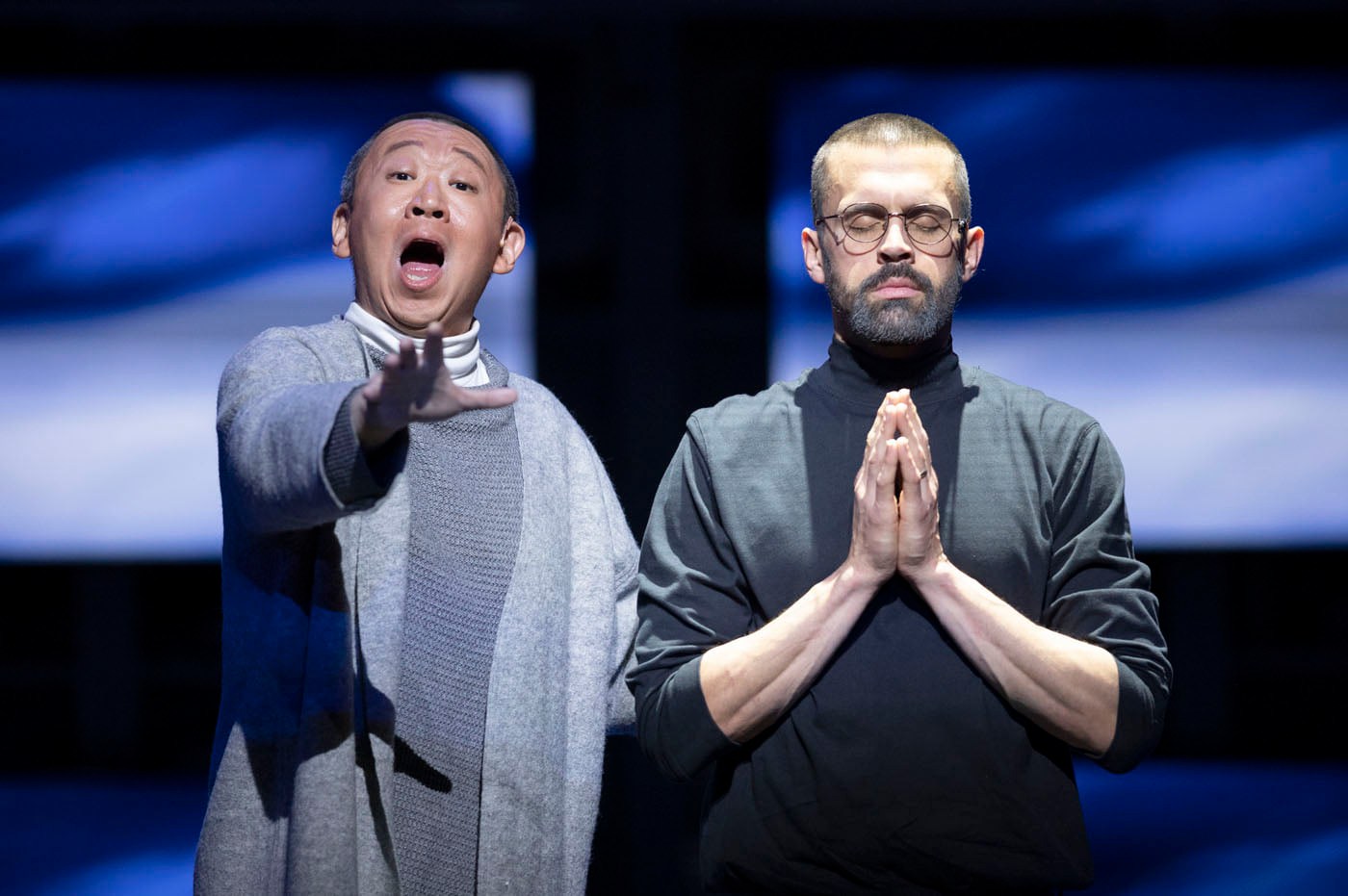 Instead, Campbell asserts that Jobs struggled toward humanity by embracing a variety of Zen Buddhism espoused by his master Kōbun Chino Otogawa (melliflously delvered by bass Wei Wu).This is the Faust treatment, an alleged hero dealing with the devil of technology and generally acting badly (for example, directing a girlfriend to have an abortion and generally unable to say a kind word or show compassion of any kind to anyone), only to be saved by a late-last-act intervention (the Zen master and Jobs' wife for his final twenty years Laurene Powell, played by the earnestly vivacious Sarah Larsen). Though it's not clear why either would particularly care.
The non-linear structure is almost playful, although those largely ignorant of Jobs' life can be deeply grateful for the projected dates that identify the eras of the various events. The set design is predictably flashy, an achievement in itself, though not too different the staging of a rock concert, but it serves to hide the relatively shallow nature and incoherence of the narrative.
Could you have staged this musical work convincingly on an empty stage? I think not.
Mortality, inevitable, seeps through the narrative. Steve's Zen master sings from beyond the grave, where we know Jobs will soon join him. There follows a memorial ceremony at which no one seems to miss him very much.
When all was sung and done, The (R)evolution of Steve Jobs felt vaguely like a 100-minute product placement for Apple, scored with Bates's excitingly audacious music.
---
The (R)evolution of Steve Jobs
by Mason Bates and Mark Campbell
Austin Opera
Thursday, Saturday-Sunday,
February 05 - February 06, 2022
February 5, and 6, 2022 (Feb 3 opening cancelled due to inclement weather)
Music by Mason Bates
Libretto by Mark Campbell
Based on the life of Steve Jobs
In English with projected English titles
New Co-Production between Atlanta Opera, Austin Opera, and Lyric Opera of Kansas City
An opera in 1 act
Approximately 1 hour and 35 minutes in length