Review: Little Women, the Broadway musical by Texas State University
by Michael Meigs
Texas State University's Little Women is a lovely evening of performance, and by now this Broadway rendering of Louisa May Alcott's novel about the four March sisters in Concord, New Hampshire, during Civil War years, a favorite of young girls, may well be more known and popular than the original. A quick check of the captain's logs at CTXLT revealed a total of nine productions of the 2005 work over the last five years -- three at universities, three at community theatres, two at youth theatres, and one at the Public Theatre in San Antonio.
What stands behind this multiplicity, other than the fact that the license holders probably waited about ten years before offering it for regional production?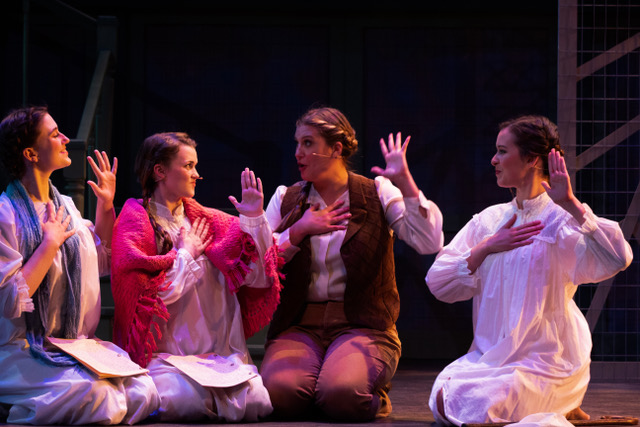 Alcott's story is an uncomplicated tale of growing up. Protagonist Jo is smart, imaginative, and a bit rambunctious, one model for female independence; her sisters Meg, Beth, and Amy provide other options. The family is bound by deep affection, with Marmee (Emma Kessler) as the strong, serene mother, and the girls interact with quirky peripheral characters. With papa away on non-lethal duties as a Union Army chaplain, the March family's home town of Concord lives up to its name as a place of amity and safety. Two young men of eligible age played by Colin Trudell and Connor Lewis haven't gone for a soldier, and of course they eventually first become suitors and later bridegrooms. Jo arranges some madcap amateur theatricals that she'll later convert into a novel of wild, innocent romance. The plot is bookended by scenes in New York, where Jo moved after the war seeking to fulfill her ambition to become a writer.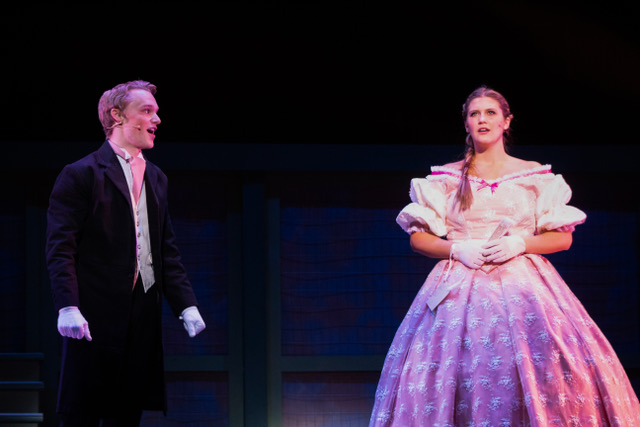 The production showcases impressive vocal talents, giving them a full Broadway-style musical workout. The score and lyrics are full of flinging ambition, self query, and sentiment, piling a lot of emotion onto a story that's not quite crunchy enough to hold it. One of the charms of the story is that we know the girls will all be just fine; even Beth, afflicted by scarlet fever in an era long before antibiotics, lingers and dies beautifully, sweeping away to heaven in pursuit of a kite (it's more of a stage effect than a moral commentary). The other sisters, even tomboyish Jo, will be duly and happily paired off.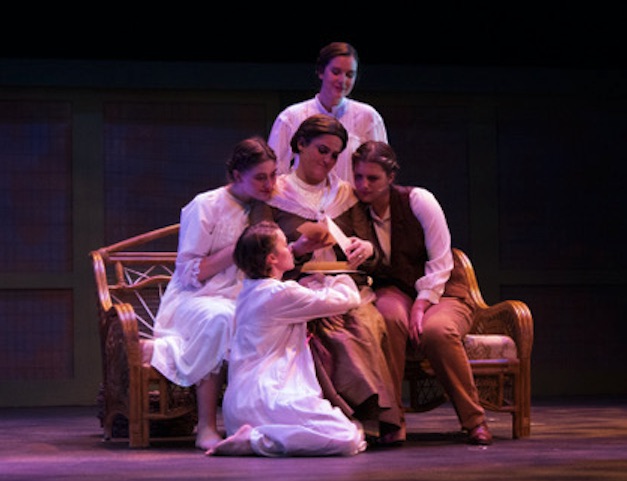 Bella Coppola, in the lead as Jo, is a big talent with lots of energy. Hers is a challenging role, and she throws herself into it with great enthusiasm. The show schedule must be grueling; this company is performing full-throated for eight days straight. Coppola is tall, as well, a fact that the company modulates by keeping her in flats. Jo's sisters appear initially barefoot and in nightgowns, but as the story develops, they're sent up and down the steep lateral stairs at stage center in heels and with plenty of fabric flounce.
Scenic design by Cheri Prough DeVol is more elaborate than needed to convey the story. The upper story on the set is largely unused, and that living room fireplace became something of a spectacle as it was flown out and cranked down several times. Instead of stage ninjas, director Alex Rodriguez has an uncredited team of six performers who might be called stage imps. While handling the purely practical matters of delivering, installing, and removing furniture pieces, they strike momentary poses and interact in twos or threes, adding graceful mimed commentary, sometimes ironic, to the evolving plot. Main stage choreography, also by Alex Rodriguez, is professional-grade and professionally performed by the students.
Jo's sisters, initially a blur, quickly establish themselves as well defined characters. Emily Edwards, Maura Gil, and Ashlyn Maddox are confident, musical and agile. Maddox as sometimes envious little sister Amy most clearly portrays a sense of character development, moving from intimidated, pouty kid sister to self-assertive future débutante.
Clearly distinct from the close family hug are a couple of sharply definied, entirely convincing secondary characters. Micaela Lamas does a lovely extended comic turn as the assertive, dominating Aunt March. Jake Young as the thirtyish German Professor Bhaer captures the man's Teutonic precision opposite Coppola's impetuous Jo March. The two have a charming late number "Small Umbrella in the Rain" that accents their differences but reinforces their mutual attraction.
The music for Little Women comes from a twelve-piece orchestra in the pit directed by Stephanie Wells. Performers are mic'd up with those 'mic-on-a-straw' sets that interfere at times with the visuals, at least for the aficionados who like to sit right in the front of the house.
In April, 2020, Texas State University's vigorous young company moves from this 1860s-via-2005 Concord to 1920s-via-1950 Broadway with Loesser and Burrows' classic Guys and Dolls. I'm sure they'll do it just as nicely nicely!
EXTRA
Click to view the program of the Texas State University production of Little Women
---
Little Women, the Broadway musical
by Book by Allan Knee Music by Jason Howland Lyrics by Mindi Dickstein
Texas State University
Tuesday-Sunday,
November 19 - November 24, 2019
November 19 - 24, 2019 -- Tuesday - Saturday at 7:30 p.m.; matinees on Saturday and Sunday, November 23 and 24, 2019
PATTI STRICKEL HARRISON THEATRE
405 Moon Street, 78666
PRICES:
Adults: $20
Child / Sr.: $15
TXST Student: $10
Prices include processing fee.
This is a RESERVED SEATING production.
Click to purchase tickets via txstatepresents.com
Parking will be directed to the Edward Gary Parking Garage (401 Edward Gary Dr) behind the Performing Arts Center. Parking passes can be purchased for $8.00 online with your order, or purchased at the box office window on the night of the event. At the end of the night, you will be able to bypass the line at the payment kiosk, go directly to your vehicle, and utilize the discounted parking pass at the gate as you exit.
If accommodations need to be made, please, contact the box office at least 48 hour before the performance date.
With so many things happening, don't miss out!