Review: Jungalbook by Zach Theatre
by Michael Meigs
Jungalbook is a lot of fun, and not just for kids. It's fast and colorful, an imagining of the same narrow selection from Kipling's 1894 story collection used for the Disney animated film in 1967. Playwright Edward Mast's reworking provides the same principal characters but without the sugar coating; Mowgli the protagonist becomes "humancub" in the Zach retelling, a nod to today's sensibilities about gender and roles, but also an opportunity to draw on all the talent in the institution's theatre classes and pre-professional programs.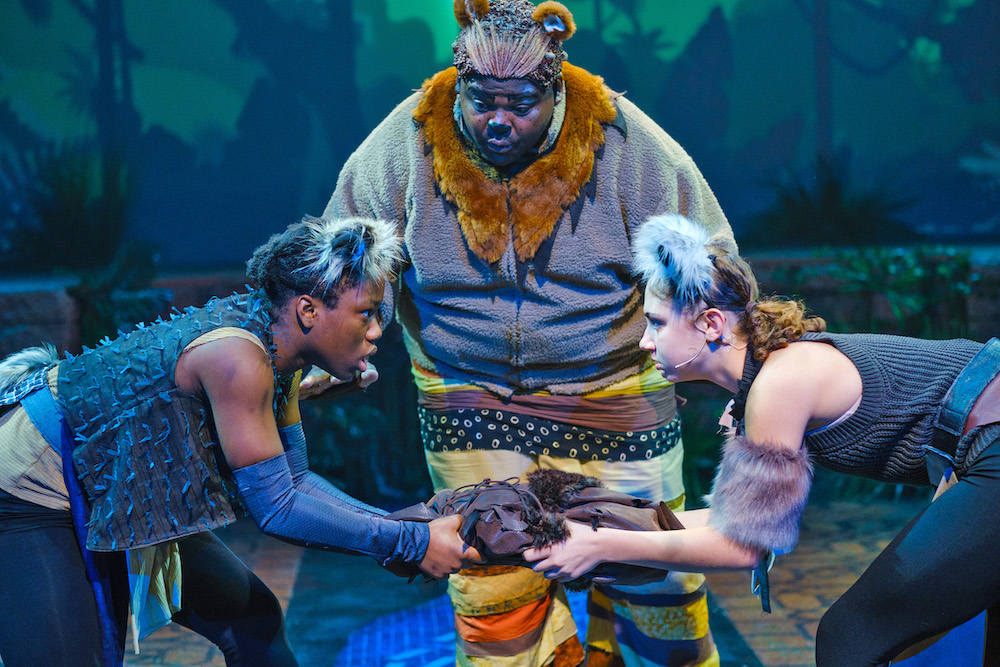 Big John Christopher as Baloo the bear is the first to come into view, bouncing along behind the scrim and across the artful silhouetted evocation of a jungle. He tootles and scats like Cab Calloway, then emerges to address directly the fascinated young audience. In the context of the familiar story of a human child adopted by the animals, Christopher is the sweet, avuncular conscience repeatedly admonishng the young -- wolf cubs -- and the adult anthropomorphic animals about the precepts of the law of the jungle. There's an edgy danger lurking behind the frolic, as carnivores compete for "meat" (not "prey").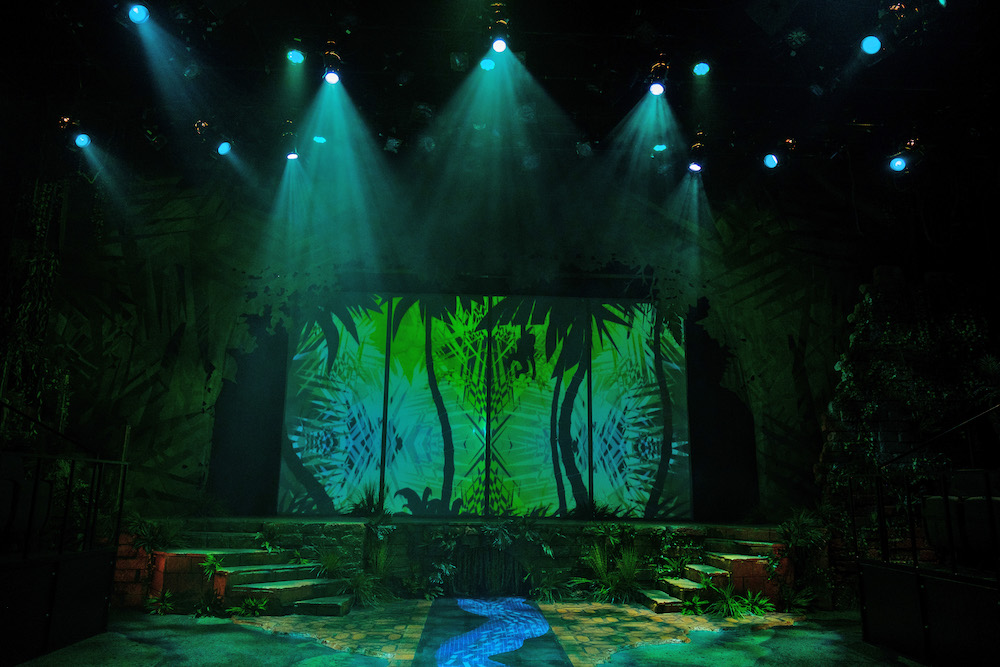 Scott Groh's set design and Jaiee Garner's costumes are bright, clever, and emphaticaly not cartoonish, and Austin Brown's lighting complements them (watch that stream at center stage, for it will sparkle blue, especially when it becomes the vital venue for a truce amongst the rival predators). Allan Robertson's single theme for the piece is delivered and danced several times, delivering the piece's theme with directness and joyful simplicity.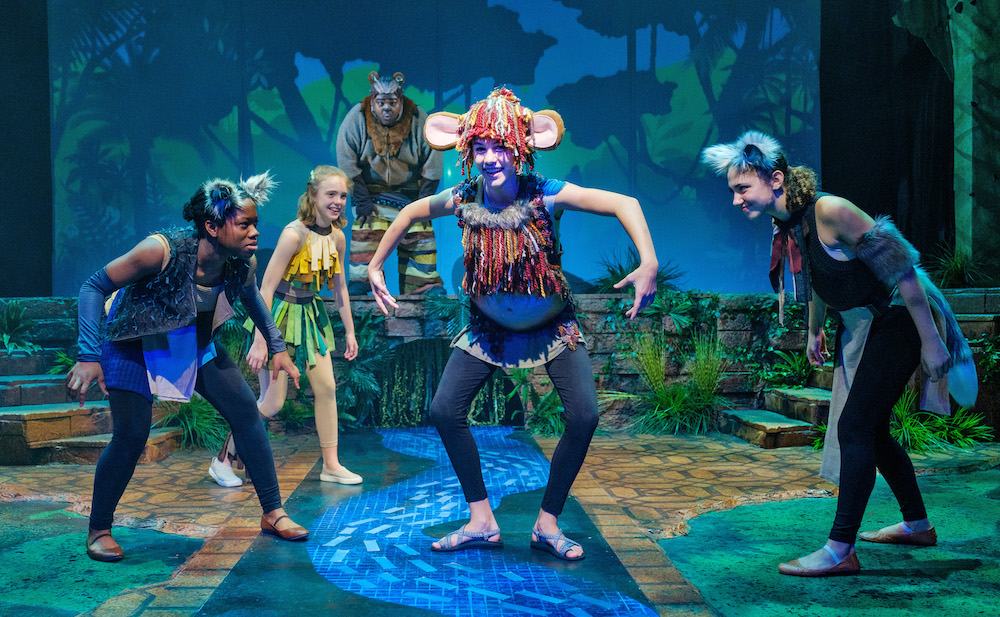 You probably won't know which younger actors you watched, for this weekends-only production is triple-cast in the lead (Rylie Shieh, Blakeney Mahstedt, and Chloe Van De Graff) and double-cast for the cleverly costumed supporting animals, two yong wolves, Percy the monkey (who reminded me of Curious George), a vulture, and a hyena.
The adult cast is easier to identify from the program listings. Christopher's gentle, law-giving Baloo is backed up by vigilant, courageous Bagheera the panther (Freddy Franklin), and the wolf pack is led by Akela (Lara Wright). And of course, there's the bad guy: Sherakhan the Tiger, whom Amber Quick delivers as sly, sarcastic, taunting ad duplicitous.
Included in the cast are some adorably makeshift big puppets, lifesize -- or even, in the case of the snake, much larger than lifesize.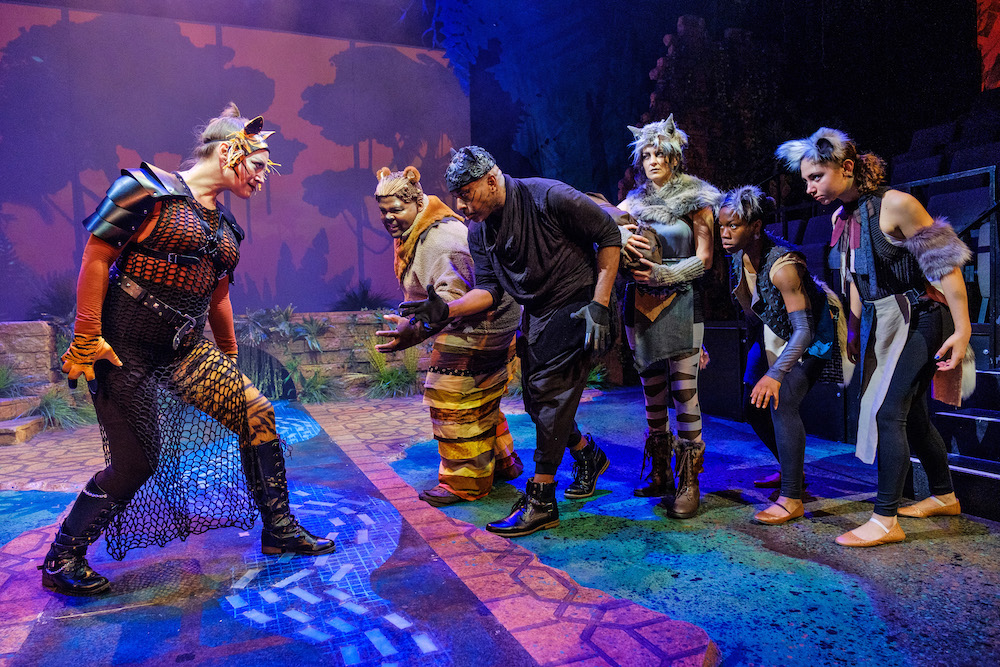 Two themes move through the piece: "Humancub"'s gradual realization that she's not just another animal, but has exceptional skills that can save her and her furry, feathery clan; and the morality play of law, pacted respect, and punishment for treachery. The audience at Saturday's opening was of all ages, though of course there were plenty of participants of primary school age. Jungalbook's clear storytelling, director Nat Miller's use of eager young actors, the charms and transformations of the settings ,and the satisfying outcome made the work entirely engaging. We're long, long past primary school age, and in fact we can clearly recall Disney's characters from their first run in 1967, but we emerged from the Kleberg stage refreshed, amused, and appropriately instructed by Baloo and friends. And the performers were waiting in the lobby to greet and engage their young fans.
EXTRA
Click to view educational pamphlet/program for JUNGALBOOK
---
Jungalbook
by Edward Mast
Zach Theatre
Fridays-Sundays,
September 07 - November 10, 2019
Saturdays at 2 p.m., Sundays at 2 p.m. beginning Sept 15; NO SHOWS weekend of Oct 5–6 and 12–13 (ACL Fest); special evening performance Friday, Oct 15 at 7 p.m.; Nov 2 added 11 a.m. performance for Sensory Friendly.

Tickets for Jungalbook are $18 (Youth) and $24 (Adult) and are available online at zachtheatre.org, by phone at 512-476-0541, or in person at the ZACH Theatre Box Office, in the Topfer Theatre, 202 South Lamar Boulevard (corner of Riverside Drive and South Lamar) Monday through Saturday, 12 – 5p.m.
ZACH Theatre is wheelchair accessible. Groups of 8 or more may request reservations by calling 512-476-0594 x.245 or by emailing groupsales@zachtheatre.org.
Special Events in Celebration of Jungalbook:
Opening Night: Friday, October 25, 2019 at 7 p.m.
Sensory Friendly and ASL Interpreted/Open Captioned Performance – Saturday, November 2, 2019 at 11 a.m.

The Moody Foundation is Season Underwriter of the Family Series and of Jungalbook with Holiday Inn Austin -Town Lake as Season Sponsors and Texas Gas Service as a Supporting Sponsor.