Sep. 07 - Nov. 10, 2019
Fridays-Sundays
Adventure awaits in a jungle where danger lurks in every tree and only the brave dare enter! This energetic and creative version of the classic tale ignites the imagination and propels the audience through a world ruled by the wild. When his parents are killed by Sherakhan, the young boy Mowgli is raised by wolves, under the protection of his friends Bagheera and Baloo. In this tale of loyalty and betrayal, Mowgli must find the courage to face this challenge and choose his fate under consequences of jungle law.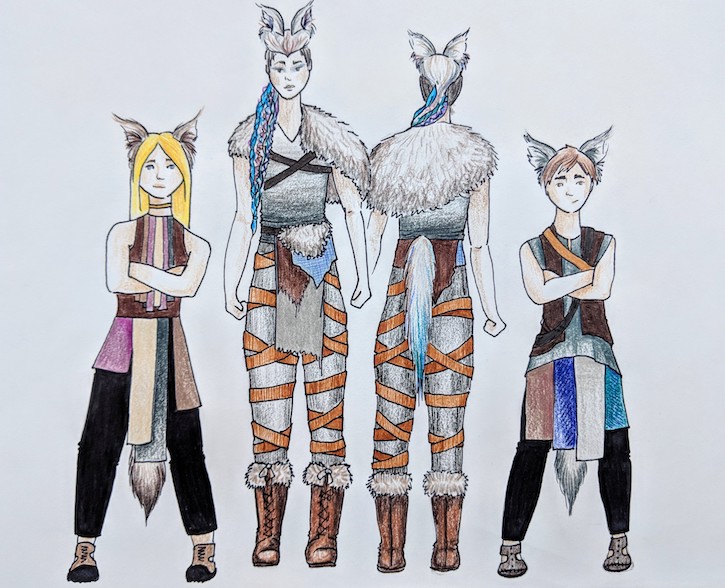 retelling of Rudyard Kipling's Mowgli stories, Jungalbook is adapted by Edward Mast and plays The Kleberg at ZACH, September 7–December 14, 2019, under the direction of Associate Artistic Director Nat Miller with original music by Allen Robertson.
Miller explains ZACH's approach to this Kipling classic, "Our adaptation of Jungalbook includes a mix of beautiful costume designs and mask work with live puppetry, as well as shadow puppetry. Mowgli will be double cast by two of our female pre-professional actresses, Chloe Van e Graaf and Blakeney Mahlstedt. Audiences may recognize them most recently from Matilda The Musical along with other ZACH favorites, Mary Poppins and A Christmas Carol. Having a female actress play Mowgli gives the character a new perspective as both a powerful fearless female protagonist as well as somebody who has empathy for nature. Jungalbook is a play about how humans and nature live in harmony, both with each other and the world that surrounds us and we can't wait to share that experience with audiences."
Jungalbook will also star additional pre-professional students STELLA FRYE-GINSBERG and ARAYA FEENEY as Grey/Kaa/Ensemble; BRUCE BOWEN and MERCY BOVIK as Grab/Elephant; SAMANTHA BEAM and PAIGE RILEY as Perchy/Chil/Hyena/Elephant; with Understudies WILKES GOODNER for Mowgli and SLOANE JOHNSON and ABIGAIL STORM for Grey/Grab/Perchy/Ensemble.
Rounding out the adult cast: AMBER QUICK as Sherakhan; LARA WRIGHT as Akela; FREDDY FRANKLIN as Bagheera; JOHN CHRISTOPHER as Baloo; with SUSANNAH CROWELL and OMAR LEWIS as Understudies.
Directed by NAT MILLER, the production team also includes SCOTT GROH as Scenic and Properties Designer, JAMIE GARNER as Costume Designer, AUSTIN BROWN as Lighting Designer, ALLEN ROBERTSON as Sound Designer, GABRIELA DE LA ROSA as Company Manager, and DAVVI SOLOMON as Stage Manager.
Age Recommendation: Five and up
Run time: 55 minutes with a 10-minute intermission
CAST
Blakeney Mahlstedt – Mowgli
Chloe Van De Graaf – Mowgli
Wilkes Goodner – Understudy for Mowgli
Stella Frye – Ginsberg – Grey/Kaa/Ensemble
Araya Feeney – Grey/Kaa/Ensemble
Bruce Bowen – Grab/Elephant
Mercy Bovik – Grab/Elephant
Samantha Beam – Perchy/Chil/Hyena/Elephant
Paige Riley – Perchy/Chil/Hyena/Elephant
Sloane Johnson – Understudy for Grey/Grab/Perchy/Ensemble
Abigail Storm – Understudy for Grey/Grab/Perchy/Ensemble
Amber Quick – Sherakhan
Lara Wright – Akela
Freddy Franklin – Bagheera
John Christopher – Baloo
Susannah Crowell – Understudy for Female Roles
Omar Lewis – Understudy for Male Roles
PRODUCTION TEAM
Nat Miller – Director
Scott Groh – Scenic and Properties Designer
Jamie Garner – Costume Designer
Melina Perez – Assistant Costume Designer
Serret Jensen – Hair and Makeup Designer
Austin Brown – Lighting Designer
Allen Robertson – Sound Designer
Gabriela De La Rosa – Company Manager
Davvi Solomon – Stage Manager
Maria Negg – Assistant Stage Manager
---
Jungalbook
by Edward Mast
Zach Theatre
Fridays-Sundays,
September 07 - November 10, 2019
Saturdays at 2 p.m., Sundays at 2 p.m. beginning Sept 15; NO SHOWS weekend of Oct 5–6 and 12–13 (ACL Fest); special evening performance Friday, Oct 15 at 7 p.m.; Nov 2 added 11 a.m. performance for Sensory Friendly.

Tickets for Jungalbook are $18 (Youth) and $24 (Adult) and are available online at zachtheatre.org, by phone at 512-476-0541, or in person at the ZACH Theatre Box Office, in the Topfer Theatre, 202 South Lamar Boulevard (corner of Riverside Drive and South Lamar) Monday through Saturday, 12 – 5p.m.
ZACH Theatre is wheelchair accessible. Groups of 8 or more may request reservations by calling 512-476-0594 x.245 or by emailing groupsales@zachtheatre.org.
Special Events in Celebration of Jungalbook:
Opening Night: Friday, October 25, 2019 at 7 p.m.
Sensory Friendly and ASL Interpreted/Open Captioned Performance – Saturday, November 2, 2019 at 11 a.m.

The Moody Foundation is Season Underwriter of the Family Series and of Jungalbook with Holiday Inn Austin -Town Lake as Season Sponsors and Texas Gas Service as a Supporting Sponsor.