Review: Cyrano de Bergerac by The Archive Theater Company
by David Glen Robinson
Edmond Rostand wrote Cyrano de Bergerac in 1897, a play about a 17th-century French soldier and poet. As the inaugural production of Jennifer Rose Davis's Archive Theater Company, this archival play is an Austin original.
So why Cyrano de Bergerac? It's not the nose or the methods of antique warfare; the big heart of the romantic story is unrequited love. Audiences have had an instinctual feel for that for 130 years. Anyone who has ever had a grain of self-doubt can relate.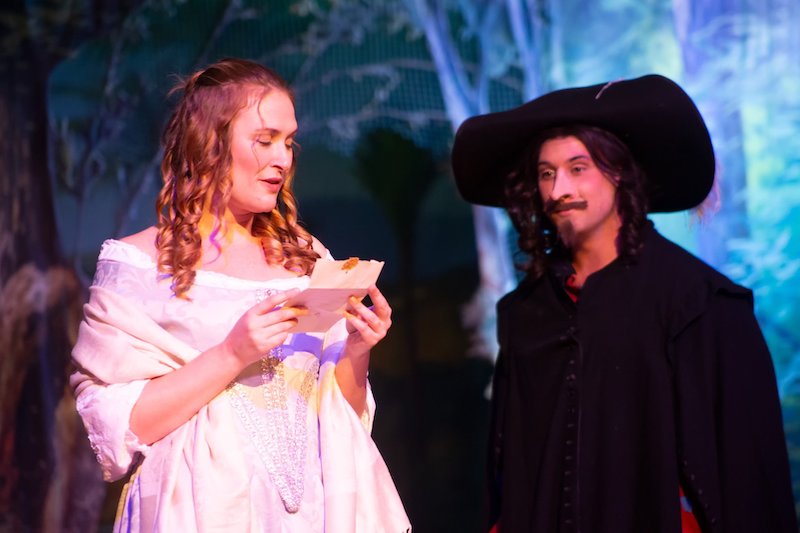 Rostand based the play loosely upon the life of the real Cyrano de Bergerac, soldier, poet and playwright known, among other works, for his Comical History of the States and Empires of the Moon. Rostand's Cyrano feels that he is deformed by his snot bugle and therefore almost worthless. In his opinion the verse bump in the talent centers of his brain seems to have counted for nothing. He takes it out on other swordsmen. That is, until his distant cousin Roxane, whom he has loved deeply since childhood, seeks his advice and help. She is in love with one Christian, a cadet in Cyrano's unit. Equally bound by love and honor, Cyrano sees all hope of love slip away. The Comte de Guiche, member of the high nobility, is smitten of Roxane as well, but she greets him with loathing, very much against her own economic best interests. The Comte throws monkey wrenches into everyone's plans at every opportunity.
Cyrano de Bergerac, virtuoso sword swinger and poet of immense nose, has been extracted from Rostand's story and given life along the pathways of other media.The play has entered modern myth, translated into many languages, produced around the world, and made into movies, books, comic books, and even cartoon shows. His popularity is intriguing, as Alexandre Dumas's Three Musketeers, popular swordsmen (despite their sobriquet) of approximately the same time period gained such poplarity they made it onto candy bar wrappers.
Cyrano de Bergerac the play followed the standards of opera, then in its heyday. The work is full of mistaken identities, disguises, exiles and reunions, honorable and dishonorable deaths, with deception and blood everywhere. The early scenes depict the popularity of theatre largely as a set-up for a sword duel; these are followed by a street battle, many deceptions, and assignment to the French barricades at the seige of Arras.

Act II events in Arras settle many scores, and the rest is a long dénouement. The final scene, entirely in the courtyard of the convent, has an amazingly tender dynamic, in vast contrast to the seige of Arras. Kudos to The Archive Theater for its esthetic of subtle but fulfilling beauty.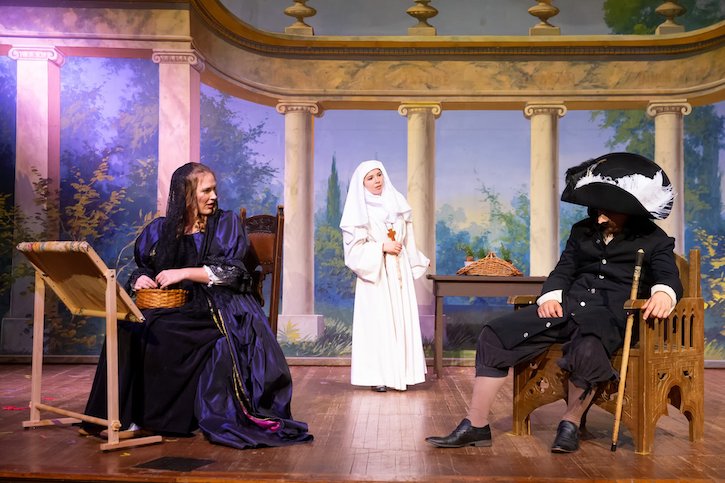 An interesting subtheme in the story is the role of poetry in Cyrano's lifetime. Poets are depicted as so poor that they convene at the shop of the baker Ragueneau, also a poet, who feeds them generously. Rostand's point is clear: then as now, poetry is unappreciated and, most of all, it doesn't pay. In a fine self-reflexive romantic welter, Rostand wrote stirring poetry into his script, mostly in Cyrano's speeches. And Jennifer Rose Davis is faithful to the script.
The principals are exceptional actors. Patrick David Wheeler does the heavy lifting as Cyrano, and Liz Waters is the sweetly beautiful Roxane. Brennan Patrick portrays Christian, Heath Allyn is Ragueneau, and Joe Kelley is the Comte de Guiche. Michael Rodriguez plays Cyrano's longtime friend Le Bret.
The large ensemble cast has standouts too numerous to mention. Read the program -- if you have a magnifying glass. It's no surprise that veteran actor Robert Deike was cast in several roles and understudied Cyrano. Chris Humphrey was likewise all over the stage, ranging from piper to poet, soldier to Sister Marguerite in the convent. The Comte de Guiche is accompanied everywhere by archetypal simpering fops of all time, portrayed with tongue-in-cheek humor and haughty disdain by Evan Elias and John Michael Hoke.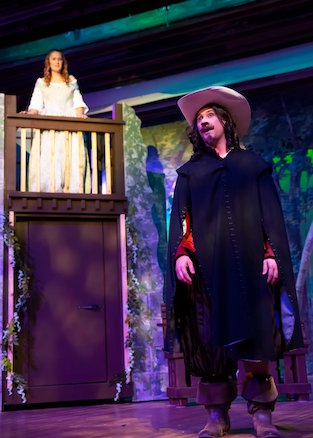 Davis' translation preserves the nuances in the poetry. Cyrano composes and recites doggerel when killing men in swordfights. He prompts Christian with acceptable love poetry beneath Roxane's balcony so the cadet can convey it to their beloved. But when Cyrano feels frustration at that and decides to express his own love under cover of darkness, his verse soars. Rostand and Davis convey these subtleties clearly. The balcony scenes are the literary peak of the play.
Other world-class features of Cyrano de Bergerac: Zac Thomas' technical direction of this immensely complex play; Jennifer Singletary's set design, including the period vernacular French domestic architecture at Roxane's residence; Jennifer Rose Davis singing love songs in French through the play; and, especially, the 1871 set of backdrops of the Scottish Rite Theatre, the standout being the trompe l'oeil convent courtyard of the finale.
The costume designs complemented the set design and the time period. The costumes themselves were a combination of custom-sewn pieces and rentals. Jennifer Rose Davis, Star Maddox, and a host of stitchers clothed the cast.
Inevitably, stage management issues with a large cast and lengthy crowd scenes are frightfully difficult. The Act II sequences at Arras crowded the stage with actors maneuvering around the battlements and even making way for Roxane and Ragueneau arriving with a wagonload of food. There were so many swords and lances on stage it was a wonder nobody put an eye out.
Credit for the adroit combat scenes at Arras and the raucous, roiling street fight in Act I goes to fight choreographers Toby Minor and Joseph Garlock. Well-deserved credit for general stage management goes to Lynn Schaffer Beaver, who served beyond the call of duty when wrangling the youngest Parisian street urchins, some of whom crawled through the house in their costumes when they became bored offstage.
Distractions: errant shadows at play on the upstage backdrops as offstage actors positioned themselves for their scenes. None of the shadow play was intentional. Blocking must coordinate with the lighting design as much in the wings as onstage. A more general issue has to do with approach. Modern stage esthetics promote the use of aisles and open space in the house for entrances, exits, and breakout scenes. Cyrano took full advantage of the Scottish Rite Theatre space. Acoustics in the high-ceiling space or orchestra, however, do not lend themselves to considerable play in the house, a problem worsened by the thunder of booted feet on the sprung hardwood floor. Many lines of narrative were lost in the noise.
At three hours, the play is long for modern tastes, but the company offers the compensation of refreshments at intermission. The play is highly recommended for all adults with a literary bent who are prepared for a long sit. Cyrano de Bergerac is an auspicious opening production for the Archive Theater Company, putting Austin's theatre riches on full display and deserving all support. This one is not to be missed.
Cyrano de Bergerac runs from August 29 to September 29, 2019, at the Scottish Rite Theater on 18th Street in downtown Austin. The producers caution that there'll be no performances on UT football home game days, so schedule carefully!
---
Cyrano de Bergerac
by Edmund Rostand, translated by Jennifer Rose Davis
The Archive Theater Company
Wednesdays-Sundays,
August 28 - September 29, 2019
Cyrano de Bergerac will run Thursdays-Sundays, August 29 - September 29 at The Austin Scottish Rite Theater.

Wed August 28 will be a low priced preview. There will be no shows on Sat 9/1 Sat 9/7, or Sat 9/21 because of conflicts with University of Texas Football Games: Tickets will be available for purchase in July and August.

Visit http://scottishritetheater.org or https://www.thearchivetheater.org for more information.
Evening performances at 8 p.m. Sundays at 5 p.m.
Wednesday, August 28 - Sunday, September 1, 2019 (no Saturday performance)
Thursday, September 5 - Sunday, September 8 (no Saturday performance)
Thursday, September 12 - Sunday, September 15
Thursday, September 19 - Sunday, September 22 (no Saturday performance)
Thursday, September 26 - Sunday, September 29 (Sunday performance at 8 p.m.