Review: Dance Nation by Theatre en Bloc
by David Glen Robinson
Dance Nation plays in the same league as Heathers, Pitch Perfect, and Bring It On. The show competes well with them, offering a new set of jokes and gags about teens and sub-teens with team performance circuit dementia, and about their obsessive moms living through their offspring. The complex play, however, is not a one-trick pony, neigh!, but multifaceted and multilayered, with relatively unresolved subplots. Surprises and shocking scenes abound throughout. About two-thirds of the way through the play, the main plot, driven by linear narrative dialogue descriptions and their expectations, dissolves into thin air. No worries, there is plenty else to keep the audience engaged. The show is up now at the Rollins Theatre at the Long Center. Written by Clare Barron, Dance Nation is produced in Austin by Theatre en Bloc and directed by Jenny Lavery.
The play has deceptive marketing and publicity; it is much more than a comedy about competitive dance teams. Its subtheme is so strong that it's actually a counter-theme with equal weight. The material is so strong that the play really should be marketed in the Halloween season as a new horror show.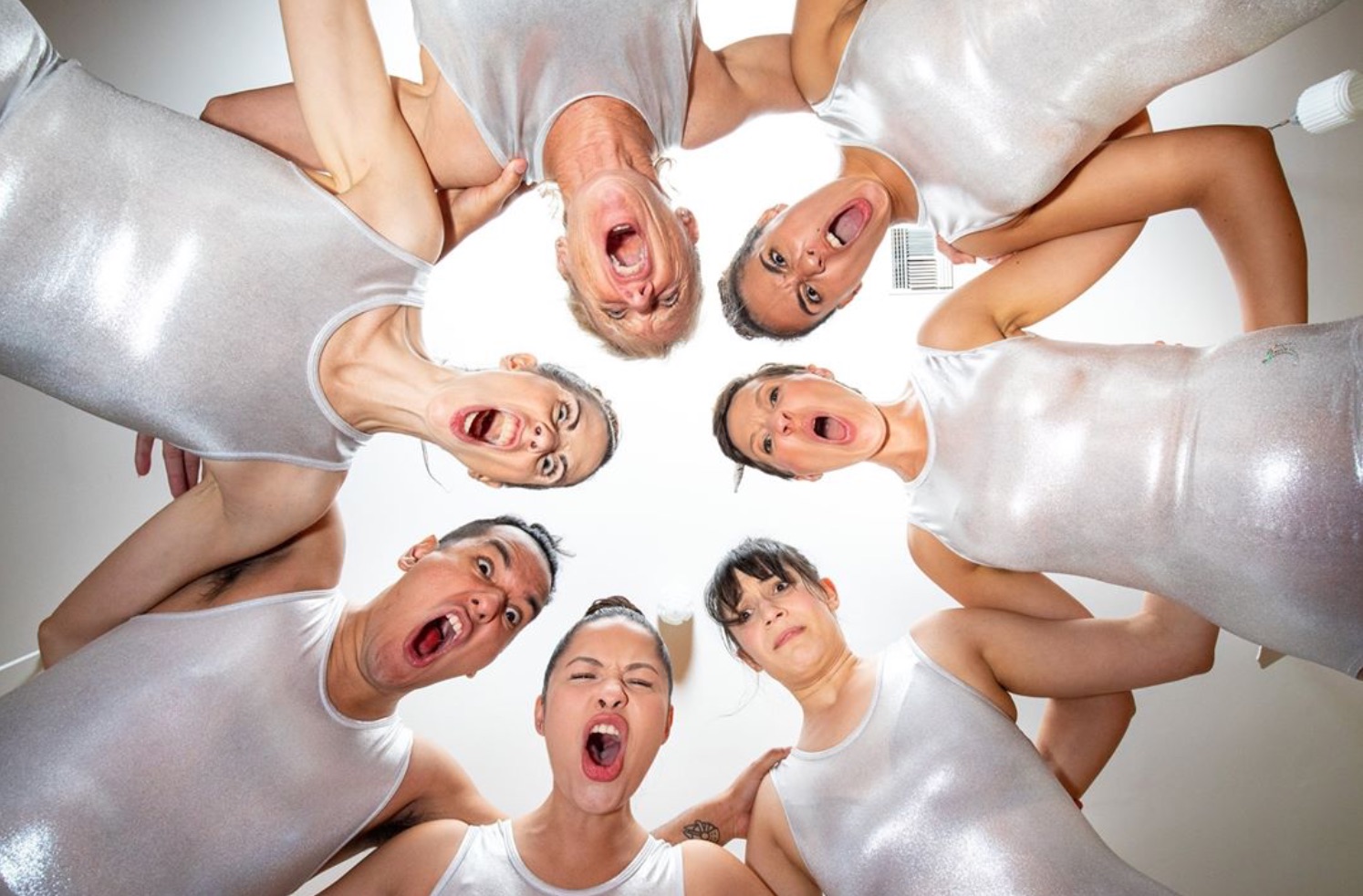 The counter-theme is introduced subtly to preserve various surprises and shocking incidents. That is understandable, but is indicated by too few signals and clues to the audience, such as the witch names in the character list, the very peculiar sentence in the third line below the list, and the nonhuman teeth worn by all the characters after a certain point early in the play. The problem is that some of the scenes, signs, and symbols (the continual full moon) are so subtle that most audience members won't "get it" or they will be confused by it all. The confusees will at least be entertained by the wild and risqué humor. The blood on the stage and faces of the actors needs a little more explanation. Well, maybe not the blood on the face.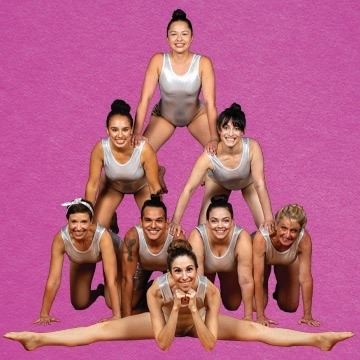 The amazing cast takes great care of the audience, led by Susan Myburgh, Sarah Danko, Amy Downing, and Giselle Marie Munoz. Longtime national actors Dennis Bailey and Elise Ogden drive the action, and relative newcomers Whitney Abraham, Michael Galvan, and Katy Atkinson showcase their emerging talents. Atkinson is especially appreciated for her world domination speech, a rising emotional scale, hormone growth monologue featuring the line: "I'll make all you MFs my bitch!" with its wonderful street-inflected plural-to-singular transition. The cast members each have such standout scenes that they are best appreciated in the collective; they have put together an award-worthy ensemble performance. Director Lavery has kept a crisp pace through the show, notably in the scene transitions.
The stage magic is in the capable hands of Wizard, aka production manager and set designer Blake Addyson. He creates many functional and interactive sets for Theatre en Bloc.
It seems that playwrights writing today belong (or fancy they belong) to an intellectual elite of considerable privilege. Playwright Clare Barron reveals herself through this play as just such a one. Playwright Kyle John Schmidt (The Secretary) receives a credit as dramaturg; he also belongs. Part of the circle's conceit is the concept of transgression, disrupting or altering the norms of society through their talented writing. Most ticket buyers accept having their ideas challenged at the theatre but prefer to leave their norms undisrupted; and theatrical transgressions quite often cross a line from telling jokes for audiences to telling jokes about them, echoing mocking backstage chuckles by inner circle members. This is a less than admirable trend in American theatre.
The overt theme of Dance Nation addresses teen and sub-teen issues of sexuality, diet, ambition, suicide, and pubescent reality testing, but it offers no guiding directions for children or their parents. The dance teacher gives an inspiring talk pointing out starving children in our streets and hungry kids who crawl into their closets and sleep dreamlessly. The team dancers know to weep on command, some of them just to shut him up; the teacher knows how to jerk their emotions to exploitative effect; and the audience responds with ironic laughter and schadenfreude. Dance Nation is cruel to its subject matter. It's not a woke play.
Dance Nation is recommended for adults who know how to keep their defenses up and don't need any childrearing tips. Don't bring children unless you're ready to explain menstruation, confused emerging sexuality, masturbation, and why pussy chants are hilarious. It runs through September 15, 2019 at the Rollins Theatre in the Long Center in central Austin.
---
Dance Nation
by Clare Barron
Theatre en Bloc
Thursdays-Sundays,
August 29 - September 15, 2019
Rollins Theatre
Long Center
701 Riverside at South First,
Austin, TX, 78704
Winner of the Susan Smith Blackburn Prize and The Relentless Award, DANCE NATION will be presented in Rollins Studio Theatre for a three-week run of 12 performances, beginning August 29 and ending September 15.
Pre-sale tickets are available for Long Center Members starting tomorrow, Wednesday, July 24 at 10 a.m., and single tickets will go on sale this Friday, July 26 at 10 a.m. Tickets will be available online at thelongcenter.org, by calling 512-474-5664 (LONG), or in person at the Long Center's 3M Box Office.