Review: The Tempest by City Theatre Company
by Michael Meigs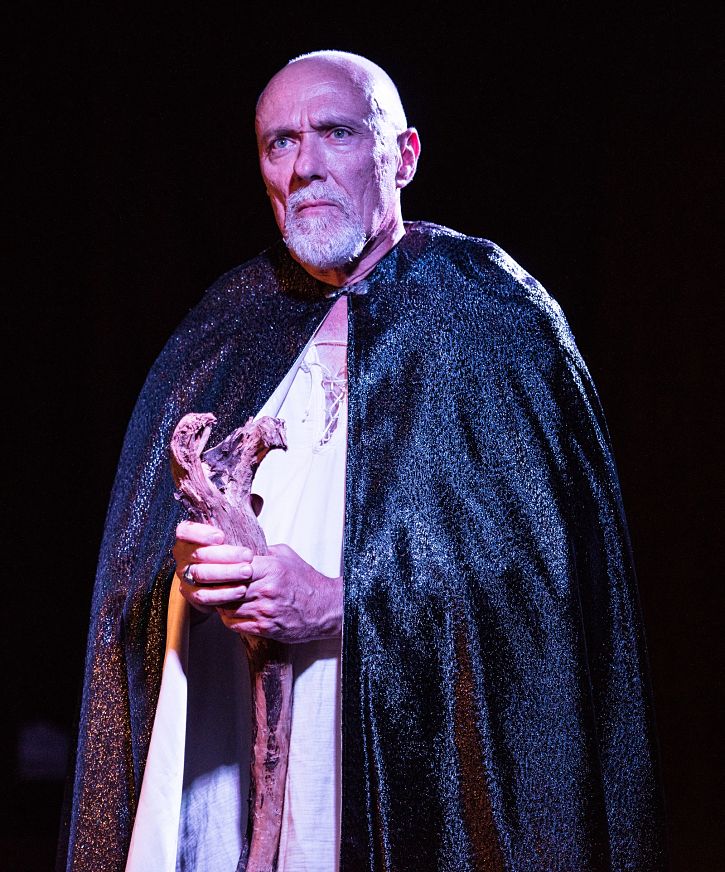 The Tempest never disappoints. Perhaps this late play was indeed Shakespeare's farewell to the stage. That view is probably just sentimental pudding, for he was a working playwright, popular but not really idolized until after he'd been gone for a while. But this fantasy on an enchanted isle is easy to swallow, for Shakespeare gives us the magician, the magic, and the fairy sprite yearning to be free, just as exiled Duke of Milan Prospero is yearning to be free of the durance of rule, of parenting, and of politics. He simply wants to retire into the comforting den of his library. The bad guys are bad but they're clueless, at the bemused Prospero's mercy from the opening scene.
For you youngsters with stars in your eyes, there's a romance of love at first sight, made just difficult enough by Daddy to be interesting. And of course there's the puzzle of Caliban, a creature of primal id subjected to the harsh rule of the intruding Duke's civilizing mission. Of all the Shakespearian canon, The Tempest is the most enchanted and enchanting.
City Theatre's difficulties with -- ironically -- the city, more than a decade into Andy Berkovsky's fine venture, have temporarily expelled their productions from the familiar stage at Airport Road and 38 1/2 street in Austin (I used to add helpfully, "behind the Shell station," until a couple of years ago Andy suggested that maybe by then folks had figured out the location). Bringing the space up to city code is a tedious process, perhaps prolonged, and in the meantime Berkovsky and companies have scrambled successfully to come up with venues for an unabridged season. It looks as if they'll make it; unfortunately, it appears that the Santa Cruz Theatre on East 7th had only two weeks available. Berkovsky usually likes to run productions for three or four weeks. Unabridged so far, but shortened. That challenges a theatre reviewer. I'm hammering out these notes on the production's closing Saturday.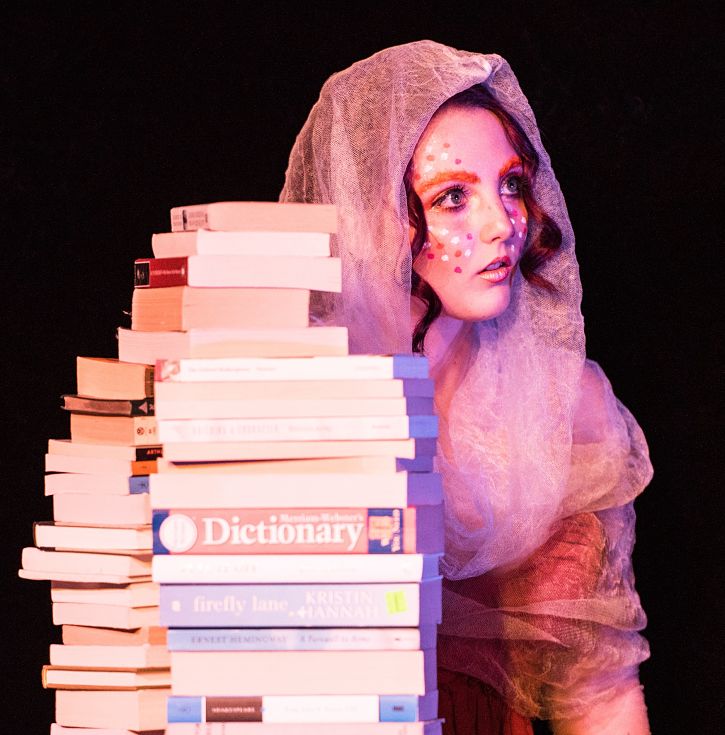 The action is swift, in part because this is one of Shakespeare's shortest plays (only the equally whimsical Midsummer Night's Dream and The Comedy of Errors have fewer lines). Director Levi Gore moves the cast smartly through their paces, and they respond with enthusiasm. This is essentially a bare-stage production, in which the costumes do much of the work of stimulating visual imagination. Gore has stacks of books all the length of that very wide and shalllow Santa Cruz stage, surely intended to evoke Prospero's library. Instead of suggesting a sanctum for study, they give the stage the appearance of the sorting area at Half Price Books. Happily, the cast had no problem in navigating them. I was vaguely worried throughout that a false move or overenthusiastic dance step might send a sprawl of paperbacks and school texts across the stage.
Prospero -- still bearing that name in his ironic exile -- is the narrator, mover, wizard and central character, although perhaps not the protagonist (for who can stand aganst such overwhelming magic?). George Kendall plays the magician as calm, slightly disaffected and unmoved much of the time (though there's a quick wink in there as he brings daughter Miranda together with noble young Ferdinand). Kendall does not dominate, as Prosperos often do. Steve Shearer was wryly humorous as Prospero for Austin Shakespeare; Kevin Gates did the character as a surprisingly cheerful, mischievous and youthful trickster for the Emily Ann Theatre. In contrast, Kendall is a watcher most of the time, grasping that driftwood staff with aiuthority while setting up the plot events like moves on a chessboard. There are passages early in the play when his voice is so quiet that one must strain to hear it.
Director Levi Gore cast Tristin Evans as Miranda and actress Sunny Huang as Ferdinand. This approach isn't new or problematic in Austin, where women have often taken parts written for male characters. There's engaging chemistry between these two. Evans is innocently enthusiastic about the brave new world, and Huang invests Ferdinand with fine voice and vigor.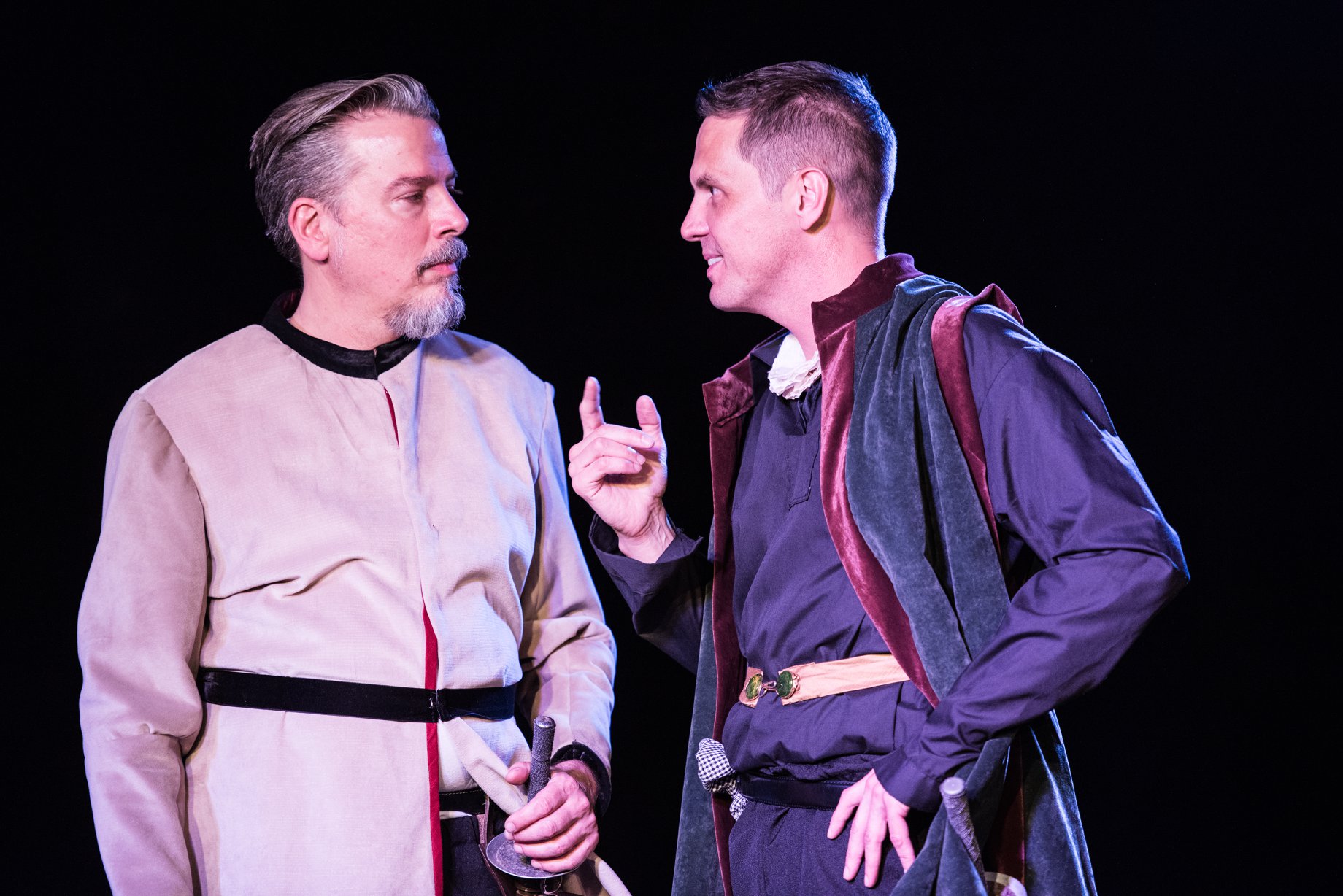 I particularly liked the bad guys: Peter Young as plotter Antonio and Marc Balester's Sebastian, covetous of replacing his brother Alonso as ruler of Milan. Balester's eyes narrowed, he glowered, and his face depicted every shade of suspicion and ambition as the two prepared an assassination. They are stopped by Ariel, Prospero's familiar spirit. Emma Parsons is a wide-eyed waif of an Ariel, quite meek and submissive to Prospero.
Mick D'Arcy is the Polonian old gentleman Gonzalo, while Fernando Velez and Sunshine Garrison have a fine time as the bibulous clowns Trinculo anhd Stephano.
There are spirits aplenty stirring in this isle, as seen in the masque of pagan gods Prospero evokes to celebrate the young persons' marriage.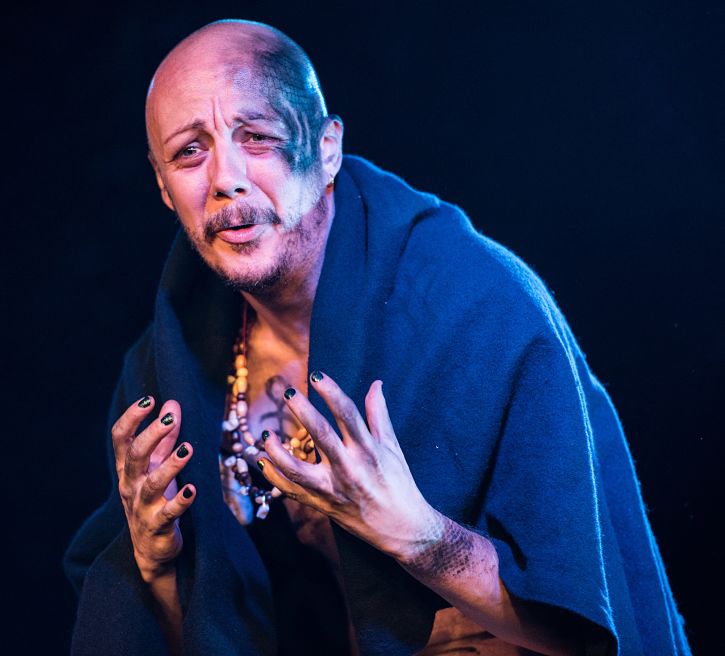 What fools these mortals be, as that other airy spirit Puck commented in A Midsummer Night's Dream. And as in that much earlier comedy, all turns out well here on the magic isle in the end -- except for Prospero's other slave, Caliban, a creature not of air but of earth and fire. Denver Surgener, whom I'm seeing on stage for the first time, has a striking, sinewy malevolence. Unlike other Calibans, his is not a creature to be laughed at. Surgener's physicality is edged and amplified by makeup that suggests the depth of spiritual abuse he has suffered. Which leaves one thinking: wasn't Caliban born to be the prince of this isle? Prospero's mercy seems limited to little more than a pause in torments.
Prospero ingratiates himself with the audience by setting up the arc of his seeming success. In the epilogue he addresses the public and asks for its applause.He's ready to walk away from the poker table with all the chips; but perhaps one might imagine the story told quite differently. Kendall's cool Prospero could be perceived as the dealer who has stacked the cards, while Surgener's Caliban, expressive but desperate, could be the protagonist in quite a different story.
EXTRA
Click to view the program for City Theatre's production of The Tempest
---
The Tempest
by William Shakespeare
City Theatre Company
Wednesdays-Sundays,
July 11 - July 21, 2019
SHOW INFORMATION AT A GLANCE
The Tempest by William Shakespeare
July 11 - 21. Thursdays – Saturdays 8 pm. Sunday 4 pm.
Industry Night Wednesday, July 17th 8 pm.
Santa Cruz Theater. 1805 E. 7th St. Austin, TX 78702.
General Seating $15. Center Row Reserved $20-25. Thursday all seats $10. Group and student discounts. Reservations 512-524-2870 or info@citytheatreaustin.org. www.citytheatreaustin.org