Review: For Peter Pan on Her 70th Birthday by Jarrott Productions
by David Glen Robinson
What if Peter Pan did grow up?
Sarah Ruhl in her play For Peter Pan on her 70th Birthday imagines PP in a middle class Irish Catholic family in Davenport, Iowa where she found joy, success, and ennui with professional siblings. Jarrott Productions' production of the play at Trinity Street Playhouse plumbs its complexities and offers memories for many with similar family histories. Caution: the show is for adults with considerable life experience, not for kids expecting a children's show.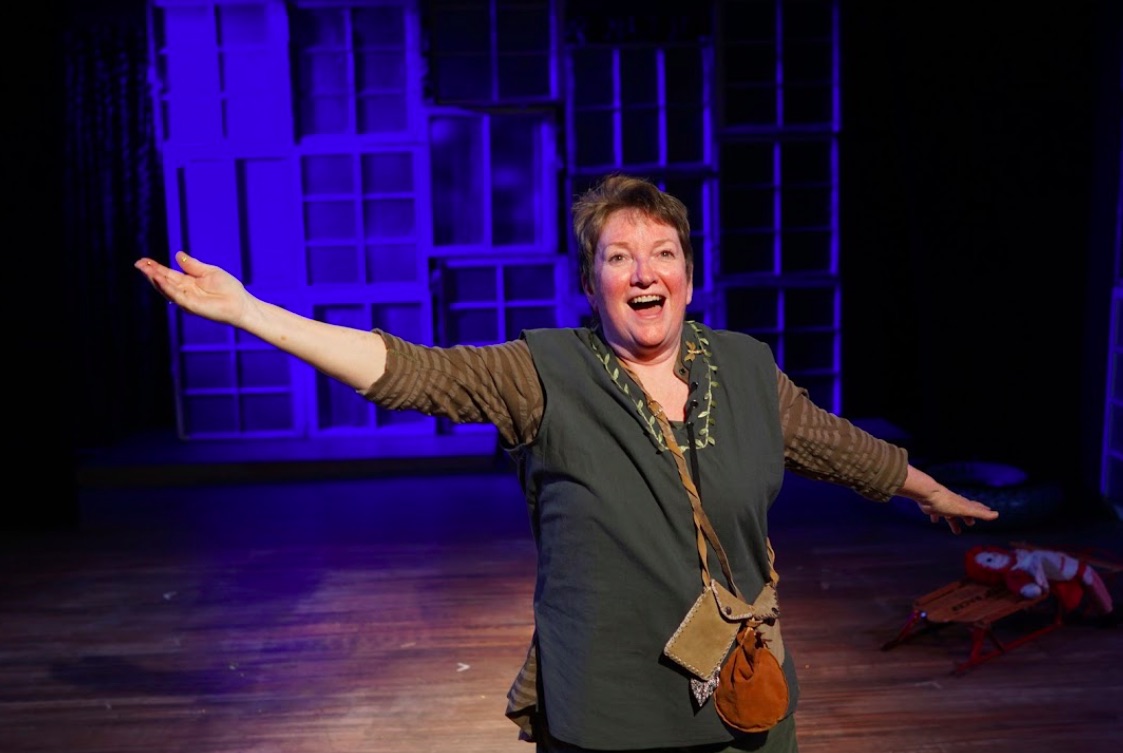 Sarah Ruhl has a reputation for frame bending, experimentation, unusual pathways through her plays, and deep considerations of human imponderables. She often throws out plot in favor of extended dialog. These things sparkled in Dead Man's Cell Phone, but in For Peter Pan on her 70th Birthday, the themes and structures are a bit muted. It's like an early play in which the playwright was testing the waters of form. Upon reading the program notes, one understands why: the play is about Ruhl's family in Davenport, Iowa. A family autobiographical play has certain sensitivities that must be observed. But if the names are changed and the greatest embarrassing episodes are glossed over, the generalized stories match, naturally, the family stories of almost everyone in the modern Austin audience.

The play begins with a monologue by Ann, played by Janelle Buchanan, who remembers playing Peter Pan in a local production when she was preadolescent. The speech is embedded in a lengthy hospital scene of the death of the patriarch, played by Tom Swift. The septuagenarian siblings hold a lengthy wake at home. These old children exchange divergent opinions on the soul, church, and the afterlife, throwing in 90's political opinions for good measure. None of the opinions mesh, leaving us without a guiding cosmology.
Magical realism, pixie dust, and Tinker Belle, played by a shiny party ball, fling us into the family's journey to Neverland. Brothers and sisters, full adults in pajamas and toy gear, march in that direction until they collapse in fatigue. Ruhl subtly reveals her grand themes: you cannot go home again, time moves only one way, failure to launch is a deliberate but nonsensical strategy, and trying to recapture youth is a vain enterprise.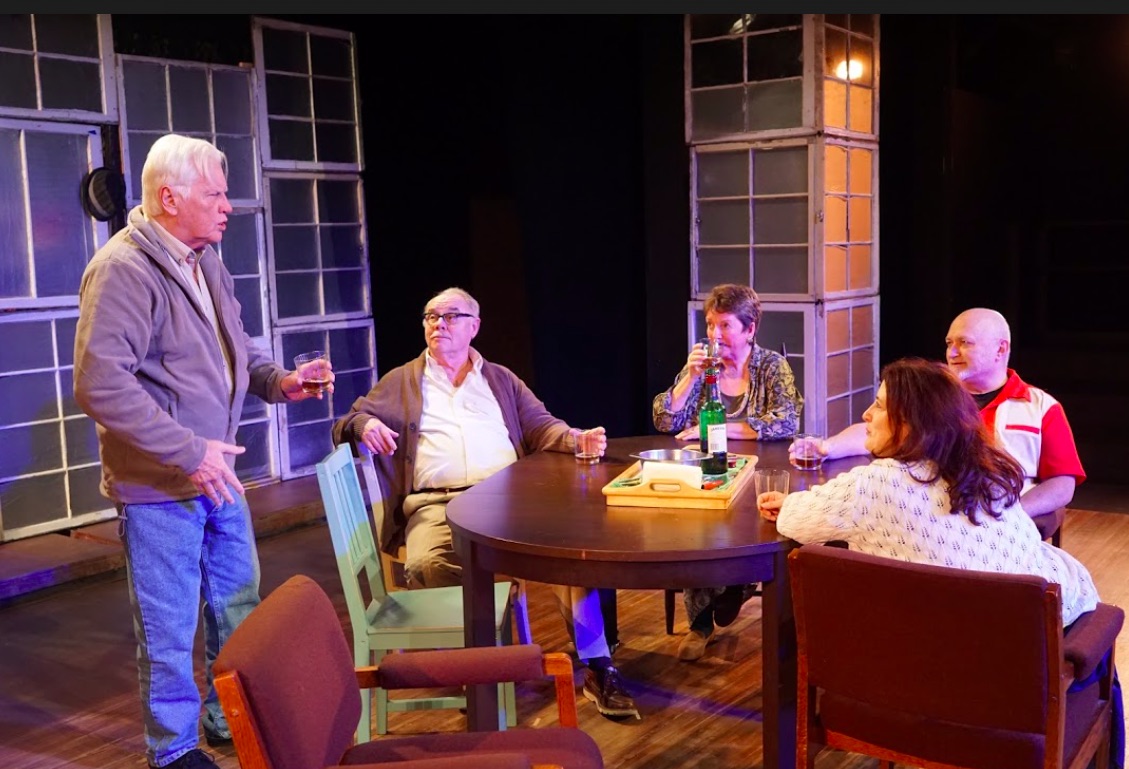 So Ruhl jolts us back to hard-edged reality and sugar-coats the reawakening for the imaginative, particularly with the character of Ann. One can live in the memories of one's youth; the problem is that not everyone has a creative imagination or had a magical childhood. The playwright offers no insightful soft landings or inspiration. Instead she leaves the play tinctured with the somewhat morbid atmosphere of the early scenes.
Director Jambon deftly helps the cast wend its way through numerous blocking and dancing tasks. She's particularly good in avoiding the numerous challenges of dialogue among characters seated around a table. Conversations remain clear for the most part, thanks to the excellent acoustics of the Trinity Street Playhouse.
A cast drawn from Austin's senior rank of actor eases director Jambon's task. Buchanan, David Jarrott, Garry Peters, Ann Hulsman and Mick D'Arcy were believable as siblings in their 70s or thereabouts. Decades of experience on stage ensured perfect comedic timing, although early on the opening night work seemed a bit forced. The march to Neverland set a natural, slower pace that highlighted the themes of the play. So did their apparently authentic fatigue upon arrival.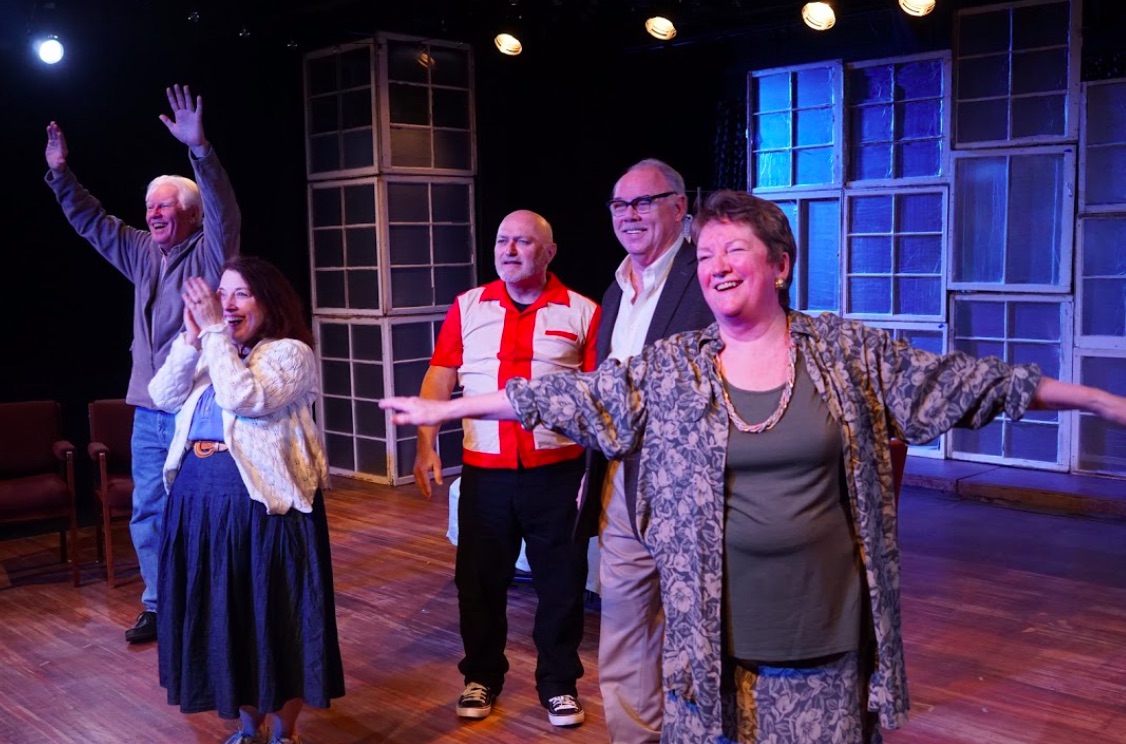 For Peter Pan on her 70th Birthday runs from February 14 to March 10, 2019 at Trinity Street Playhouse on the fourth floor of 701Trinity Street, downtown Austin. Jarrott Productions has mounted yet another unusual contemporary play and produced it well in the flexible, comforting confines of the blackbox playhouse, even though the mobile upstage wall demonstrated some unruly behavior. The play is recommended to fans of playwright Sarah Ruhl, and, of course, to adults curious about the destiny of Peter Pan.
EXTRA
Scenes and audience reaction, Jarrott Productions
---
For Peter Pan on Her 70th Birthday
by Sarah Ruhl
Jarrott Productions
Thursdays-Sundays,
February 14 - March 10, 2019
Trinity Street Players
Black Box Theatre, 4th floor, First Baptist Church
901 Trinity Street
Austin, TX, 78701
Jarrott Productions presents Sarah Ruhl's bittersweet comedy, FOR PETER PAN ON HER 70TH BIRTHDAY, February 14ththrough March 10th at the intimate Trinity Street Playhouse, located inside the First Baptist Church of Austin at 901 Trinity Street. Performances are at 7:30 pm on Thursday, Friday and Saturday nights, with a 2:30 pm matinee on Sundays.
Tickets are now on sale at www.jarrottproductions.com. Prices range from $15-$30 with discounts for seniors/students/teachers/retired teachers. There is plenty of well-lighted street and garage parking available; street & garage parking is free on Sundays. This project is supported in part by the Cultural Arts Division of the City of Austin Economic Development Department.