Review: White by Permanent Record
by Michael Meigs
Carol Hickey's Mastrogeorge Theatre, just off east Cesar Chavez, is a compact space where audience members have their choice of the 30 or so folding chairs placed on low stadium-style platforms. It feels a bit like a television studio, and Permanent Record's minimalist decor against the black drapes of the cyclorama does little to dispel that impression.
White by James Ijames depends upon the acting, which seems appropriate, considering that this is the venue for Hickey's acting studio. The quality of the craft displayed by this cast is high and in some cases exceptional. Oktavea Williams surprises especially as she works her way through very different characters, winding up conflicted and doubly possessed. Her different wigs and costumes emphasize the changes as her character Vanessa, later proclaimed as Balkoné, develops from inhibited would-be actress to celebrant and then as celebrity. Williams' increasingly confident sass is entertaining and the thrust of the character is clear. Her only shortcoming is diction. Williams's voice and expression precisely suit those characters, but as the piece progresses she delivers her lines with a liquidity and lack of articulated consonants that may hinder comprehension.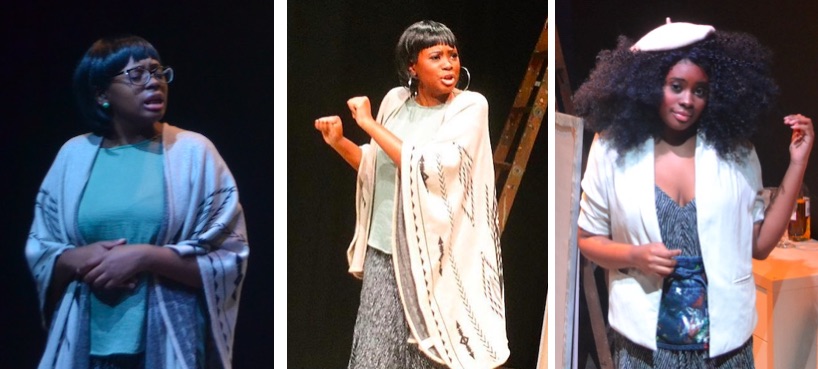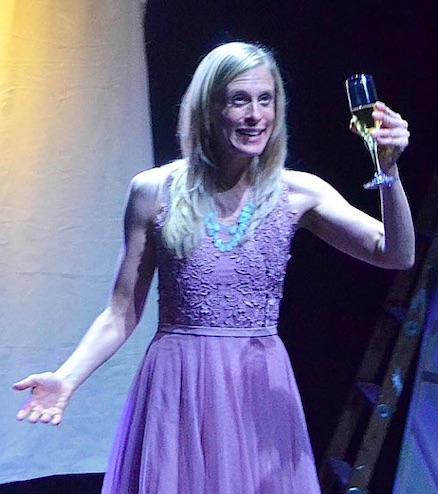 Speaking of television, Director Delanté Keyes impresses upon his cast an acting style very close to that of the television sitcom. This is intentional, and it sets spectators up for easy laughs at the apparently absurd situation. Gus, a talented painter devoted to abstract conceptual oilscapes, has invited his old friend Jane, the newly successful curator of a famous museum, to see his latest work. He's hoping for an invitation to participate in a major new exhibit. Despite her praise for his white-on-white abstract, Jane isn't looking to promote white male artists. Not even gay ones.
That sitcom style sat uneasily with me in the initial scene, for although these two characters are acquaintances of long date, they almost never spoke directly to one another. There was little eye contact. It was almost as if the actors had been instructed to pose for some invisible camera. Gus's frustration certainly became evident and was maintained as motivation for the greater part of the work, but Heidi Penix wasn't granted much of an opportunity to put flesh and blood into her character. Curator Jane came across as a stiff symbol of the unsympathetic art establishment.
Her obstinance motivates Gus to hire African-American actress Vanessa to pretend to be the author of his latest paintings.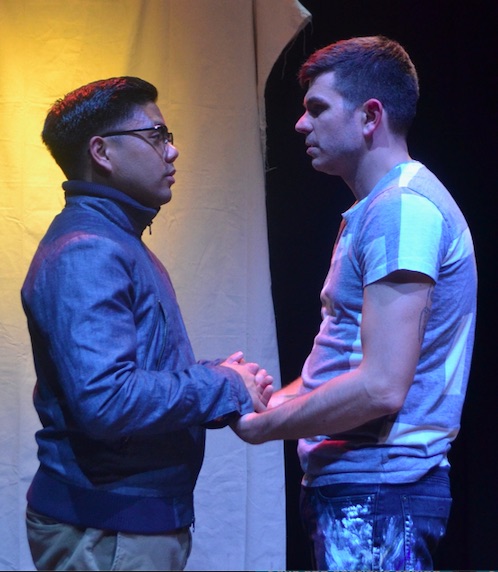 Ijames has written a fair amount of hysteria into his principal character and inserted him into some absurdities. Chad Dike pushes the limits with Gus but keeps him generally credible. Duo scenes with Gus's partner Tanner contrast the painter's self-doubt and high-strung nature with Tanner's steadiness and patience. Cary Agtane maintains those qualities for Tanner despite Gus's bickering and agonizing, as well as through the chastely directed love scenes. But, again, Ijames creates Tanner more as a foil than a full character.
The playwright takes the license of theatre space to push mockery even beyond what might be permissible on contemporary network television. Gus imagines himself to have an "inner African-American woman," a concept that materializes as Saint Diana [cf., Ross], a lush and extravagant apparition made incarnate by Allegra Fox. Gus prays facing front and center; Saint Diana swings up into the heavens behind him on a stepladder.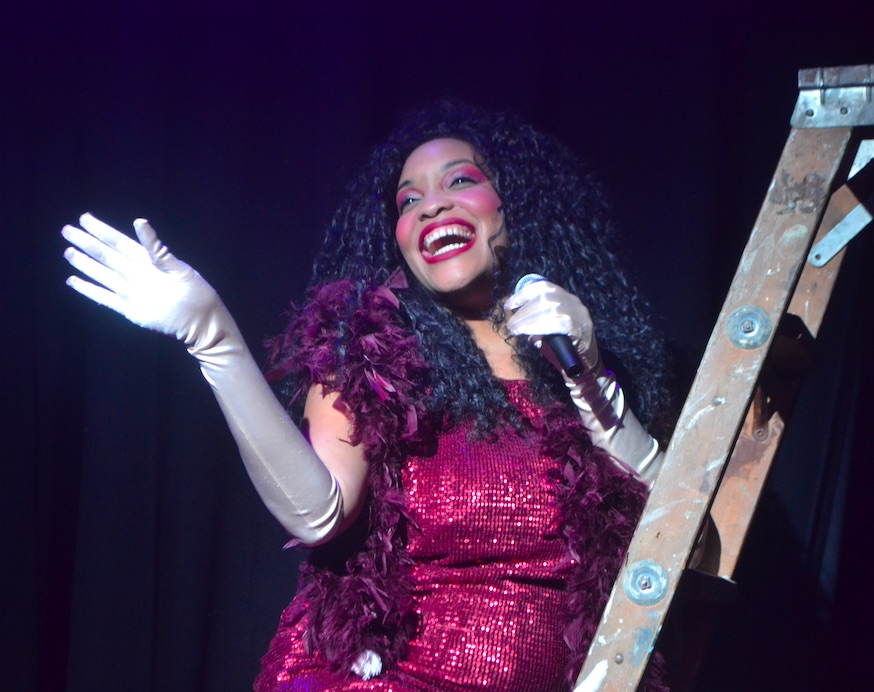 Sitcom setups undergo decidedly weird modulations in the dénouement of White. Gus avows his deceptions and finds them not only dismissed by wicked curator Jane but in fact expected, detected, and manipulated as the means to a horrific arrangement that blows conceptually sky-high one's perceptions of the art business. This reveal sets the stage, literally, for a resolution with overtones both of Ibsen and of the theatre of the absurd.
The emotional movement in this piece is similar in some ways to that of We Are Proud to Present [. . .], recently done by Street Corner Arts, although it's milder, sometimes funnier, and features millennial angst throughout. White is a laudable first outing for Keyes as a director, and I welcome Chad Dike as Gus and Oktavea Williams as Vanessa/Balkoné, neither of whom I've seen before.
EXTRA
Click to view the program card for White by Permanent Record
---
White
by James Ijames
Permanent Record
Thursdays-Saturdays,
December 06 - December 22, 2018
Thursdays through Saturdays at Mastrogeorge Theatre.
Mastrogeorge Theatre is located at 130 Pedernales St, Austin, TX 78702, at the corner of Cesar Chavez and Pedernales. The entrance is on Pedernales, right around the corner from Blue Owl Brewing.