Review: Cabaret by Texas State University
by Michael Meigs
Christopher Isherwood's stories of 1930's Berlin, that sink of jolly depravity, have transmuted since their 1945 publication. First reworked as John Van Druten's play I Am A Camera, then chosen by Kander and Ebb for the 1966 musical, the strange weird world became the 1972 film in which Michael York seemed clueless and Liza Minelli was a heedless chanteuse indifferent both to conventional morals and to the storm gathering over Germany.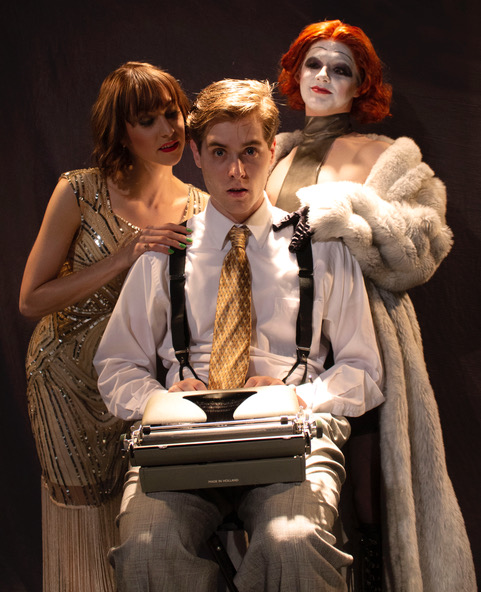 Here we are, fifty-two years farther along, and Cabaret is still a favorite. The tunes are memorable, the setting is still exotic, and almost any young person thrills at the libidinous freedom of the imaginary Kit-Kat Club in tawdry Berlin. It's a coming-of-age story, a barely fictionalized account of Isherwood's own experiences there as a runaway from his upper class origins and from conventional sexuality. Protagonist Cliff Bradshaw is abashed and pretty bloodless, attracted to the extravagant Sally Bowles as a moth is to a flame.
Director Tom Delbello makes the most of the rich resources of the Texas State musical theatre program to put on this show. It could have been yet another warhorse production like so many others, winking and leering a bit in mostly innocent celebration. The first Broadway staging in 1966 occured in those heady times when idealism and the contraceptive pill were promising new freedoms and thrills, much like those that Isherwood and his avatar had sought in Berlin. John Frederickson as protagonist Cliff Bradshaw arrives in Berlin in snowfall, carrying an overnight case and a typewriter. He's quickly taken in and introduced both to landlady Fraulein Schneider and to the city's demi-monde.
Nick Eibler hosts us as the Emcee at the Kit-Kat Club with his confident line of patter and mockery. The pep, blank face and orange wig appear to mask pain and a degree of mystery, for he's puppeting with the club performers without revealing anything about himself. The Emcee and others from the club are watchful throughout, lingering at the edges of other scenes or surveying from the high platform.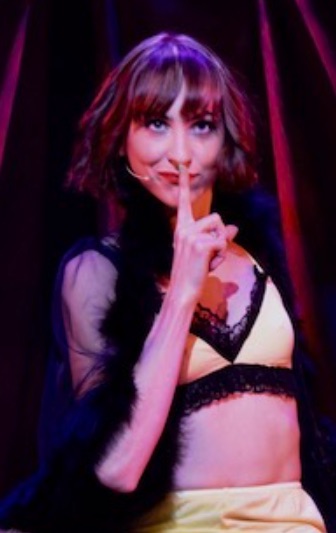 This is a Cabaret reworked for contemporary times. It's forthright about the sexual tangles but Delbello and his cast give it a darker tone. Nick Eibler as the M.C. is energetic, eye-catching and androgynous. Touches of S&M are added, including the memorable first singing of "Tomorrow Belongs to Me" during which gaudily garbed male choristers mime tormenting Eibler by strapping him into a tight corset. A bouncing, prancing female chorus line turns out to include Cameron Sirian as Buddy the gay romper; Sirian and an uncredited but attractive and energetic chorine, along with Eibler, make up the saucy trio for the number "Two Ladies." Those fresh-faced Kit-Kat girls get increasingly haggard as the events unfold, makeup smearing and running. Once Sally has abandoned Cliff and returned to the club, her face receives that same treatment at the hands of an intent showgirl.
Logan-Rae as Sally Bowles is determined and direct, without a hint of cuddle or giggle. Her rendition of the "Cabaret" ballad at the close, all the way downstage, carries regret and a sense of fatality, very much in keeping with Eibler's numb "I Don't Care" just minutes before in the act.
Anna Rose Daugherty stands out against this background in her portrayal of the sensible, matter-of-fact landlady Fraulein Schneider. She has endured much, without complaint ("So What?") and her tempered reaction to the clumsy courtship of Herr Schultz (Grayson Samuels) speaks of the small joys so greatly threatened by political events. Daugherty's composure in a world disintegrating into fascism is the only hint of hope and survival - an apt reminder for our own day.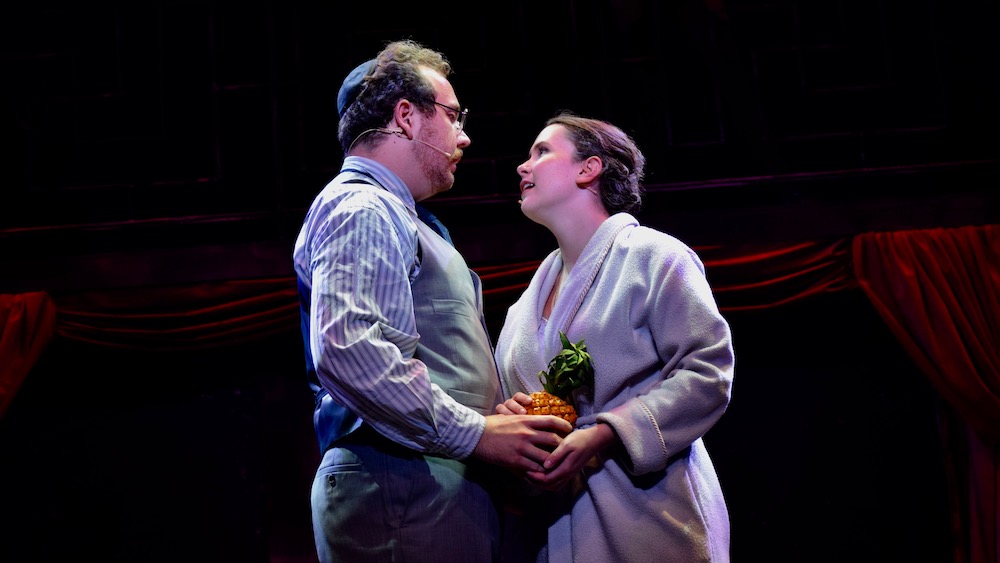 The visuals of the ending scene are harrowing. Eibler as the Emcee has lost all his mirth. Dressed in striped prison garb marked with a pink triangle, he turns his back to the audience and walks upstage, disappearing through smoke and swirl into a vast structure that appears constructed of poured concrete. Cliff, standing once again downstage right with luggage and notebook, makes a discovery that leaves him horror-stricken.
The technical arts gleam in service to the work as a whole. It's a treat to have Greg Bolin directing a twelve-piece show orchestra in the pit. Choreography by Jacob Burns and Beau Harmon is swift and sure; as with Delbello's direction, it engages every performer onstage.
This warhorse of American musical theatre was up and rearing, not about to give up. A memorable and very twenty-first-century evening.
[A pedant's quibble: Cliff's an educated young man and evidently well read, so he should know that the last name of French writer Marcel Proust is not pronounced "Prowst." It rhymes with "boost."]
EXTRA
Click to view the Texas State program for Cabaret
---
Cabaret
by Kander and Ebb, based on Christopher Isherwood's stories
Texas State University
Tuesday-Sunday,
November 13 - November 18, 2018
Cabaret opens Tuesday night, November 13 and runs through Saturday, November 17 at 7:30 p.m., with matinee performances on Saturday and Sunday, November 18 at 2 p.m. All performances will be in the Patti Strickel Harrison Theatre.
Individual tickets start at $13 for adults and $8 for students, and may be purchased by phone at 512-245-6500 or online at txstatepresents.com.