Review: Toc Toc by Pedemonte Productions
by Michael Meigs
The cordial collaboration between Alex Pedemonte and Austin's Scottish Rite Theatre delivers a lively, funny evening that's valuable both as amusement and as a look into the sense of humor of Spanish-speaking urban audiences. The 2005 comedy Toc Toc by Frenchman Laurent Baffié was translated into Spanish by Julián Quintilla in 2010, and it's become a success that out-Simons Neil Simon. Toc Toc is still running in Madrid, with more that 1500 performances to date; both in Argentina and in Mexico the curtain has risen more than a thousand times on this collection of quirky characters.
"TOC" is the acronym in Spanish for "OCD" - obsessive compulsive disorder, an individual's intense focus on some behavior or idea that interferes with life's usual functions. The set-up here is simple: six individuals turn up at the office of a famous psychotherapist for a long awaited session, but they're informed that the doctor will be late because of a delayed flight. This leaves them to their own devices for the afternoon as they get occasional reports of the physician's progress in their direction.
Toc Toc -- the title is a play on the sound of knuckles rapping on a door --has a formulaic but pleasing structure to its three acts: progressive presentations of the six main characters, whose foibles and phobias bounce off one another; a second act in which they're playing a game of Monopoly, with all the opportunities for fun you might imagine for that; and a third act in which they've developed enough trust and solidarity to try to help one another.
Some writers claim that the basic elements of comedy are pain and surprise -- on one hand, the observer's relief at not being afflicted by observed distress (think of pratfalls in silent movies) and, on the other, the notion of being startled but not really scared. The script and this talented cast fire those elements at the increasingly delighted audience with a rapidity and assurance orchestrated by director Palacios.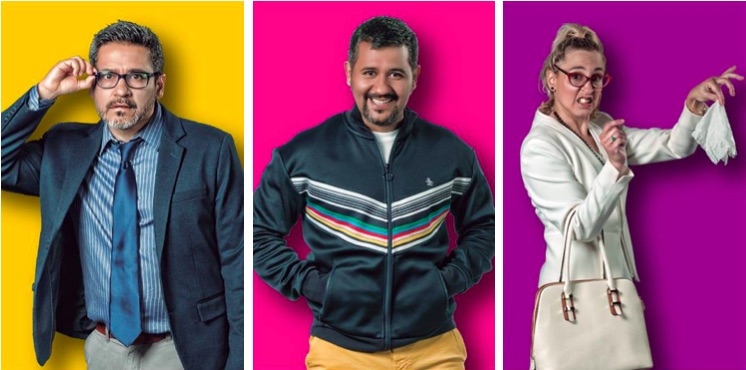 Though they start as stereotypes, these characters quickly become individuals we like and can identify with. Looking distinguished and professorial, Chuy Velásquez as Fred is the first to appear; his Tourette's syndrome prompts him to blurt out obscenities and profanities from time to time, apparently at random. Alex Pedemonte is the taxi driver, cheerful, humorous, and endowed with astonishing mathematical ability that drives him to obsess with numbers. They're joined by a woman haunted by the fear of germs and dirt (Veronica Pomata), a pious matron dressed in black devoted to religion and prey to lascivious thoughts (Alejandra Murga), a young man afraid of straight lines (Antonio Medrano), and the extremely shy Lili, who's reluctant to reveal her own TOC.
Each of these characters is appealing. Pedemonte, both actor and producer, brings a happy vigor to his role as the spark plug of the action; and Monica Fossi as the inhibited Lili captures our hearts as she gradually reveals Lili's affliction and teases us with nearly successful efforts to overcome it.
Toc Toc has been extensively and artfully marketed to Austin's Spanish-speaking public, on-line, on television, through the papers, and with the bright-colored photographs by Daniel Conde that give instant, accurate impressions of the six leading characters (Simon's "Odd Couple" multiplied by three!). The production team provides supertitles in English, evidently homemade because they're a bit grayed out and not always in close sync with the speedy dialogue in Spanish (but which are very helpful for those non-native speakers who'd otherwise be overwhelmed by the rapidity and the surprises in the repartee).
Toc Toc sparkles and captivates. My only misgiving — a surprise held until the very end, so one that I walked away, pondering — is the astonishing similarity of the plot with that of Bajo Terapía by Matías del Federico y Daniel Veronese, presented by the same company in 2016 and again in 2017 with Pedemonte and Fossi in the cast. You can't really fault them for that; after all, funny is funny, and Pedemonte made no secret of the fact that he's been trying to get the rights for Toc Toc for the last five years.
EXTRA
Click to view the program for Toc Toc by Pedemonte Productions
---
Toc Toc
by Laurent Baffie, adapted by Julián Quinanilla
Pedemonte Productions
Thursdays-Saturdays,
September 27 - October 12, 2018
Thursdays - Saturdays at 8 p.m. at the Scottish Rite Theatre.
Tickets $25 plus service fees
Preventa Inicia 1 de Agosto en www.eventbrite.com
Tickets will be availabie August 1 via www.eventbrite.com.