Review: Smokey Joe's Cafe by Tex-Arts
by Brian Paul Scipione
Pop music has evolved throughout the years but in one of is earliest incarnations it was constrained by an approximate three-minute song limit. Music historians point out that the reason for this is because a 45 record could only hold that much music, so in order to get your song on the radio you had to, in the words of Billy Joel "cut it down to 3:05." Many songwriters of the time took this as a challenge to imbue those three minutes with as much musical creativity and harmonic layers as possible.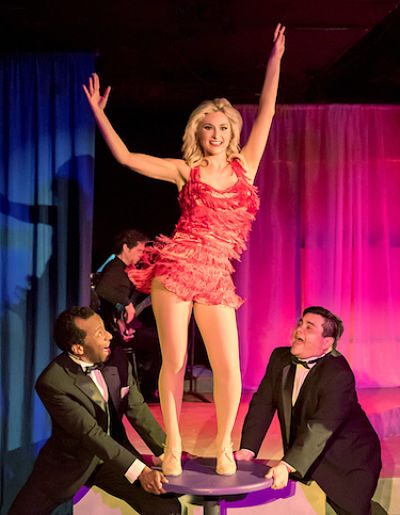 One famous team of songwriters were famously adept at this and churned out many, many hits during the fifties and sixties: Leiber and Stoller. A short list of their hits should be enough to awe anyone: Hound Dog, Stand by Me, Jailhouse Rock, Love Potion #9, Young Blood, Charlie Brown, Yakety Yak, Kansas City -- the list goes on and on.
Jerry Leiber and Mike Stoller are credited with more than 70 hit songs and were inducted in the Rock and Roll Hall of Fame in 1987. They worked with many famous artists including Elvis Presley, the Drifters and the Coasters, so it's no surprise there would be a musical tribute to them.
TexARTS is producing a two-week run of Smokey Joe's Café at the Kam and James Morris Studio in Lakeway. Directed and choreographed by Kimberly Schafer, who previously directed The Marvelous Wonderettes. TexARTS produces quality musical theatre and teaches dance, music and acting to people of all ages. They are beloved by their community and maintain high standards in all regards.
Smoky Joe's Café is no exception. It is a non-stop barrage of musical number after musical number. The performers' stamina has to be immeasurable. The second act alone has over twenty songs, but their smiles never fade and the voices ring out enthusiastically during every number. There is a blitz of costume changes and dance routines that unfurl seamlessly.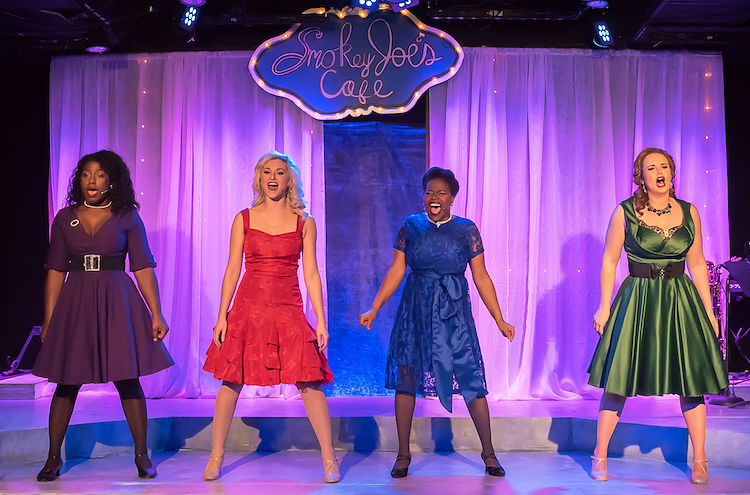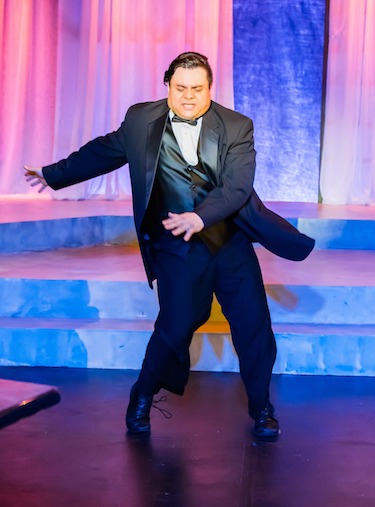 There is no storyline or overall theme to the show so its effect is very much like a night of cabaret. The cast is very charming and bring a colossal amount of energy to all the different musical stylings that are covered. One minute Paul Sanchez is channeling his inner Elvis with verve and panache, the next all the men in the show come out and get gritty on a bluesy rendition of Little Egypt.
Christina Stroup's voice is heart-wrenching and soulful especially during the number I Keep Forgettin.' Lauren DeFilippo turns up the heat on many numbers including the r-and-b inflected grooves of Teach Me How to Shimmy.
There are so many song styles represented it's hard to believe these are the works of just two men. Smokey Joe's Café is a must-see for anyone who is a fan of the music of the fifties and sixties -- or anyone in need of a rollicking good time!
EXTRA
30-sec. video from first week of performances, via Tex-Arts
---
Thursdays-Sundays,
February 15 - March 04, 2018
February 16, 17, 22, 23, 24 and March 1, 2 & 3, 2018 at 7:30 pm. February 18, 25 and March 4th, 2018 at 2:00 pm.
A special student preview performance will be held February 15 at 7:30 pm.
Single tickets start at $40. Single tickets are available by calling TexARTS Box Office at 512-852-9079 x101 or at www.tex-arts.org. All ages are welcome and parking is free. Group rates are available.
All performances will be held at the intimate Kam & James Morris Theatre at TexARTS' Erin Doherty Studios, 2300 Lohman's Spur, Suite #160, Lakeway, TX. The lounge opens one hour prior to curtain and offers beer, wine and light snacks. Parking is free.