Review: A Doll's House by Classic Theatre of San Antonio
by Michael Meigs
Publicity for the Classic Theatre's staging of A Doll's House by Henrik Ibsen promised it would be set in 1950's America with a Mad Men flair, but from the moment you settled in your seat it was clear that with his beautiful, meticulously detailed set Alfy Valdez was scrupulously evoking a bougeois Scandinavian home of the 19th century. Yes, the house's lights were electric, but all other details -- the pastel walls, the Tiffany-style hanging lamps, the fabrics, the furniture pieces, the tidy Christmas decorations, the framed paintings and engravings -- would have been entirely appropriate in 1879, the date when Ibsen wrote the piece and the time in which he set it. Valdez's design reinforces the title and the theme, for this appears to be a tidy, conventional home, exactly the setting expected of Nora Helmer, whom we quickly learn is the doll of the title.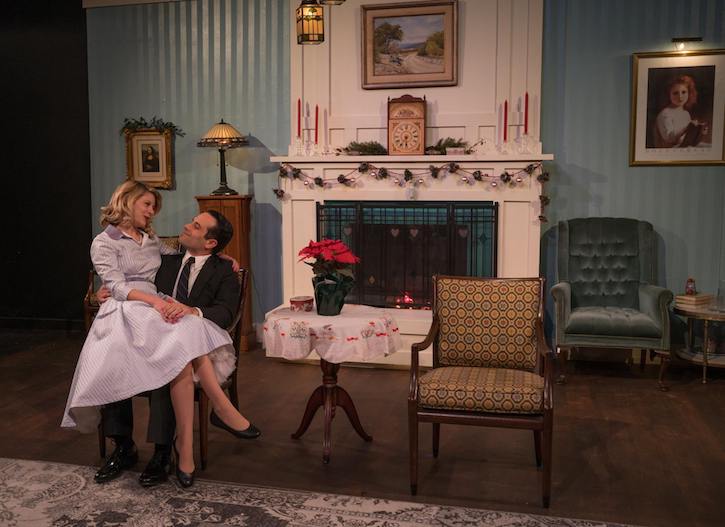 There was a fair amount of 1950's in Jodi Karjala's costuming, but even that wasn't patently anachronistic. Director Kelly Hilliard Roush's staging of A Doll's House successfully established itself as operating outside a given time and mostly outside a given place, subtly stressing the validity today of the central theme of a piece written very nearly 138 years ago. No need to wait for it: Nora as the good wife finds that the husband whom she has supported and served thinks no more highly of her than of their innocently incompetent children, while social norms and the law take the same view.
In our own day as American and European society struggle to get to a post-feminist view of the person, by facing the issues of dependency and disdain, A Doll's House is squarely in the tenor of the times.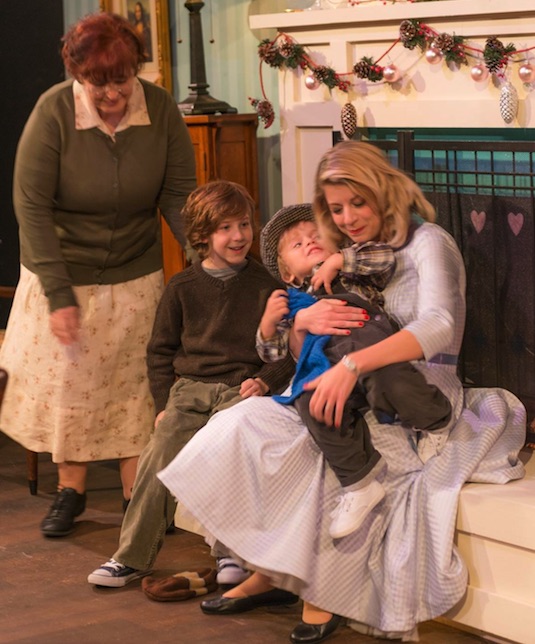 I was transfixed as Ibsen's three acts unreeled before us, and my wife was even more so. I confess that I hadn't done my homework ahead of time, and I kept having a bad feeling about all this as Nora's situation became more parlous, with secrets kept from her indulgent husband and a sturdy professional bachelor friend of the husband haunting the house. In fact, I was dreading half-remembered plot developments that turned quite differently in another Ibsen classic, Hedda Gabler, written a decade later, and in fact staged by the Classic Theatre in 2011. So I was wrong to warn my wife of the intentions of kindly Dr. Rank, a far nobler figure than the venial Judge Brack seen in Hedda. And I thrilled to see Kacey Roye as Nora Helmer undergo an unexpected but long overdue epiphany instead of simply committing suicide. Though mind you, Nora evaluates that abrupt out, and it's still not entirely excluded when the slam of the front door ends the play.
Dramaturg Donna Provencher's gracefully written note in the program surprises with an entirely apt quote from Love and Responsibility by Karol Wojtyla, who became Pope John Paul II: "No one else can want for me. No one can substitute his act of will for mine. It does sometimes happen that someone very much wants me to want what he wants. This is the moment when the impassable frontier between him and me, which is drawn by free will, becomes most obvious . . . I am, and I must be, indepenent in my actions. All human relations are posited on this fact."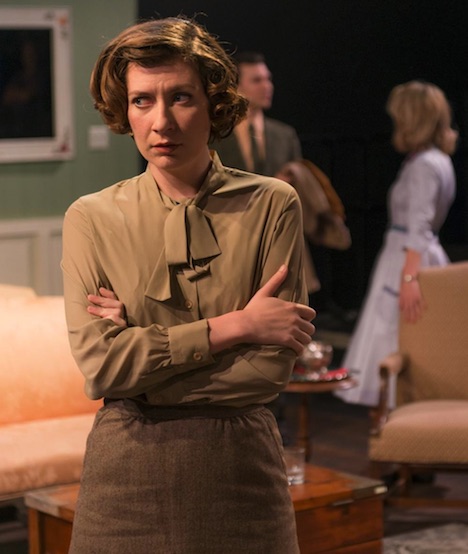 The four women in the play represent different aspects of Everywoman but are not egregiously obvious about it. Roye as Nora is intelligent but simple, good-hearted, accepting of her roles as dependent wife and mother, until nasty events call all that into question. Christina Casella as Nora's friend Christine was obliged to accept an unwanted marriage in hopes of a safe home and financial security, but now as a widow she is in desperate need of a job and support. Casella is guarded, stressed and in iron self-control throughout. Anne-Marie, nanny to the two young boys boisterously played by Oliver Rousch and Crispin Provencher, was forced to give up her own child conceived out of wedlock and now is dependent upon the Helmer family both for her subsistence and for her role as nurturer and proxy mother; Susan Brogdon achieves much in the fleeting moments given to her. Even Helene, the maid, portrayed by Jasmine Jackson, manages to overcome the walk-on, walk-off rote of her role as a factotum with scarcely a word to say, for there is a touching moment when she reaches out, ever so briefly, to rest a comforting hand on the forearm of her tormented mistress.
As for the men, well, I've already confessed I didn't trust John Boyd as Dr. Rank until it was too late and the muted announcement of his impending demise had already been delivered. Boyd makes the character gentle, sincere and retiring; the doctor suffers from an unnamed serious illness attributed to the "champagne and caviar" excesses of his father (a theme Ibsen would develop fully the following year in Ghosts).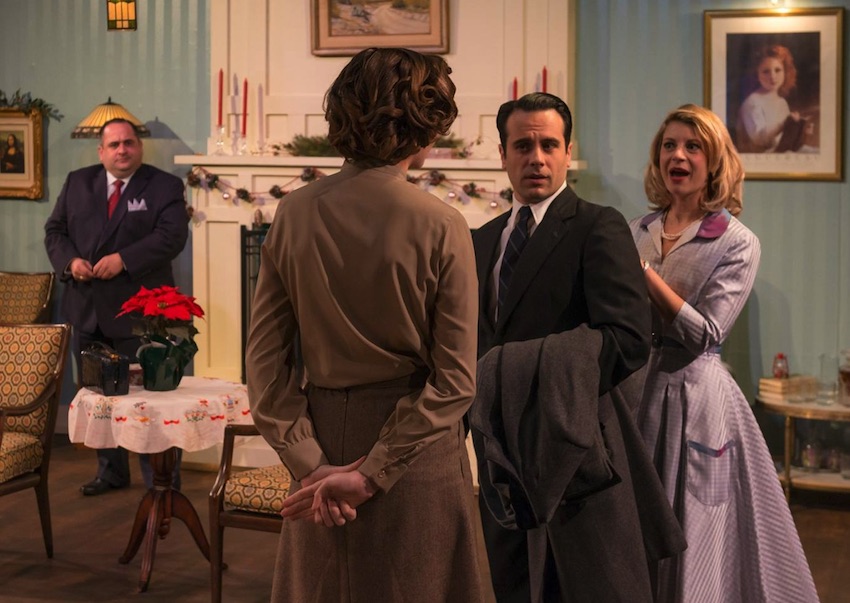 The other two men in A Doll's House constitute something of a mirrored pair. Nick Lawson as Nora's husband Torvald is gently remonstrative of his wife's enthusiasms, woodenly distant even in his affection, and reveals his egotism only late in the piece under the influence of drink and a sudden panic about his standing in the community. There's a lot of tedious plot business about letters being written, deposited and intercepted. Zac Lewis as bank clerk Nils Krogstad starts as a sullen and threatening presence facing imminent discharge in the new year when Nora's husband Torvald takes over the bank, and he becomes even more distantly vicious to Nora before being redeemed in a unexpected third-act development. Neither of the men in this conceptually counterweighted pair appears capable of deep emotion under the stifling weight of society; even Krogstad's gratitude has something of self-adoration about it.
One enormous aspect vital to the plot remains unmentioned and submerged, much like the unseen 90% of an iceberg. Nora goes afoul of the law because she forged the signature of her dying father in order to obtain funds to save her husband's life (by the very 19th century expedient of escaping overwork with a year-long holiday in Italy; Ibsen, by then having spent 15 years in self-exile from Norway in Italy and Germany, must have grinned at that one). Nora, the only offspring mentioned, would have inherited, and in today's world she'd have been able to pay off the covert high-interest loan that proved to be her undoing. But this is now, and that was then; one assumes that her inheritance went directly into the hands of her husband and was managed so that she couldn't get at it. As she confesses to her friend Christine, she's been doing copy-work and scrimping on her household allowance to meet the payments.
Kacey Roye captures our attention every second she's on stage, which is most of the time. Her exuberance as wifey and friend is so convincing that we're initially tempted to think she's just a flibbertygibbet, but with that goes a winning sincerity and vulnerability. When threats arrive and pressures mount, Roye as Nora faces them with touching courage and rationality. The third-act dénouement gives us a lengthy scene in which the worm turns, but by that time Roye has built a character of sufficient complexity that we accept her shift entirely and applaud it.
EXTRA
Click to view the Classic Theatre program for A Doll's House by Henrik Ibsen
---
A Doll's House
by Henrik Ibsen
Classic Theatre of San Antonio
Fridays-Sundays,
November 03 - November 26, 2017
Fridays and Saturdays at 8 pm, Sundays at 3 pm
Shows are held at The Classic Theatre located at 1924 Fredericksburg Rd.
​ ​The theatre is handicapped accessible.
Tickets are available online now at www.classictheatre.org. If you have questions, please contact The Classic Theatre Box Office at (210) 589-8450.
Ticket prices are as follows:
General Admission: $32
Senior, Military, Educator or SATCO: $28
Student: $17
SPECIAL EVENTS
Opening Night – November 3, 2017. Please join us for a complimentary opening night champagne reception.
Community Talk – Back: A community conversation on the issues of gender roles still present in our society will be held Sunday the 19th at 5:15pm, after the show. All are invited. The talkback is free.