Review: Singin' in the Rain by Zach Theatre
by Michael Meigs
Singin' in the Rain wasn't particularly innovative when it was first done as a movie vehicle for Gene Kelly, Debbie Reynolds and Donald O'Connor, except of course for Kelly's wonderful dance sequence, most of which he improvised on the spot. The film was just the latest product off MGM's Arthur Freed movie musical assembly line, and the screenwriters Comden & Green happily recycled popular songs of Nacio Brown and Freed. It wasn't even particularly popular at the time; but it proved to have seven-league rain boots. Kelly's muscular carefree dancing was of course a factor, as was the arm-in-arm chemistry of smooth macho Kelly, girl-next-door Reynolds, and class clown O'Connor.
Staging this so very familiar romp is necessarily a challenge, for the director, choreographer and cast must give us the familiar with enough innovation to bring it alive. Director Abe Reybold's casting of out-of-Austin actors achieves just that.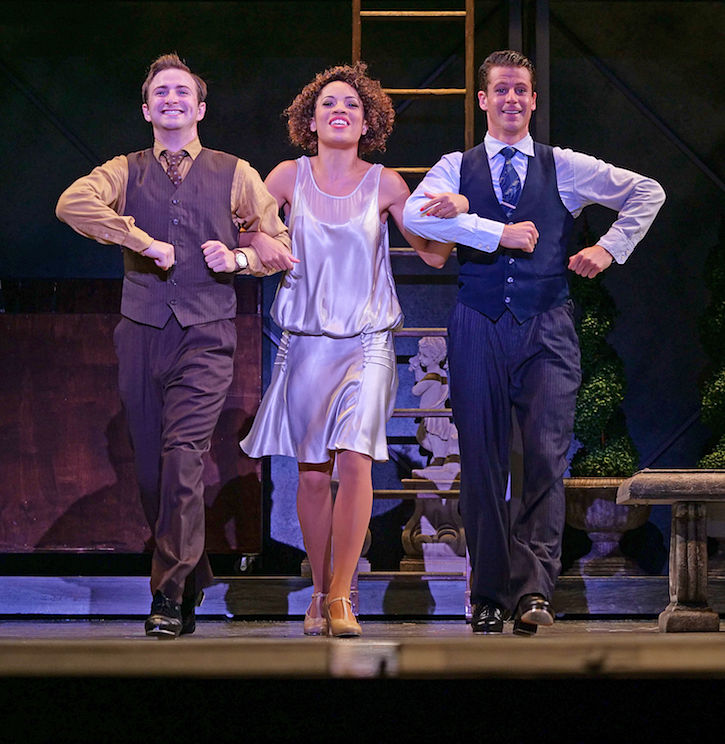 Kirk Tuck's photo exemplifies that process. This is the familiar arm-in-arm stride from the film's perky number Good Morning! immortalized in movie stills and posters. In this number choreographer Dominique Kelley omits the film's deft stride-over-the-sofa comic maneuver and keeps the action on a movie set. Luke Hawkins has the leading-man good looks and Blake Spellacy's got the goofy, cow-licked sidekick role just right, but Sasha Hutchings is very much a 21st-century leading gal. Reybold has replaced Debbie Reynolds pert with Sasha Hutching's big demure cosmopolitan appeal. All three imports are supported by a singin' and dancin' cast that includes faces from Austin. We can certainly forgive Reybold that, because their performance and acting skills are second to no one's.
Hawkins must have been born to tap. He has his own tap studio in New York. He and choreographer Kelley evoke shouts of approval with his energetic splishing-splashing joy in the title number. A few seconds' example, captured by photographer-videographer Kirk R. Tuck, who has recorded Zach Theatre' magic for years:
The story is a happy tidy tale of friendly folks who make good. Movie star Lockwood and sidekick musician Cosmo Brown have emerged from corny vaudeville to promising careers in the motion pictures. Aspiring actress Kathy Selden, who has the self-respect not to fall for star Lockwood's come-on, emerges, literally, from a big party cake. She becomes a hidden success by dubbing her gorgeous singing voice over that of that of screechy scratchy silent star Lena Lamont. Her impressed new friend Lockwood sets up the opportunity.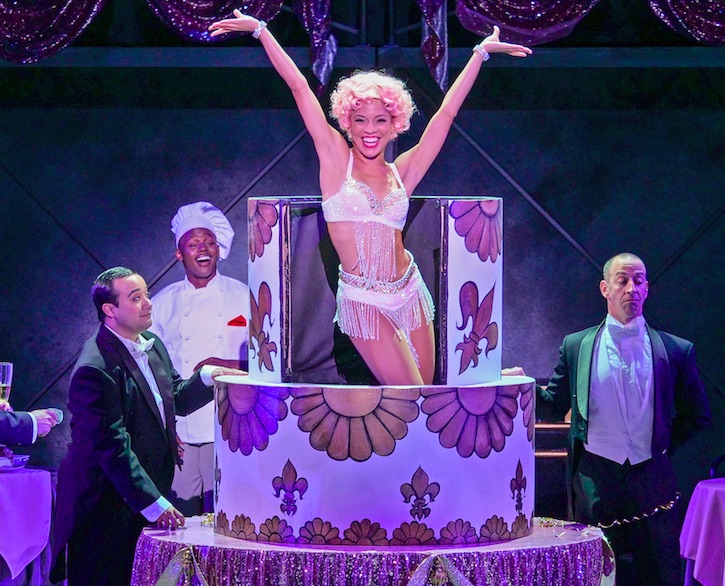 Singin' in the Rain was a cheerfully affectionate celebation of technology change and a cultural shift. The movies were scarcely twenty years old when the innovation of talking pictures ended some careers, spurred others, and prompted a completely different style of pictoral story-telling. This story of movie making, set in 1927, includes newly created fake silent black-and-white movies with the same protagonists. Scenes feature wooden wooing to shallow dialogue, flailing arms throughout, cornball duels expertly staged by Austinite Toby Minor (featured in a cameo as a hapless swordsman), and a fake romance hyped by the movie press. The talkies opened the way to the great naturalistic films of the 1930s. An hidden additional joke is that the theatre presents its version of this 1952 movie with mostly unchanged stage technology. As in vanished vaudeville, hoofers are gonna hoof, singers are going to belt it, and plot points are anchored with smiles, music and stage presence.
Michelle Ney's functional sets feature tall translucent panels that can be lit in various colors from behind and mockups of a vaudeville house and a movie back lot. Costumes by Brandon McWilliams are appropriately gaudy for the vaudeville numbers, lush for the silent movie scenes (check out that bird on Lena Lamont's head) and elsewhere appropriately 1950ish. Music director Alan Robertson, tucked away beneath the stage with a ten-piece orchestra, keeps toes tapping throughout.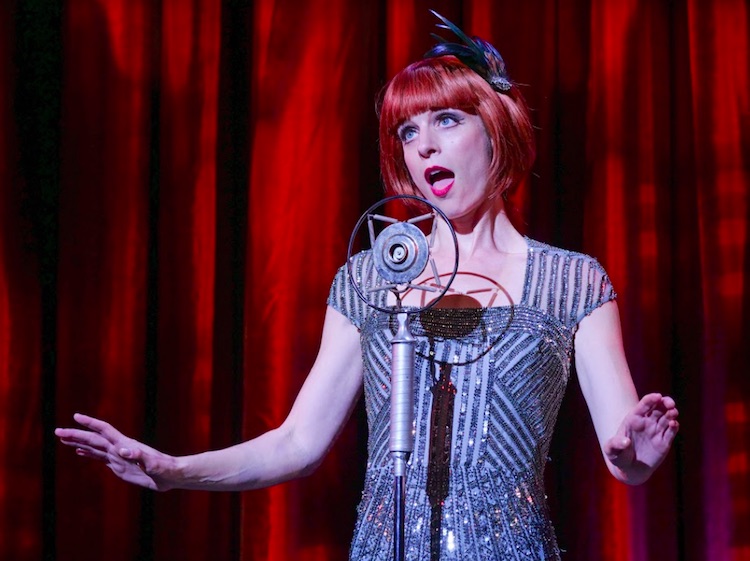 Even this unapologetically saccharine tale has to feature a villain, and Keri Safran, yet another imported talent, provides a flashy one as the awful-voiced addlepated Lena Lamont. Don Lockwood cordially despises his co-star but is chained to her by the PR department. Safran embodies dumb and egocentric, setting up the climactic moment when the leading ingénue tastes her triumph. There are some interesting shifts of perspective in the final scenes, as we the audience find ourselves alternately backstage and then before the stage, all done with lighting changes and the shift of the actors' orientations.
And here's a spoiler that's not much of one; it's really a double-dip ice cream sundae. The show closes with a large-cast yellow-slicker rain-boot reprise of the title melody, complete with the Zach Theatre's abundance of precipitation.
Safran steps forward at the curtain call and uses her own voice, much to our relief, to appeal for donations for the hurricane-flooded Alley Theatre in Houston. It's a nice gesture, apposite to the happy splashes we've just seen, and an evocation of solidarity amongst theatre folks, for whom the show must always go on.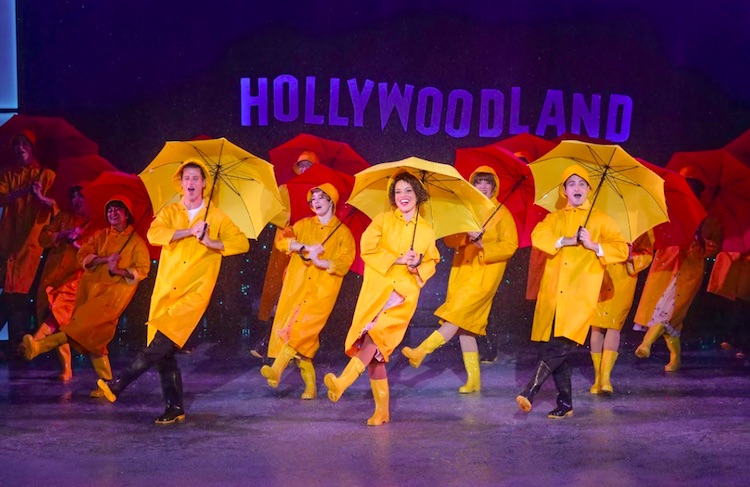 EXTRA
Click to view excerpts from the Zach Theatre program for Singin' in the Rain.
---
Singin' in the Rain
by Betty Comden, Adolph Green, Arthur Freed, Nacio Herb Brown
Zach Theatre
Wednesdays-Sundays,
September 27 - October 29, 2017
Single tickets go on sale, Monday August 14. Tickets start at $25 and are available online at zachtheatre.org, by phone at 512-476-0541 x1, or in person at the ZACH Theatre Box Office, in the Topfer Theatre, 202 South Lamar Boulevard. (corner of Riverside Drive and South Lamar) Monday through Saturday, 12–5p.m. ZACH Theatre is wheelchair accessible. Discounts are available for groups of 8 or more. Student Rush Tickets are $18 one hour before show time (with valid ID). Single tickets go on sale Monday, August 14.
Age Recommendation: Six and up.
Run time: Approximately two hours and 40 minutes including one twenty-minute intermission.
Special events in celebration of Singin' in the Rain:
PRiDE NIGHT: Thursday, September 28, 2017
Wednesday Post-Show Discussion – Wednesday, October 4, 2017
ASL Interpreted, Open Captioned, and Audio Described – Wednesday, October 4, 2017
Champagne Opening – Thursday, October 5, 2017
Z-Lounge: Musical entertainment in The Pape Family downstairs lounge.