Sep. 27 - Oct. 29, 2017
Wednesdays-Sundays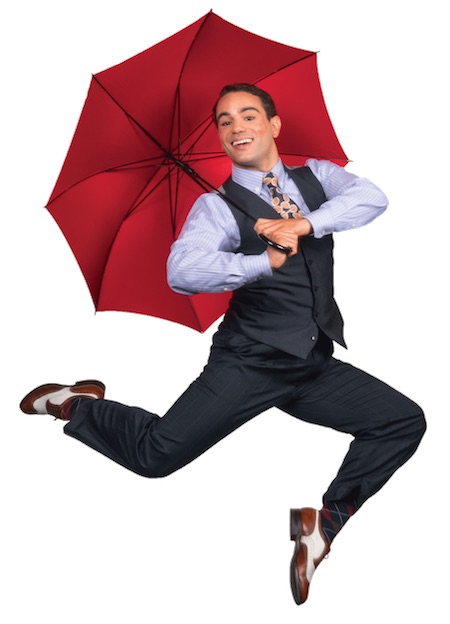 ZACH Theatre is proud to announce that it will rain in the Topfer Theatre for ZACH's 85th Anniversary season opener with the musical gem Singin' in the Rain, based on the classic Metro-Goldwyn-Mayer film in special arrangement with Warner Bros. Theatre Ventures, Inc. Singin' in the Rain plays ZACH's Topfer Theatre September 27 – October 29, 2017 under the direction of Abe Reybold, Associate Artistic Director of ZACH Theatre with musical direction by Allen Robertson andchoreography by Dominique Kelly.
ZACH Theatre celebrates its 85th Anniversary season with one of the greatest and most beloved classic musicals, brought to the stage in a new splashy, song and dance valentine to the Golden Age of movie musicals. For the first time in Austin, this production is sure to a smile on your face and a spring in your step. With book by award winning writers Betty Comden and Adolf Green, lyrics by Arthur Freed, and music by Nacio Herb Brown, the joyous score features well-known songs like "Good Morning," "Make 'Em Laugh," and the favorite, "Singin' in the Rain" which will soar with ZACH's full orchestra. What a glorious feeling, I'm happy again!
The cast of the production includes LUKE HAWKINS as Don Lockwood, SASHA HUTCHINGS as Kathy Seldon, BLAKE SPELLACY as Cosmo Brown, KERI SAFRAN as Lina Lamont, COLUM P. MORGAN as R.F. Simpson, Erik Matthew as Roscoe Dexter, GRAY RANDOLPH as Rod/Ensemble, JEFF JORDAN as Production Tenor/Ensemble, NATHAN GARLAND as Sid Phillips/Ensemble, MICHAEL REYNA as Sepndrill/Teacher/Ensemble, CHRIS BARFIELD as Ensemble, WILLIAM HARRIS as Ensemble, SETH MARSTRAND as Ensemble, SARA BURKE as Zelda Sanders/Ensemble/Dance Captain, JACKIE STRUBBERG as Cyd Charisse feature/Ensemble, CHRISTA OLIVER as Ensemble, ANNA McGUIRE as Ensemble, STEFANIE SALYARS as Ensemble, ALIANA VI MADERAL as Ensemble, MICHELLE ALEXANDER as Miss Dissmore/Dora Bailey/Ensemble, JESSICA O'BRIEN as U/S Miss Dissmore/Dora Bailey/Ensemble, and KEATON BRANDT and GRACEEE STREET as Swings.
"This all tapping, all-splashing show will put a smile on anyone's face." - Daily Express
"The perfect, potent pick-me up." - The Telegraph
"Hugely energizing, feel-good factor galore" - The Daily Mail
Singin' in the Rain Cast
Luke Hawkins – Don Lockwood
Sasha Hutchings – Kathy Seldon
Blake Spellacy – Cosmo Brown
Keri Safran – Lina Lamont
Colum P. Morgan – R.F. Simpson
Erik Matthew – Roscoe Dexter
Gray Randolph – Rod/Esemble
Jeff Jordan – Production Tenor/Ensemble
Nathan Garland – Sid Phillips/Ensemble
Michael Reyna – Spendrill/Teacher/Ensemble
Chris Barfield – Ensemble
William Harris – Ensemble
Seth Marstrand – Ensemble
Sara Burke – Zelda Sanders/Ensemble; Dance Captain
Jackie Strubberg – Cyd Charise feature/Ensemble
Christa Oliver – Ensemble
Anna McGuire – Ensemble
Stefanie Salyars – Ensemble
Alaina Vi Maderal – Ensemble
Michelle Alexander – Miss Dinsmore/Dora Bailey/Ensemble
Jessica O'Brien – u/s Miss Dinsmore/Dora Bailey/Ensemble
Keaton Brandt – Swing
Gracee Street – Swing
Singin' in the Rain Creative Team
Abe Reybold – Director
Allen Robertson – Music Director
Dominique Kelly –Choreographer
Sarah Burke – Dance Captain
Toby Minor – Fight Choreographer
Rodd Simonsen – Film Segment Director
Michelle Ney – Scenic Designer
Brandon McWilliams – Costume Designer
Emily Gilardi – Costume Design Assistant
Serret Jensen – Hair and Makeup Designer
Matt Webb – Lighting Designer
Craig Brock – Sound Designer
Steve Baglio – Properties Designer
Catherine Anne Tucker – Stage Manager
Megan Barrett – Assistant Stage Manager
Megan Smith – Assistant Stage Manager
---
Singin' in the Rain
by Betty Comden, Adolph Green, Arthur Freed, Nacio Herb Brown
Zach Theatre
Wednesdays-Sundays,
September 27 - October 29, 2017
Single tickets go on sale, Monday August 14. Tickets start at $25 and are available online at zachtheatre.org, by phone at 512-476-0541 x1, or in person at the ZACH Theatre Box Office, in the Topfer Theatre, 202 South Lamar Boulevard. (corner of Riverside Drive and South Lamar) Monday through Saturday, 12–5p.m. ZACH Theatre is wheelchair accessible. Discounts are available for groups of 8 or more. Student Rush Tickets are $18 one hour before show time (with valid ID). Single tickets go on sale Monday, August 14.
Age Recommendation: Six and up.
Run time: Approximately two hours and 40 minutes including one twenty-minute intermission.
Special events in celebration of Singin' in the Rain:
PRiDE NIGHT: Thursday, September 28, 2017
Wednesday Post-Show Discussion – Wednesday, October 4, 2017
ASL Interpreted, Open Captioned, and Audio Described – Wednesday, October 4, 2017
Champagne Opening – Thursday, October 5, 2017
Z-Lounge: Musical entertainment in The Pape Family downstairs lounge.