Review: Rhinoceros by Mary Moody Northen Theatre
by Michael Meigs
The concept of Eugène Ionescu's 1959 Rhinoceros is almost painfully simple. It is 1940 France. Bérenger, the protagonist, is a disaffected young man who can't quite figure out who he is or why he should be doing anything. As he appeals to his friend Jean, an adamant older man, the town is visited by a rhinoceros that comes tearing down the street and disappears. Bérenger isn't much affected, but then another rhinoceros streaks through town. Or was it the same one? Was it an African rhinceros or an Asian one? One horn or two? The apparitions become more and more common. The townspeople, initially disbelieving, become alarmed and then strangely attracted to the beasts. They admire them, a prominent citizen actually becomes one, and gradually the whole population is seduced and transformed. Bérenger is the only one to resist.
It's a simple parable of fascist influence in France, German occupation, and accommodation by the awed population. Ionescu decorates it with some fine double-talk and absurdity, but the play does not have an arc; it has a long predictable slide.
Director David Long suggests that current politics in the United States call for a re-examination of Ionescu's thesis. Frankly, that's a stretch. Ionescu was satirizing abject acceptance, not describing polarized politics, and he gave us an unhappy and confused protagonist who achieves a lonely martyrdom by rejecting the new status quo. That's a long way from politics in these United States, as unappetizing as they are.
There are some amusing minor characters in early scenes, including Eric Bradley as the absurdly illogical logician. But the core of this staging is instead the relationship between Blake Browning as protagonist Bérenger and Marc Pouhé as his brusque and irascible friend Jean. There's a lot of give and take here, as Bérenger appeals to his friend for guidance, accepts rebukes, and strives to better himself. Browning invests himself mightily in a character who's neither distinguished nor particularly strong. The core moment of the play comes when Jean, the stronger one, struggles mightily against the lure of the rhinoceros and loses. Pouhé's struggle is not metaphysical; it is very much physical, a violent solo struggle. He loses it and disappears from the play.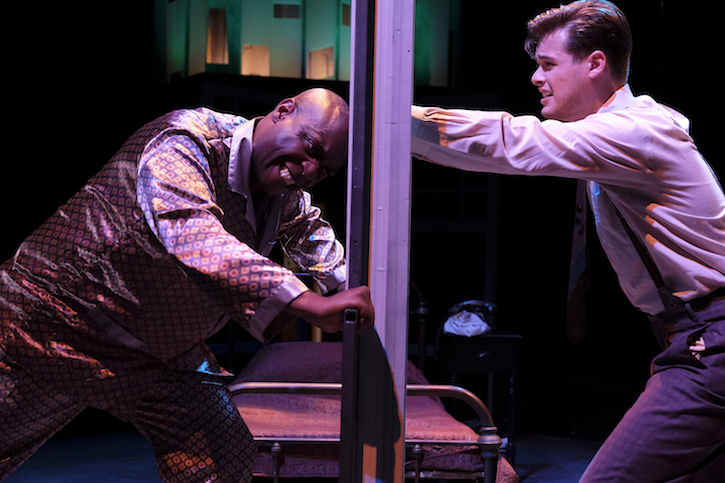 Voices dwindle as other characters give in and become mute. Work colleague Dutard (Eamon Fossi), initially grave, sympathetic and concerned, becomes jealous of Bérenger's relationship with co-worker Daisy (Catherine Williams). That relationship, written in cursory fashion, isn't particularly convincing. But once Dutard is gone, the play's reduced to two voices, hysterical against the silent menace of the rhinoceros population. And, of course, despite her best efforts, Daisy goes the way of the pachydermata.
Special appreciation is due to the ingeniously realistic masks designed by Benjamin Taylor Ridgway and crafted by a team directed by Jennifer Rose Davis. They're so vivid that one regrets that Ionescu kept the intruders offstage in reported action until the final moments of the play.
British translator Martin Crimp's text calls attention to itself when there's a reference to the "boater" (straw hat) worn by the logician and when there's talk of "mending" (repairing) the stairs.
EXTRA
Click to view the program for the Mary Moody Northen Theatre production of Rhinoceros.
---
Rhinoceros
by Eugene Ionesco
Mary Moody Northen Theatre
Thursdays-Sundays,
September 28 - October 08, 2017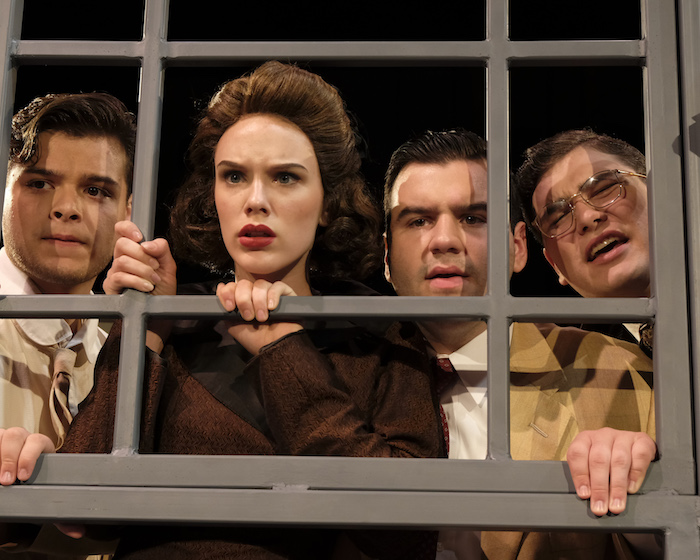 Sept. 28 – Oct. 8, 2017
7:30 p.m. Thursdays – Saturdays
2 p.m. Sunday
Mary Moody Northen Theatre
St. Edward's University
3001 S. Congress Ave.
Austin, TX 78704
Campus map: https://stedwards.app.box.com/v/campusparking
TICKETS: $25 Adult ($18 Students, Seniors, St. Edward's community)
MMNT Box Office: 512-448-8484
Online: www.stedwards.edu/theatre
Box Office Hours are 1 - 5 p.m. Monday – Friday
Student discount nights: September 29 and October 5: $10 ticket with Student ID
[image via Marc Pouhé]