Review: Passion AND Assassins (two one-acts) by The Theatre Company
by Michael Meigs
They're magic. Not only the two Sondheim pieces Passion and Assassins, but also the transformative artistry of the company that's putting on those two works, challenging both in concept and in technique. The shadowy ritual space of the theatre where we gathered last Saturday afternoon provided transport first to moody broodings of the heart in 19th century Italy and then to derailed ravings of a parade of adamant anguished murderers.
The Theatre Company in Bryan-College Station offers a full season of familiar American musical comedies, but for these two weeks they explore the dark side. Previous artistic director Randy Wilson spoke of linking these two very different works but never had the opportunity to do so. Now in tribute to him the astonishingly talented company has put them on the same stage one after another during the same evening or matinee. Given the complexity of the music and the accumulated stage time of more than three hours, this must have stretched their impressive abilities to the utmost.
The prospect of witnessing either of these pieces would have been worth a drive of a hundred miles. I know, for I made the two-hundred-mile round trip from Austin to Bryan-College Station. The performance space of The Theatre Company is tucked away on the backside of a mall that you'd expect to specialize more in sporting goods and discount clothing than in theatre magic, but once you've located the place you're well on your way to somewhere very different.
Passion by Sondheim and Lapine follows young Italian soldier-hero Captain Giorgio through his ardent but confused involvement with two women. Paul Early as Giorgio is ecstatic in his love affair with the ravishing but married beauty Clara, played by Christina Freeman; their love duets proclaim a happiness and mutual devotion that's directly contradicted by Clara's unavailability. She has not only a husband, never seen, but also a child. Giorgio is transferred to a military outpost on a distant estate staffed by disaffected cavalry officers, and he comes in contact with the dark-spirited and possibly deranged young woman Fosca. Armineh Davis portrays the doomed and dying Fosca with an intensity that burns all the more from the fact that it's muted; she becomes obsessed with Giorgio. Sondheim and Lapine deal us quantities of hypnotic fatality in this piece as Giorgio slowly yields to Fosca's allure, and we begin to understand that death may have stronger attraction than mere ecstacy. It's a love triangle exploded, for the two very different women are not confronted except in Giorgio's confused spirit; the cynical officers and their sardonic physician Doctor Tambouri (Zach Brattin) provide a caustic background to Giorgio's dilemma.
The piece grips the audience despite intermittent technical difficulties. The balance between the nine-piece orchestra to the audience's right led by Chris Hoffman and singers' voices amplified by body microphones wasn't always maintained. Perhaps sound operator Kathryn Moran wasn't hitting all the settings or perhaps singers were relying too much on the amplification; Brattin in particular as the dismissive physician was at times hard to hear. In some passages I found the message in the concerted surge of voices and music rather than in the words that were being sung; this was evident also in Assassins, especially in The Ballad of Czolgosz. The murky world of he heart allows for incomprehensions and may in fact demand them; the emotional tenor was coherent throughout. The standout of the piece was Armineh Davis as Fosca, a character both intimidating and pitiable, portrayed with fine voice and a concentration that was utterly convincing throughout.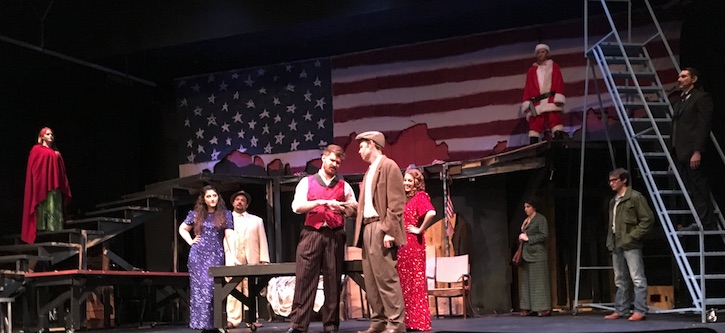 After those dark pools of emotion the herky jerky of Assassins slapped us awake with a complete change of pace. It borders on sardonic vaudeville, for Sondheim and John Weidman present a succession of presidential assassns and wannabes in an often surprising sequence of arias, sketches and antics that dare us to be scandalized by the authors' devotion to misfits, lunatics and dangers to the Republic. The first time I saw a staging of Assassins, some years ago, I was dutifully disturbed and scandalized, for the piece seriously examines the emotions and motivations of those whom we rightfully consider monsters. The Theatre Company production neglects none of that. Exchanging the neutral staircase of Passion for an apparently unfinished sweep of construction before a huge bedraggled American flag, the production forces us to confront the seamy underside of our collective psyche.
With that circus collection of misfits the cast have plenty of chances to shine. Correy Barron as John Wilkes Booth struts and towers upon the stage, prey to an actor's delusions of grandeur and intent on delivering an admonition that the nation will never heed. Adrienne Rowell as Sara Jane Moore and Hannah Ferguson as 'Squeaky' Fromme do a lengthy spacey number that outdoes Abbot and Costello, Martin and Lewis, and Laurel and Hardy. Michael Prince in the Santa Claus suit as Sam Byck does a couple of solo monologues that are wildly weird, funny and menacing.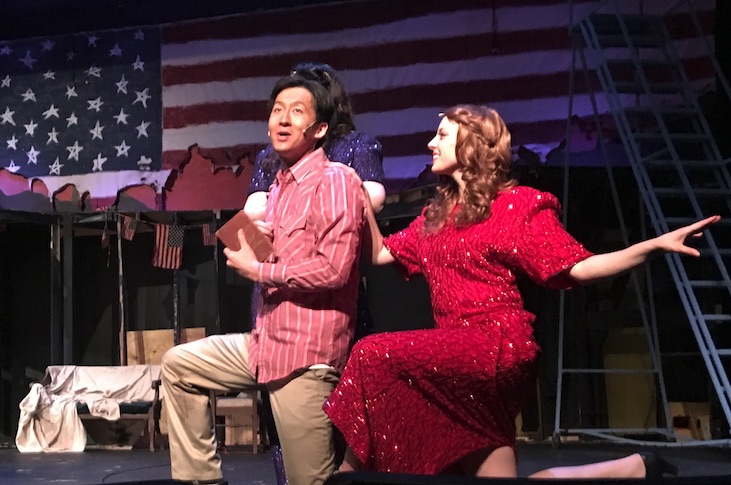 James Cho, first as the balladeer narrator and later as Lee Harvey Oswald, has exquisitely precise diction and a fine tenor voice to tie together this crazy menagerie. The modulation and build of music and tension is thrilling, as the madness slides toward that terrible moment at the Texas School Book Depository in Dallas.
By linking these two works, with special permission from Sondheim, director Adrienne Dobson and The Theatre Company demonstrate a vision and flair second to none in the broad area of Central Texas covered by this website's reviewers. That sound you hear from a hundred miles away is this writer's grateful and enthusiastic applause.
EXTRA
Click to view excerpts from The Theatre Company's program for Passion and Assassins.
---
Passion AND Assassins (two one-acts)
by Steven Sondheim
The Theatre Company
Fridays-Sundays,
June 16 - June 25, 2017
The Theatre Company
3125 S. Texas Ave., Suite 500
(behind Joann Fabrics in the Tejas Center)
Bryan, TX, 77802
Ticket information at the website.