Jan. 22 - Feb. 20, 2016
Thursdays-Sundays
Kate Welles, a handler from the future, is sent back to 1972 by a shadowy brain trust, to brief a bumbling secret agent on what could be his -- and humanity's -- last mission. But Zane won't take orders from a lady bossman, and if he improvises his way through the mission, the future's going to be grimmer than ever. There has to be a better way to save the world!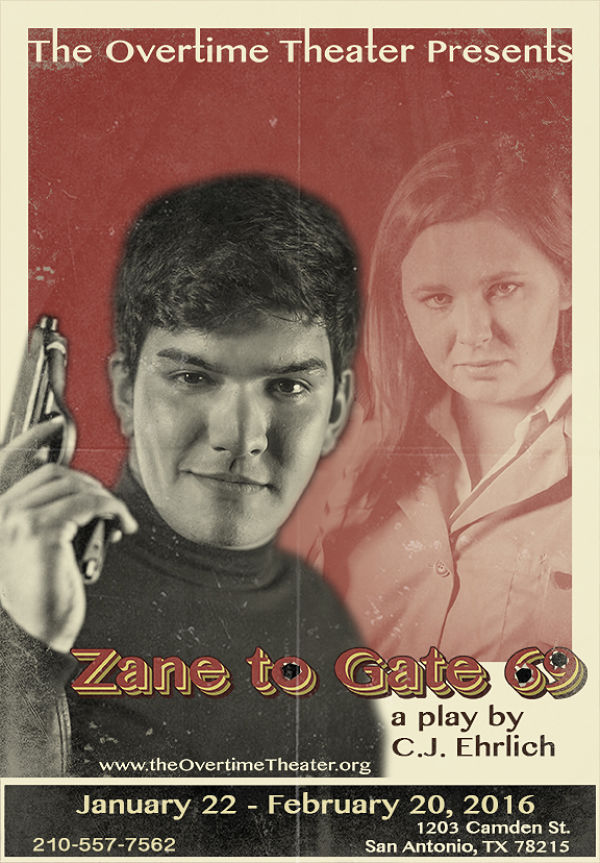 Cast/Crew:
Directed by: Edward E. Wise II
Stage Manager: Gina Schneider

ZANE ARCHIBALD - Zach Salas
KATE WELLES - Emma Neil
JANE COLDBERG - Jenny Taylor
AGENT BOFFIN - Steven Mayen
[poster photo of Zach Salas by Edward E Wise II]
C.J. Ehrlich is a New York based writer/director whose award-winning one-acts have enjoyed dozens of productions around the US and on five continents. Some favorite collaborators: Samuel French Off-Off Broadway Fest, Boston Theatre Marathon, Little Fish Los Angeles, Aloha Performing Arts Center (HI), Grin Theatre (Liverpool), Pakriti Foundation (India), UT Denton (TX). C.J.'s full-length comedy (with Philip J. Kaplan), THE CUPCAKE CONSPIRACY: Terrorism is Easy. Marriage is Complicated, opened Rover Dramawerks' (Plano TX) 2015 Season, and is now available for productions. C.J.'s short plays are published in Smith & Kraus' annual Best Ten-Minute Plays anthologies 2011-2015 (Noir in Second Class, The Ninth Circus of Hell, Intervention, 2+1=Murder), Applause's Best American Plays of 2014-15 (The Lilac Ticket), and by Heuer (Home Sweet Homeland Security). A proud member of the Westchester Collaborative Theatre and the Dramatists Guild, C.J. lists among her greatest achievements teaching her sons the fine art of the spit take. Please visit at CJ-Ehrlich.com.
Edward Wise has directed several plays at the Overtime Theater including: Echo, The Beasts of Baverly Grove, Glen or Glenda, and Clowntime is Over. He is the writer of recent productions Bride of Cthulhu and Glen or Glenda.
---
Zane to Gate 69
by C.J. Ehrlich
Overtime Theater
Thursdays-Sundays,
January 22 - February 20, 2016
January 22, 23, 29, 30, February 4, 5, 6, 12, 13, 18, 19, 20 at 8:00 pm. January 31 at 2:30 pm & February 14 at 7:00 pm. -
1203 Camden, Near the Pearl Brewery Complex, San Antonio, Texas, 78215 Tickets:
$15.00 General Admission; $10.00 SATCO, Teachers, Students, Military, Seniors, Area service industry. Thursdays are Pay What You Will.
Our Website: www.theovertimetheater.org
You may contact The Overtime Theater at theovertimetheater@gmail.com or at 210.557.7562.