Jul. 09 - Jun. 17, 2016
Saturday-Sunday
Central Texas' most well-known children's theatre company, Pollyanna Theatre, a resident company of the Long Center for the Performing Arts, presents Trouble on the Double by Holly Hepp-Galván.
Trouble on the Double follows the story of young twins. These two may look alike, but their personalities are very different. While one is brave and not afraid to try anything, the other is timid and does not like to take any risks. Can these siblings learn to balance each other out? How much adventure is fun and how much is dangerous? Hepp-Galvan's newest play for Pollyanna will have audiences both thinking and laughing as the action unfolds. This production is sure to be a perfect summertime trip to the theatre for both summer campers and families.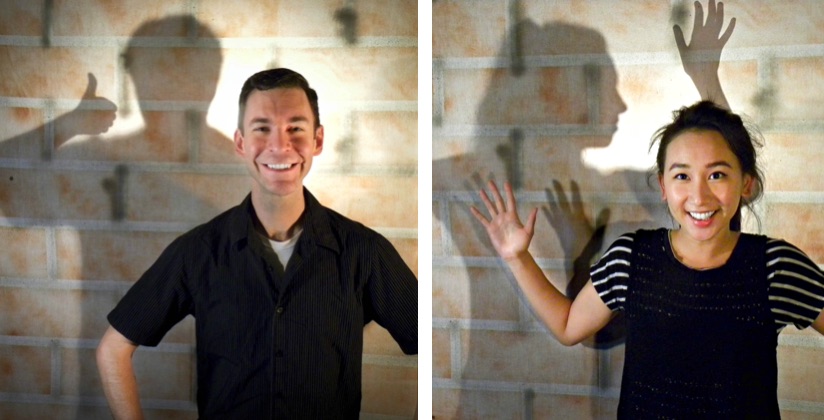 "This is a play about being brave enough to accept challenges, but also being smart enough to say no when others dare us to do harmful things. It's about balance and good decisions. And it's also about eating hot mustard, which is the ultimate test of courage for anyone," says playwright Holly Hepp-Galván, who has previously produced three plays with director Judy Matetzschk-Campbell.
Trouble on the Double is set in a larger than life world in which children can climb and jump vast distances, extremely large animals wave ten-foot-long tails, and shadows come to life. Set designers Holly and Patrick Crowley will construct the world, and projection designer and puppeteer Sara Farr will create the digital puppets and work with the performers to form the shadow puppets.
When it comes to the shadows, Hepp-Galván explains, "For Max and Minnie, they show not only who they are, but who they could be. In this play, shadows represent both our best and worst selves. For Minnie in particular, her shadow lets her see the brave person she is inside."
As with all Pollyanna Theatre productions, the cast is comprised of adult, professional actors, including:
Max - Matthew Burnett
Minnie - Uyen-Anh Dang
Bruce - Ryan Wilson
Carla - Jess Hughes
Shadow Puppeteer - Bethany Harbaugh
Parents, teachers and caregivers can download a free study guide to accompany the production by visiting www.pollyannatheatrecompany.org/teachers/lesson-plans/. The guide contains an overview of the play, educational objectives and pre/post discussion questions and activities.
In addition to public performances, Trouble on the Double is also available for schools and camps throughout Central Texas.
ABOUT POLLYANNA THEATRE COMPANY: The founders of Pollyanna Theatre Company believe that theatre is a powerful teaching tool that speaks to people of all ages in a unique and powerful way through a variety of visual, aural, and emotional languages. Therefore, theatre should be a part of all general education from pre-kindergarten through adulthood. Toward that end, The Pollyanna Theatre Company strives to work alongside educators to inspire, motivate, and teach audiences of all ages. Although the company's primary focus is upon young audience members, the ensemble performs top quality theatrical productions that speak to and illuminate the human spirit and condition for all ages. www.pollyannatheatrecompany.org
ABOUT THE PLAYWRIGHT: Holly Hepp-Galvan
Holly Hepp-Galvan's plays have been presented at or developed with Core Artist Ensemble, The Cell, The Bechdel Group, Wide-Eyed Productions, The New York International Fringe Festival, The Secret Theatre, The Story Gym, The Samuel French OOB Festival, Emerging Artist Theatre, Astoria Performing Arts Center and more. She was the 2012 Playwright-in-Residence for Voices Inside/Out, a writing program for male inmates, and a finalist for TerraNOVA Groundbreakers, City Theatre's National Short Play Contest, and the Thomas Barbour Memorial Playwrights Award. Full length plays include Oddities (Irv Zarkower Award, Brass Tacks Theatre Collective), Andrea's Esophagus (Rita and Burton Goldberg Playwriting Prize), Cardinia's Calling (Hunter Playwrights), and Tamed (Pioneer Playhouse) Productions for children include Sprites (Ballet Austin), Peter and the Piper, The Big Bolt! and Trouble on the Double (Pollyanna Theatre Company). Holly completed her M.F.A. in Playwriting at Hunter College where she studied with Tina Howe and Mark Bly. She was a two-time winner of the Irv Zarkower Award and the Rita and Burton Goldberg Playwriting Prize. She currently serves on the faculty of Hunter College where she teaches Playwriting, Creative Dramatics, and Theatre for Youth.
---
Trouble on the Double
by Holly Hepp-Galvan
Pollyanna Theatre Company
Saturday-Sunday,
July 09 - June 17, 2016
Rollins Theatre
Long Center
701 Riverside at South First,
Austin, TX, 78704
This new play, best suited for children ages 4 - 10, runs July 9 - 17 at the Rollins Studio Theatre at the Long Center for the Performing Arts, 701 West Riverside, Austin, TX 78704.
July 9 – 2:00 and 4:00 pm
July 10 – 2:00 pm
July 16 – 2:00 and 4:00 pm
July 17 – 2:00 pm

Rollins Studio Theatre at the Long Center for the Performing Arts