Jul. 26 - Aug. 09, 2015
Fridays-Sundays
A new musical by Austin's Allen Robertson. Ancient vs. modern. Brain vs. brawn. Peace vs. war. Sacred vs. secular. Poor vs. rich. Reptile vs. mammal. The ultimate culture clash between two tribes and a fantastical race to decide the fate of them all. Musical styles collide in this energetic new re-imagining of the ancient fable.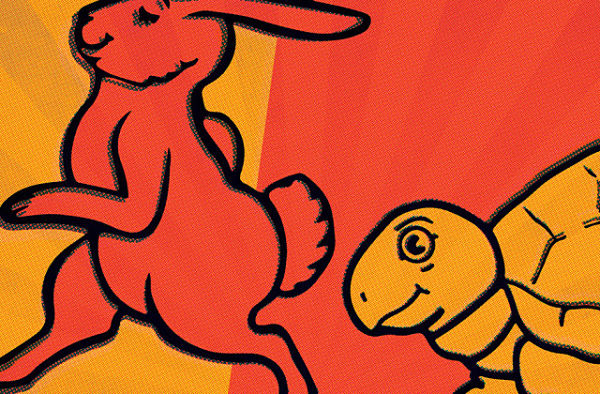 The Summer Stock Austin program is unique for a number of reasons. First of all, there is no tuition fee for our college and high school participants who are selected solely on the basis of their demonstrated talent, promise, and character. Second, as part of a "stock" company, each of our participants performs, designs, builds, and assists with every aspect of a theatrical production. Finally, our participants have the opportunity to work side by side with University faculty as well as theatre professionals from Austin and around the country. Our high school students get a taste of theatre at the college level, and our college students gain entry into the world of professional theatre. To our knowledge, this is the only program of its kind in the United States.
Each summer, students from across Texas meet to mount several productions with professionals from Austin and around the country in a one-of-a-kind experience. They work as a traditional stock company, each member participating in all aspects. This season Summer Stock Austin will be presenting three shows, Guys & Dolls, Into the Woods and Tortoise & Hare. Learn more about Summer Stock Austin.
---
Tortoise and Hare
by Allen Robertson
SummerStock Austin
Fridays-Sundays,
July 26 - August 09, 2015
Rollins Theatre
Long Center
701 Riverside at South First,
Austin, TX, 78704
Fridays and Saturdays at 10 a.m., Sundays at 2 p.m.; one Wednesday performance at 10 a.m. on August 5
for all ages
tickets $14 ($9 for 12 years and under) plus fees via Long Center Ticket Office
Contact our Group Sales department for information on discounts for groups of 10 or more.
Children's ticket prices are available.