The Secret Adventures of Sherlock Holmes (monthly series)
by Overtime Theater
Dec. 30 - Jan. 08, 2016
Fridays-Sundays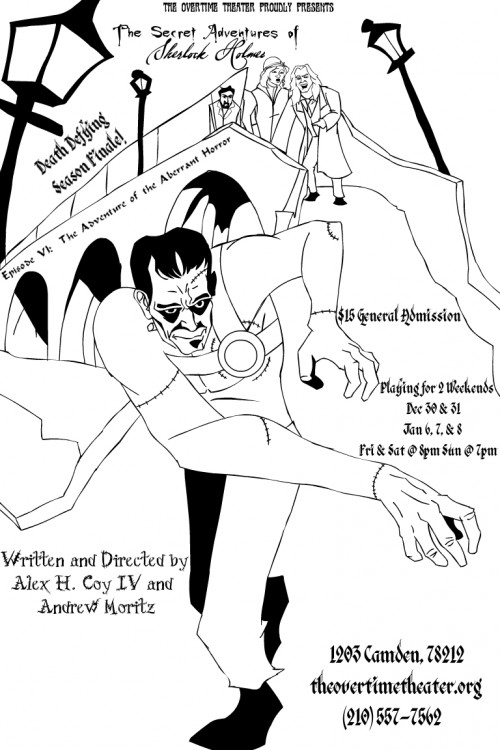 Season 1's dramatic conclusion is at hand! Bear witness to the death defying finale, premiering New Year's weekend! Professor Moriarty and Nikola Tesla have re-animated the Artful Dodger's corpse, creating an aberrant abomination that needs dealing with. Meanwhile, a desperate Dorian Gray pleads Watson to help him flee the clutches of Countess Cagliostro, who has her eyes set on his portrait. The game's afoot in this thrilling tale of tragedy and terror!
Don't miss the event of the season as The Secret Adventures of Sherlock Holmes and Queen's Castle wrap up 2016 in a back to back double feature. Then stick around for the Overtime's New Year's Eve Wrap Party.
Ages 17+ due to mature themes
Crew:
Lighting Design by Darin Feagins
Sound Design by Alex Coy
Set by Cameron Beasly, Chris Champlin, and Alex Coy
Fight Choreography by Nate Bizzell
---
The Secret Adventures of Sherlock Holmes (monthly series)
by Alex H. Coy and Andrew Mortiz
Overtime Theater
Fridays-Sundays,
December 30 - January 08, 2016
Showing two weekends:
Fridays and Saturdays December 30, 31, and January 6, 7 at 8:00 p.m.
Sunday January 8 at 7:00 p.m.
Tickets $10 and $15 plus fees via