Sep. 28 - Oct. 22, 2016
Thursdays-Sundays
Jarrott Productions has announced the cast of its season opening play The Price, by Pulitzer Prize winner Arthur Miller. The Price played on Broadway in 1968 and was nominated for a Tony as Best Drama. Some critics have hailed The Price as Miller's best work—surpassing even Death of a Salesman. It deals with family dynamics and the price of keeping secrets.
Scot Galbreath (Victor Franz) has appeared in A Delicate Balance (City Theatre), and Rapture, Blister, Burn (Southwest Theatre Productions). He recently relocated to Austin after 16 years working and acting in Los Angeles. Amanda Cooley Davis (Esther Franz) is an actor, dialect coach and theatre educator. Recent dialect coaching credits include Freud's Last Session (Jarrott Productions) and One Man, Two Guvnors (Zach Theatre). Theatre credits include leading roles in Austin, San Diego and New York City. Rick Smith (Walter Franz) was most recently seen in Zach's production of One Man, Two Guvnors, as well as the Different Stages production of When the Rain Stops Falling, for which he was nominated for a B. Iden Payne award. David Jarrott (Gregory Solomon) was most recently seen as Sigmund Freud in the critically acclaimed Freud's Last Session, as well as the Zach Theatre productions of Peter and the Starcatcher and All The Way.
The Price is directed by Fritz Ketchum, with scene design by Desiderio Roybal, costume supervision by Susan Branch Towne, lighting design by Rachel Atkinson, sound design by Craig Brock, and graphic/web design by Michael Jarrott.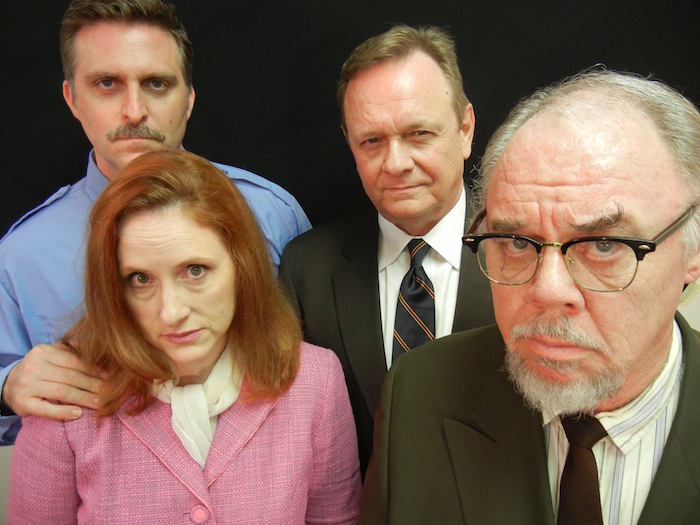 Jarrott Productions Inc. is a 501(c)(3) non-profit corporation whose mission is to present theatre that inspires thought and conversation, illuminates the human condition and lifts the spirit.
---
The Price
by Arthur Miller
Jarrott Productions
Thursdays-Sundays,
September 28 - October 22, 2016
Trinity Street Players
Black Box Theatre, 4th floor, First Baptist Church
901 Trinity Street
Austin, TX, 78701
7:30 pm Wed-Sat evenings; 2:30 pm Sunday matinees
at Trinity Street Theatre, 901 Trinity, Austin TX
PRICES:$18-$25 ($30 opening night also available)
AVAILABLE:Online at www.jarrottproductions.com