Apr. 23 - May. 03, 2015
Thursdays-Sundays
The Grande Dame of suspense weaves a clever mystery that will keep you guessing till the very end. The guests at Monkswell Manor are snowed in with a murderer in their midst. Whodunit? Sergeant Trotter is determined to find out, and his investigation turns up more shocking secrets than anyone could haveanticipated. Full of intricate plot twists and shuddering suspense, it is no wonder The Mousetrap has become the world's longest-running stage production.
The Hill Country Community Theatre is pleased to announce the cast for its production of Agatha Christie's "The Mousetrap." Glen Bird will direct the play. Performances will begin April 23.
The ensemble includes Glen Bird as Detective Sergeant Trotter, Wendy Ferrell as Miss Casewell, Holden Fox as Christopher Wren, Laura Gisi as Mollie Ralston, Joe Harrod as Mr. Paravicini, Randy L. Hilmer as Major Metcalf, Patrick Lescarbeau as Giles Ralston, and Sally Stemac as Major Malone. Greg Bird will serve as Stage Manager.
A group of strangers is stranded in a boarding house during a snowstorm, one of whom is a murderer. The suspects include the newly married couple who run the house, and the suspicions in their minds nearly wreck their perfect marriage. Others are a spinster with a curious background, an architect who seems better equipped to be a chef, a retired Army major, a strange little man who claims his car has overturned in a drift, and an old woman who makes life miserable for everyone. Into their midst comes a police officer, traveling on skis. He no sooner arrives, than someone is killed. Two down and one to go. To get to the rationale of the murderer's pattern, the police officer probes the background of everyone present, and rattles many skeletons. Another famous Agatha Christie switch finish! Chalk up another superb intrigue for the foremost mystery writer of her time.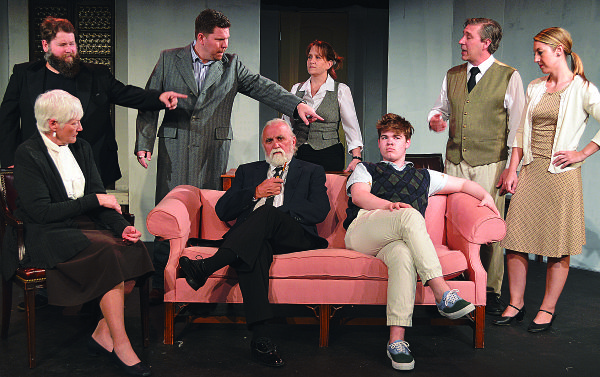 ---
The Mousetrap
by Agatha Christie
Hill Country Community Theatre (HCCT)
Thursdays-Sundays,
April 23 - May 03, 2015
Agatha Christie's "The Mousetrap" will open on April 23 and run through May 3. Performances will be on Thursdays, Fridays, and Saturdays at 7:30 PM and Sunday matinees at 2:15 PM. Tickets will go on sale April 13 for HCCT members and April 16 for the general public.
Tickets available to non-HCCT-members as of April 13 via this LINK