Jul. 22 - Aug. 14, 2016
Thursdays-Sundays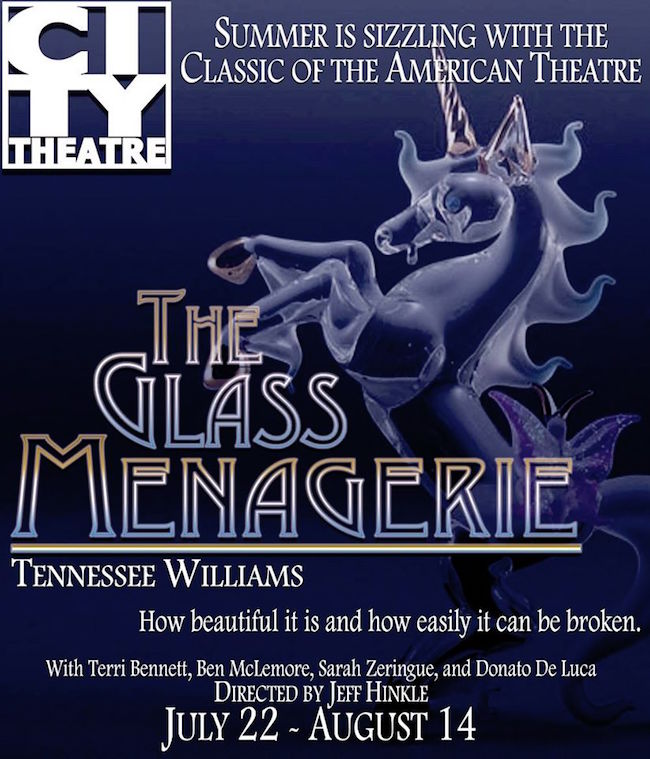 The City Theatre continues its summer season with the Tennessee Williams American classic The Glass Menagerie, which revolutionized modern drama and is still an undisputed masterpiece from one of the great voices of the American theatre. Directed by Jeff Hinkle and starring Ben McLemore, Sarah Zeringue, Terri Bennett, and Donato De Luca. The production runs July 22 – August 14, 2016.
"Yes, I have tricks in my pocket, I have things up my sleeve. But I am the opposite of a stage magician. He gives you illusion that has the appearance of truth. I give you truth in the pleasant disguise of illusion." – Tom Wingfield
Written by two-time Pulitzer Prize winner Tennessee Williams, The Glass Menagerie is one of the greatest plays of the 20th century and a classic of the American theatre. Set in 1930s St. Louis, this iconic, emotional, and enduring drama explores the visceral bonds of family, as the restless poet Tom Wingfield recounts his life with his overbearing mother Amanda and the illusions she spins to save his painfully shy sister Laura from the reality of their frail existence. Embodying the turmoil of a changing world, Menagerie strips Williams' tortured characters of their illusions, leaving a wake of destruction in their path. Poetic and provocative, it is a story of great tenderness and beauty, a haunting and uncompromising master work from one of the greatest writers in modern theatre. A must-see American play!
"If I got rid of my demons, I'd lose my angels." ― Tennessee Williams
Thomas Lanier Williams was born in Mississippi, 1911, and into a family life full of tension that started his writing at a very early age. He decided to become a playwright after he entered the University of Missouri and saw a production of Ibsen's Ghosts. In 1939, after moving to New Orleans and changing his name to "Tennessee", the young writer received a Rockefeller Grant and, what many consider to be his best play, The Glass Menagerie was written and launched Williams into the national spotlight. With his dominating mother and fragile sister, Rose, many critics believed that he used his own relationships as inspiration for the play. Elia Kazan, who directed for him, said of Tennessee: "Everything in his life is in his plays, and everything in his plays is in his life." Williams followed up with other major critical successes including A Streetcar Named Desire, Summer and Smoke, A Rose Tattoo, and Camino Real. He received his first Pulitzer Prize in 1948, and reached an even larger world-wide audience when The Glass Menagerie and A Streetcar Named Desire were made into major motion pictures. Yet, with the powerful impact he had, Williams struggled with depression throughout most of his life. He was troubled and self-destructive, an abuser of alcohol and drugs. On February 24, 1983, surrounded by half-finished bottles of wine and pills, Tennessee Williams choked to death on a bottle cap in a New York City hotel. It was in this desperation and honesty, that his great talent and his work lived. In addition to twenty-five full length plays, Williams produced dozens of short plays and screenplays, two novels, sixty short stories, over one-hundred poems and an autobiography. Among his many awards, he won two Pulitzer Prizes, four New York Drama Critics' Circle Awards, and the Presidential Medal of Freedom.
In the cast, The City Theatre is excited to have the return of Terri Bennet who starred in CTC's Iden Payne nominated production of Cat on a Hot Tin Roof, and Ben McLemore who played the title role in CTC's Romeo and Juliet. Joining them will be newcomers to the CTC stage Sarah Zeringue and Donato De Luca.
The play is directed by resident director Jeff Hinkle, whose productions with CTC include A Man for All Seasons, Julius Caesar, Othello, Hair, Cat on a Hot Tin Roof, Romeo and Juliet and the critically acclaimed A Streetcar Named Desire. The costume designer is Veronica Prior with set design by Andy Berkovsky.
The City Theatre Company is excited to be celebrating its 10th anniversary season of live theatre entertainment in Austin. CTC is an Austin-based, not-for-profit arts organization and is sponsored in part by the Austin Creative Alliance and the Austin Cultural Arts Division. Founded in 2006, the company has been recognized by the Austin Critics Table Awards, the B. Iden Payne Awards, the Central Texas Excellence in Theatre Awards, Austin Live Theatre, and has twice been voted "Best Theatre Company" by Austin American-Statesman's Austin 360. CTC is dedicated in providing quality theatrical experiences and entertainment for Austin artists and its community and continues the commitment to making productions accessible for everyone. CTC offers its discount ticket program with $10 Thursday seats and $12 student seats for any show. The ticket discount is available throughout the 2015-16 summer season.
---
The Glass Menagerie
by Tennessee Williams
City Theatre Company
Thursdays-Sundays,
July 22 - August 14, 2016
July 22 – August 14. Thursday - Saturday 8:00 pm. Sunday 3:00 pm.
The City Theatre, 3823 Airport Blvd. Suite D. 78722.
General Seating $15. Front/2nd Row Reserved $20-25. Thursday all seats $10.
Tickets at the door $20. Group and student discounts.
For reservations, call 512-524-2870 or e-mail info@citytheatreaustin.org