Jan. 29 - Feb. 06, 2016
Fridays-Sundays
Ladies and gentlemen, The Renaissance Guild 's Year of the Diva presents ..........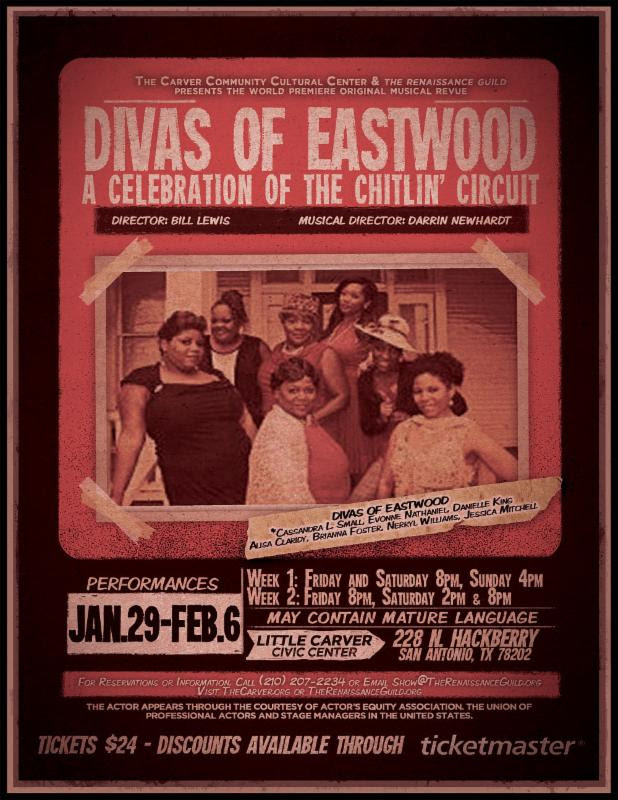 The Divas of Eastwood. Directed by Bill Lewis. This is an original musical production featuring your favorite songs from the Eastwood and Keyhole Club in CONCERT!!!!!
Divas of Eastwood is a musical revue celebrating the Chitlin' Circuit and the artists and music that traveled the circuit. It is a musical memory of the Eastwood Country Club, Keyhole Club and Carver Community Cultural Center, the entertainers who played on the circuit and the Circuit itself.

The Eastwood Country Club becomes the metaphor for all of this, presenting, as it did, such "Divas" of that time as Dinah Washington, Etta James, Sarah Vaughn, Gladys Knight, The Supremes, and current Divas Jill Scott, Erykah Badu, and many more. By extension the Revue and the Eastwood represents the music of seven decades of African American music, the history and its influence on today's music.
Cast/Crew: Divas of Eastwood:

Alisa Claridy
Cassandra L. Small**
Danielle King
Evonne Nathaniel
Briana Foster
Nerryl Williams
Jessica Mitchell


**The actor appears through the courtesy of Actor's Equity Association, The Union of Professional Actors And Stage Managers in The United States

Dont miss it. 6 shows only, with Danielle Renae King and Cassandra Lawson Small.
Developed by Renaissance Artistic Director Bill Lewis. Lewis said the cast will help shape the piece, which will focus on local performance venues — including the space that would eventually become the Carver — that were once part of the "Chitlin' Circuit."
---
The Divas of Eastwood
by Bill Lewis and Renaissance Guild Ensemble
Renaissance Guild
Fridays-Sundays,
January 29 - February 06, 2016
Fridays and Saturdays at 8 p.m.; Sunday at 3 p.m.; Saturday matinee February 6, 2016 at 3 p.m.
Ticket $24 plus service fees; discounts available. Click to go to Ticketmaster to purchase.
226 N. Hackberry, San Antonio, Texas, 78202
Our Website: www.therenaissanceguild.org Contact/More Information:
For reservations or information: call (210) 207.2234
or email shows@therenaissanceguild.org
Visit: thecarver.org or therenaissanceguild.org