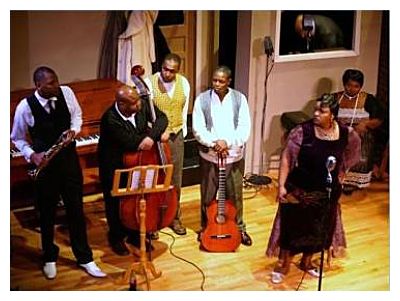 by Michael Meigs
Published on February 12, 2012
The audience on opening night hung on every word and there were audible gasps at particularly dramatic or unexpected turns in the musicians' exchanges with one another.
San Antonio's Renaissance Guild has put a powerful interpretation of August Wilson's 1984 Ma Rainey's Black Bottom on the makeshift stage at the Little Carver Civic Center. This is the only one of the ten plays in Wilson's "Pittsburgh cycle" depicting African-American lives across the twentieth century that is not, in fact, set in Pittsburgh. The locale is Sturdyvant's shabby recording studio in Chicago in the mid-1920's, where the impatient record ...
Read more »