Jun. 11 - Jun. 14, 2016
Tuesday, Saturday
Central Texas' most well-known children's theatre company, Pollyanna Theatre, a resident company of the Long Center for the Performing Arts, presents Cowboy in the Kitchen – An Interactive Theatre Experience for Very Young Children by playwright Bethany Lynn Corey.
Created for children as early as 18 months - 4 years of age, Cowboy in the Kitchen engages children through a visual theatre style performance and dramatic play right alongside the actors. It is classified as 'Theatre for the Very Young' (TVY) - an umbrella term often used to describe a variety of theatre work and practices intentionally designed for children under the age of 6. While TVY is widely performed in Europe and Australia, it has only begun to appear in the US within the past 10 years, and Pollyanna Theatre Company is the first to bring it to the Central Texas region. This season Pollyanna has produced 2 successful TVY plays with playwright Bethany Lynn Corey, including Under the Big Top and Jamie Doesn't Want to Take a Bath.
Judy Matetzschk-Campbell, Ph.D., Founder and Artistic Director of Pollyanna Theatre Company, is thrilled to produce this type of theatre for the very young. "Traditionally, Pollyanna patrons are slightly older and more developmentally ready to be audience members who participate by using their imaginations but not their voices or bodies. Younger children, ages 2 - 4, learn through actively playing. So this newest series of productions provides a bridge for them to merge their natural instincts for dramatic play with a story that invites them to participate. It is a true hybrid of creative drama and theatre for young audiences. For many of these children, it will be their first exposure to a formal theatre experience. We are so excited that they will have this very first audience time with Pollyanna Theatre Company."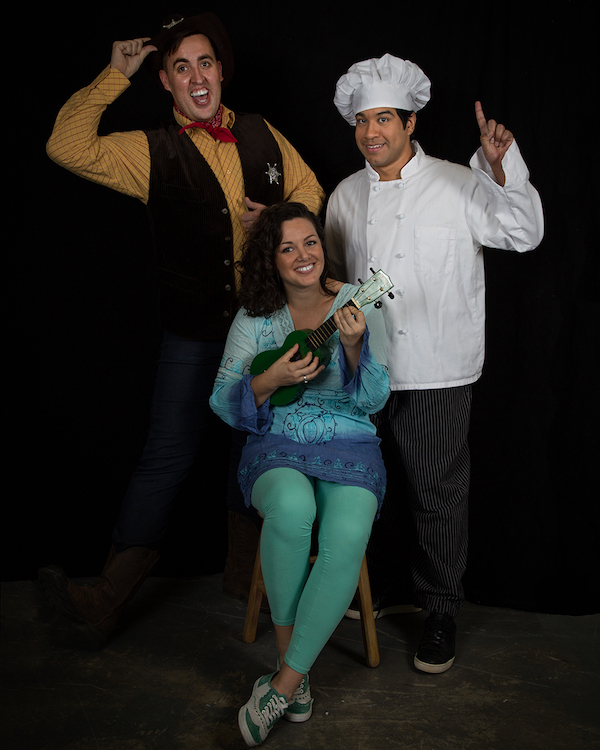 In this new play Cook is planning a special surprise party and needs to bake a very, very special cake. Musician is busy writing a birthday song to surprise her friend. But just as they get started, Cowboy wanders in and wants to help out. As Cook and Musician set out to get the party ready without ruining the surprise for Cowboy, they are met with some surprises of their own. How can Cook bake a cake when the eggs turn out to be maracas and the cake mix box is full of confetti? Will Cook and Musician be able to get the party ready in time? Cowboy in the Kitchen invites Pollyanna's youngest audience members to play along and learn what it is to be an audience member all at the same time.
This production features live music by Lucy Bergin, who plays the role of Musician. Bergin is a voice and early childhood music faculty member at the Armstrong Community Music School, where she teaches students ages 3 to 66. She received her B.A. in Music Performance (voice and flute) from Wellesley College.
Playwright and director Corey has an extensive background in both drama and education and is currently a drama specialist for the Creative Learning Initiative in the Austin Independent School District. She also served as an Early Learning Manager for the Thinkery, the Children's Museum in Austin, focused on STEAM education.
When it comes to her process, she says, "I focus on creating an immersive experience, a world with childlike characters going on a journey of some sort. Having worked with early learners as an educator I think about what young children know and where they are developmentally as I craft a story. I find discovery, especially the sheer joy in experimenting with a new object, to be one of the most exciting parts of a young child's world. So I always include lots of opportunities to explore and discover within the pieces I create."
In addition to public performances Cowboy in the Kitchen is available for schools, daycare centers and camps throughout Central Texas.
ABOUT POLLYANNA THEATRE COMPANY: The founders of Pollyanna Theatre Company believe that theatre is a powerful teaching tool that speaks to people of all ages in a unique and powerful way through a variety of visual, aural, and emotional languages. Therefore, theatre should be a part of all general education from pre-kindergarten through adulthood. Toward that end, The Pollyanna Theatre Company strives to work alongside educators to inspire, motivate, and teach audiences of all ages. Although the company's primary focus is upon young audience members, the ensemble performs top quality theatrical productions that speak to and illuminate the human spirit and condition for all ages. www.pollyannatheatrecompany.org
ABOUT THE PLAYWRIGHT: Bethany Lynn Corey serves as the Drama Specialist for the Creative Learning Initiative in the Austin Independent School District. Prior to this she served as the Early Learning Manager for the Thinkery, a Children's Museum in Austin, TX, focused on STEAM education. She received her M.F.A. from the University of Texas at Austin, where much of her research involved the use of drama and theater for children under the age of six, and a dual B.A. in Music and Theatre for Children and Public Communications from American University. Bethany has worked nationally and internationally as an actress, director, and teaching artist. She identifies herself as a teaching artist, as she places equal value on both her educational and artistic work, with her practice firmly rooted in theory and scholarship. As a teaching artist, Ms. Corey has worked on curriculum development, in-class residencies, and teacher training programs for a wide range of organizations, including Drama for Schools, Paramount Theatre, Trike Theatre, and Imagination Stage. As both an artist and an educator, Ms. Corey is uniquely prepared to create early childhood work of equal artistic and educational significance. She has numerous credits as an actress, director, choreographer, and theater-maker. In the past five years, her work has shifted to focus on creating original work in Theatre for the Very Young, theatrical performances specifically designed to serve children under the age of six. Her work led to the creation of the SPARK! Theatre Ensemble as well as original pieces produced by Trike Theatre and Pollyanna Theatre Company.
---
The Cowboy in the Kitchen
by Bethany Lynn Corona
Pollyanna Theatre Company
Tuesday, Saturday,
June 11 - June 14, 2016
June 11 and 14 - 18, 2016 at 9:30 and 11:00 a.m.
AT&T Conference Room in the Long Center for the Performing Arts
701 W. Riverside Drive, Austin, TX 78704
TICKETS: Tickets are $6.50 – seating is limited to 30 children per performance. Discounts available for groups of 10 people or more, call (512) 743-7966 or email pollytheatre@gmail.com.
Tickets may be purchased by calling (512) 743-7966 or online by visiting