Nov. 18 - Nov. 27, 2016
Fridays-Sundays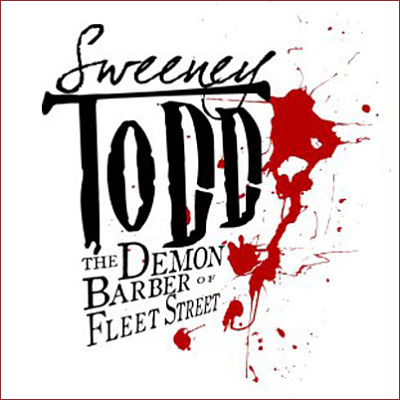 Stephen Sondheim's multiple Tony Award-winning masterpiece of murder and mayhem was a favorite on TTC's survey this year. Sweeney Todd was revived on Broadway in 2005 and received 2 more Tonys for Best Revival of a Musical and Best Direction of a Musical. Then in 2007 Tim Burton brought the musical to the movie screen garnering 3 Oscar nominations and winning 2 Golden Globes for Best Actor and Best Film!

Cast of Characters

Sweeney Todd…ROGER PINE
Mrs. Lovett…JASIA CORREA
Anthony Hope…CHRIS HALEY
Johanna…CHRISTINA FREEMAN
Tobias Ragg…DAVID MORENO
Judge Turpin…COREY BARRON
The Beadle…LUIS CODIZ
Beggar Woman…ADRIENNE DOBSON
Adolfo Pirelli/Ensemble…PAUL EARLY
Jonas Fogg…ZACH EFFIN BRATTIN
Company: Men, Women, Customers, Lunatics, etc.
ARMINEH DAVIS, AMY HENSS, DIANNA BESOSA, WHITNEY BOOTH, CYNTHIA BRADFORD, TAYLOR CHRISTENSON, KATHERINE MORGAN, STACY ERSKINE, SAMANTHA HELDMAN, HANNAH FERGUSON, ABI OXLEY, PRISCILLA VILLAREAL, REBECCA ROBERTS, STEPHANIE A. MCCARTNEY, JOANNA, MULLINS, ADRIENNE ROWELL, LILY VAN ZANDT, MIKE KILGORE, LUCAS DICKSON, HENRY BRADFORD, ZACH BRATTIN, ALAN G. BISNES, CHARLES GRAY, CALEB ELLIOT, TY ELLIOTT, MAX LAMPO, CHAZ MACKLIN, TYLER BRUFFETT, JOHN W. MCMULLIN
Click to view video feature at KAGS-TV, November 25, 2016
Click to view photo feature at The Eagle, Bryan-College Station, November 29, 2016
---
Sweeney Todd
by Stephen Sondheim
The Theatre Company
Fridays-Sundays,
November 18 - November 27, 2016
The Theatre Company
3125 S. Texas Ave., Suite 500
(behind Joann Fabrics in the Tejas Center)
Bryan, TX, 77802
Ticket information available at the website.
Sweeney Todd Mannequin Challenge