Nov. 20 - Jan. 03, 2015
Thursdays-Sundays
Celebrate the holidays with Robert Harling's wisecracking and wise southern comedy hit!
Fall in love with the ladies of Truvy's Beauty Salon all over again! The City Theatre proudly presents the holiday production of Robert Harling's comedic gem, Steel Magnolias. Under the direction of CTC Artistic Director Andy Berkovsky, performances begin November 20 through January 3rd at The City Theatre. Two shows Thanksgiving weekend, Saturday and Sunday, November 28th and 29th.
"If you can't find anything good to say about anybody, come sit by me." - Clairee
These humorous words of wisdom sum up Robert Harling's 1987 off-Broadway comedy sensation and subsequent smash film Steel Magnolias. Set in a beauty parlor in Chinquapin, Louisiana, the play illustrates how the lives of six distinctly different women interweave via the small town gossip that shadows the unending cycle of life, love, and laughter. The outspoken, wise-cracking Truvy dispenses shampoos and free advice to the shy yet determined Annelle, the curmudgeonly Ouiser, the eccentric yet sensible Miss Clairee, and the respected and admired M'Lynn and her daughter Shelby, the prettiest girl in town. Filled with hilarious Southern repartee and humorously revealing verbal collisions, the play draws on the town's underlying strength – and love – that gives the story and the characters the special qualities that make them truly touching, funny, and marvelously amiable company, in good times and in bad.
"I'm not crazy. I've just been in a bad mood for forty years!" - Ouiser
In 1987, when Robert Harling announced that he had written a play, his Louisiana parents were dumbfounded. A struggling New York actor with a never-used law degree, their son hadn't been known to compose anything more creative than a college term paper. Then there was his play's subject matter. Just six months after the death of his 32-year-old sister from complications of diabetes, Harling was telling the story of her death and transforming it into a comedy. "I don't think my family knew how to react," admits Harling. "It was sort of like, 'You've written a comedy about that?'" That was then. And now, Steel Magnolias has become one of the most widely produced plays of all time. Critics raved, calling the play "A joy" and "deeply moving and skillfully crafted." Harling went on to adapt the script into a screenplay for the film version with an all - star cast that included Julia Roberts, Sally Field, Dolly Parton and Shirley MacLaine. He later concentrated his work as a screenwriter, creating screenplays for the films The First Wives Club and the sequel to Terms of Endearment titled The Evening Star.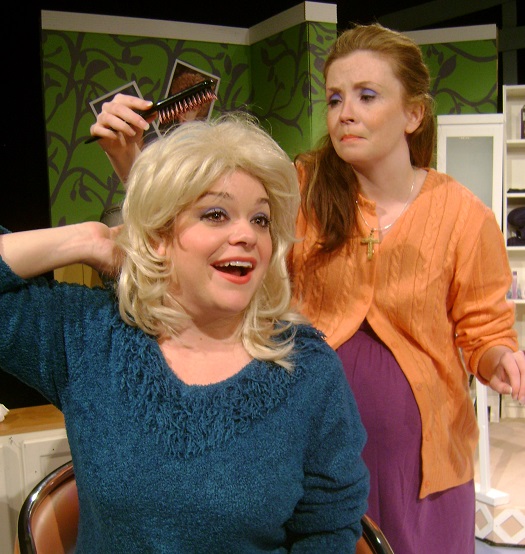 Artistic Director Andy Berkovsky celebrates his 37th year in theatre with Steel Magnolias, the seventeenth show he has directed for The City Theatre. Other CTC productions he has directed include the 2015 premiere Love Alone, Rumors, The Miracle Worker, Parallel Lives, Cabaret, Into the Woods, Frozen and the B. Iden Payne nominated Agnes of God, Glengarry Glen Ross and The Boys Next Door. The production features the talented cast of Samantha Brewer (Truvy), Heather Bullard (Annelle), Katie Brock (Clairee), Judith Laird (Ouiser), Tracy Hurd (M'Lynn) and Terah Risner (Shelby). The City Theatre Company is excited to be celebrating its 10th anniversary season of live theatre entertainment in Austin. CTC is an Austin-based, not-for-profit arts organization and is sponsored in part by the Austin Creative Alliance and the Austin Cultural Arts Division. Founded in 2006, the company has been recognized by the Austin Critics Table Awards, the B. Iden Payne Awards, the Central Texas Excellence in Theatre Awards, Austin Live Theatre, and has twice been voted "Best Theatre Company" by Austin American-Statesman's Austin 360. CTC is dedicated in providing quality theatrical experiences and entertainment for Austin artists and its community and continues the commitment to making productions accessible for everyone. CTC offers its discount ticket program with $10 Thursday seats and $12 student seats for any show. The ticket discount is available throughout the 2015-16 summer season.
---
Steel Magnolias
by Robert Harling
City Theatre Company
Thursdays-Sundays,
November 20 - January 03, 2015
November 20 – January 3. Thursdays - Saturdays 8:00 p.m. Sundays 3:00 p.m.
Two shows Thanksgiving weekend, November 28 and 29. No shows December 24 - 31
The City Theatre. 3823 Airport Blvd. 78722 – east corner of Airport Blvd. and 38 ½ Street.
General Seating $15. Guaranteed Front/2nd Row Reserved $20 - 25.
Students $12. Thursday all seats $10. Group discounts are available.
Reservations 512-524-2870 or info@citytheatreaustin.org