Santa Claus Conquers the Martians
by Overtime Theater
Nov. 27 - Jan. 02, 2015
Thursdays-Sundays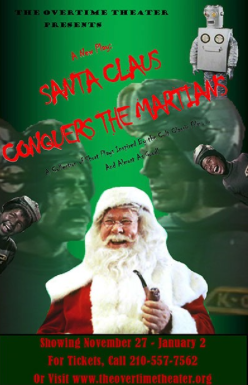 Santa Claus Conquers the Martians is a collection of shorts, presenting quirky variations of the already oddball cult film of the same name. It offers up wacky scenes of green-painted men, cardboard robots, Santa locked in a fierce dance-off, and a certain reindeer who may or may not be half-Martian. Featuring Deborah Basham-Burns, Catie Carlisle, Laura Epstein, Sean Koch, Robert Moritz, and Venny Mortimer, directed by Morgan Clyde.
Morgan Clyde has been an active member of the San Antonio theatre community for many years. A graduate of Harding University, she is well-trained in directing, acting, costume design, and stage combat. Santa Claus Conquers the Martians will be her twelfth time in the director's chair, her sixth at the the Overtime.
Richard David Anthony thought about Santa Claus conquering Martians and then had an idea for a scene that had the potential to be funny. He is a frequent volunteer both backstage and onstage at the Overtime and has been seen on many other stages around town.
Rudolf is Kareem Dahab's favorite Christmas character, so he threw Rudolf, Santa, some Martians and a lot of bad movie quotes in a blender, and created this script. While he is a frequent actor at the Overtime and many other theaters in San Antonio, this is Kareem's first piece to be performed at the Overtime.
From Wikipedia:
Santa Claus Conquers the Martians is a 1964 science fiction comedy film that regularly appears on lists of the worst films ever made. It is regularly featured in the "bottom 100" list on the Internet Movie Database, and was featured in an episode of the 1986 syndicated series, the Canned Film Festival. It was directed by Nicholas Webster, and it stars John Call as Santa Claus. It also includes an 8-year-old Pia Zadora playing the role of one of the Martian children and also marks the first documented appearance of Mrs. Claus in a motion picture (Doris Rich plays the role), coming three weeks before the TV special Rudolph the Red-Nosed Reindeer also featured the character.
The film took on newfound fame in the 1990s after being featured on an episode of the comedy series Mystery Science Theater 3000. The episode became a holiday staple on the Comedy Central cable channel in the years following its 1991 premiere. It has since found new life again, as it has been the subject of new riffing by Cinematic Titanic and RiffTrax, both productions of former MST3K writers and performers. The movie was also featured on the current run of Elvira's Movie Macabre.
[photo from Overtime Theatre, showing Robert Moritz, Laura Epstein, Venny Mortimer, and Deborah Basham-Burns]
[movie poster image via Wikipedia]
---
Santa Claus Conquers the Martians
by Richard David Anthony and Kareem Dahab
Overtime Theater
Thursdays-Sundays,
November 27 - January 02, 2015
November 27, 28, December 4, 5, 10, 11, 12, 17, 18, 19, January 1, 2 at 8:00 pm; December 6 at 2:30 pm and December 20 at 7:00 pm.