Jul. 24 - Aug. 22, 2015
Thursdays-Sundays
Jen discovers she is dying from Stage 4 cancer mid-pregnancy and seeks out help from a qi-gong master, by the name of Romeo Chang, to keep her alive long enough to have her baby. Romeo's quirkiness poorly hides a world-wearied sense of pessimism that causes a strain on Jen's hopes for success. Her distraught husband and stubborn father make matters more difficult with their inability to cooperate with each other as well as to come to terms with Jen's inevitable fate.
Barbara Blumenthal-Ehrlich's play is an emotionally powerful, beautifully poetic dark comedy with a hint of fantasy. It is a piece about parents and children, life and death, and the sacrifices made for others, even those who we haven't met yet.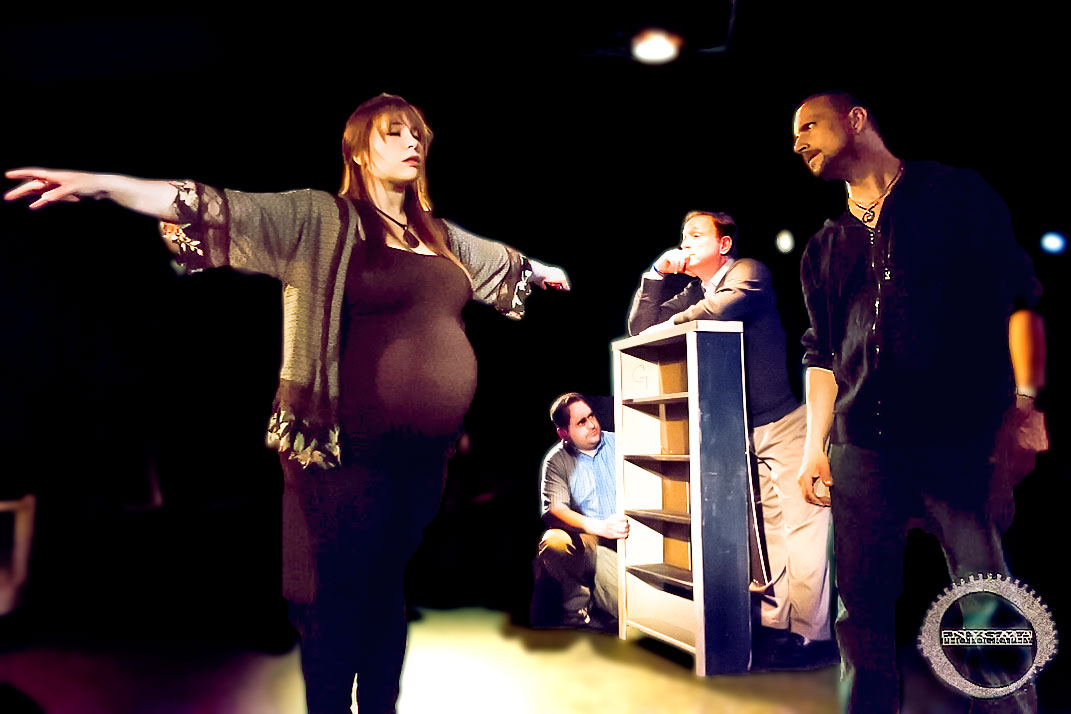 Barbara Blumenthal-Ehrlich's NYC productions include Absolute Flight: A Reality Show With Wings in the New York International Fringe Festival, Hitting The Wall at the Summer Play Festival, and Double Vision in the Fringe Encore Series. Regional productions include Still Life at Forward Flux Productions in Seattle, Big City at Trustus Theatre in Columbia S.C, Boy Girl Boy Girl at Trinity Rep in Providence, RI, Three a.m. at Fusion Theatre in Albuquerque, Rox-N, Miss Thang at Elephant Theatre in L.A., and The Woman With Orange Hands at Actors Theatre of Louisville. Her plays have been developed in NYC at Playwrights Horizons, Second Stage, Roundabout, Rattlestick, Women's Project, and more. She is published by Smith & Kraus and Indie Theatre Now, and has won or placed in the Woodward/Newman Drama Award, O'Neill Playwrights Conference, Sundance Playwriting Lab, Princess Grace Award, the Heideman Award, and the Six Women Playwrights Festival. For more information: barbarablumenthalehrlich.com. On Twitter @1BarbaraBE
Mark McCarver is delighted to make his debut with the Overtime Theater. Directing credits include End of the Rainbow at The Playhouse Cellar (co-directed with Tim Hedgepeth), Burn This at Proxy Theatre Company, The Children's Hour at Port City Playhouse, and the upcoming Bad Jews at the Sheldon Vexler Theatre. Acting credits include Corpus Christi (Judas Iscariot) at The Playhouse Cellar, A Chorus Line (Zach) at The Playhouse San Antonio, White Christmas (Bob Wallace) at the Woodlawn Theatre, The Lion in Winter (Geoffrey) at The Classic Theatre of San Antonio, Assassins (Balladeer/Lee Harvey Oswald) at the Sheldon Vexler Theatre, and the upcoming Two Rooms (Michael Wells) at Inception Theatre. Mark holds a BA in Drama from Trinity University and trained at the Syracuse University - London Drama Program and Shakespeare's Globe.
Cast: Jen: Desiree Chappelle
Tom: John Boyd
Sam: Byrd Bonner
Romeo Chang: John Lambert



---
Romeo Chang
by Barbara Blumenthal-Ehrlich
Overtime Theater
Thursdays-Sundays,
July 24 - August 22, 2015
Fridays and Saturdays at 8 p.m.; Thursdays, August 6 and 20 at 8 p.m. Sunday, August 2 at 2:30 p.m.; Sunday, August 16 at 7 p.m.