Feb. 26 - Mar. 19, 2016
Fridays-Sundays

Way Off Broadway Community Players presents the fourth show of our 19thth season, the Southern fried farce "Rex's Exes" by Jones/Hope/Wooten. The show is being directed by Tracy Cathey, assisted by Francine Barnes.
This deliriously funny Southern-fried farce finds the cousins of
Sweetgum, Texas
teetering on the brink of disaster. Gaynelle, frustrated and frazzled from working too many two-bit jobs, stubbornly refuses to face the fact she's turning the Big 5-0. In a misguided effort to lift her cousin's spirits, Peaches, who's stuck in a romantic dry gulch, is determined to throw her a surprise birthday party.
Jimmie Wy
, who recently opened her Specialty Bridal Boutique, reluctantly agrees to help Peaches with the surprise. But, Surprise! Nothing goes as planned! The hilarity escalates with many twists including the return of a recently declared dead husband, who has a bounty hunter hot on his trail, an unplanned family funeral and a bitter Aunt LaMerle who wants to exact her revenge before the dirt hits the casket. As the outrageous complications of this ferociously funny comedy explodes into chaos, you'll find yourself hoping your next family celebration—be it birthday, wedding or funeral—is even half this much fun!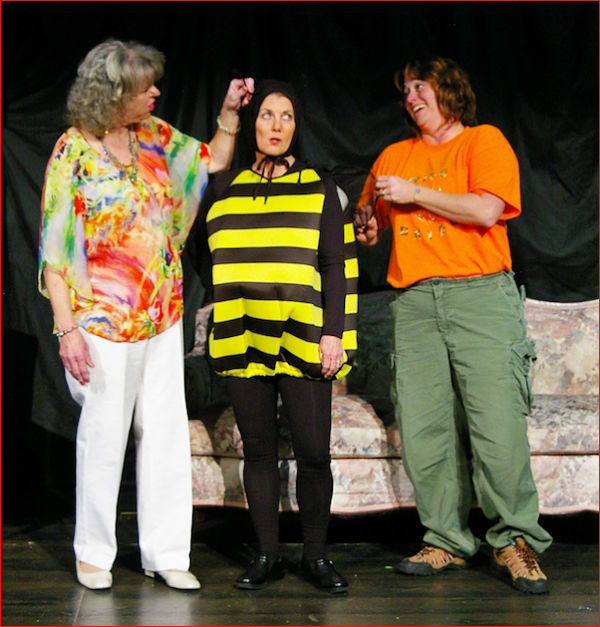 The Cast Includes:
Peg Sampson as Cee Cee Windham/Mama Doll Tamara Friedman as Gaynelle Verdeen
Jennifer Gonzalez as Jimmie Wyvette Verdeen Shelly Kelly as Peaches Verdeen Belrose
Suzane Redfield as LaMerle Verdeen Minshew Anne Bean as Bitsy Hargis
Kat Duprey as Gentle Harmony Robyn Conner as Marlissa Crutchfield
Glenn Aichlmayr as Aubrey Verdeen

Gary Dean Hamilton as Wild Bill Boudreaux
Bill Craig as Theodore Rexford Belrose
Francine Barnes Assist. Director
Lora Plaster Stage Manager
Jeremy Mielens

Lights and Sound
---
Rex's Exes
by Jones, Hope and Wooten
Way Off Broadway Community Players
Fridays-Sundays,
February 26 - March 19, 2016
Opening night is Friday, February 26, 2016 and runs February 26, 27, March 4, 5, 11, 12, 18 and 19 at 8 pm with our Sunday Matinee, March 6, 2016 at 3 pm.
Fridays and Saturdays at 8 p.m.; Sunday matinee at 3 p.m. on March 6, 2016
Tickets are $20 for adults, $15 for students (with ID), seniors (60 Plus), Military (with ID), and $10 for children (10 and younger). While tickets will be sold at the door, reservations are encouraged.
Way Off Broadway Community Players' theater,
located in building 4 of the 2243 Business Park at 11880 West Old FM 2243 in Leander, TX
1 mile west of Hwy. 183, just east of Bagdad Rd.
Way Off Broadway Community Players is continually searching for performers, technicians, and other volunteers of every experience level. Additional information is available at our website,
http://www.wobcp.org
Like us on Facebook. Get updates on auditions and show notices, learn more about the cast, and don't miss out on some great pictures. We're at: