Feb. 12 - Feb. 13, 2016
Friday-Saturday
Forklift Danceworks Gets Resourceful Through Their Partnership with Goodwill Central Texas in Their Brand New Performance: RE Source
The free performance celebrates the dedicated men and women who help keep one of the city's biggest donation centers humming along
"The people who work at the Goodwill Resource Center sort, process, and recycle nearly everything imaginable. In a way, the warehouse has a choreography all its own that extends out to Goodwill stores in Central Texas," says Krissie Marty, Associate Choreographer for Forklift Danceworks. "If your donation isn't sold in your local store, it makes its way to the Goodwill Resource Center where it does a kind of dance through the hands of these hardworking employees on its way to a new use. The movement and flow of one department directly affects another. Their hard work supports our material donations to Goodwill and the people and community they serve. I'm thrilled for our team to showcase this hard work and bring it to the attention of the Austin community."
Featuring Goodwill employees as the performers, RE Source will weave together choreographed movement drawn from the employees' everyday work into a series of vignettes. Warehouse equipment and machinery, including actual forklifts, will move through a one-of-a-kind set and lighting installation by Stephen Pruitt, accompanied by original live music by composer Graham Reynolds. Directed by Krissie Marty.
"When I walk the Goodwill Resource Center, which is several times a day, I'm acutely aware of the whole building and all of its moving parts. It's truly incredible to see everything working together harmoniously, like a perfectly timed clock," says Seth Greenwood, Dock Manager of the Goodwill Resource Center. "Working with Forklift Danceworks has already been an eye opener for employee engagement and has given them a new view of our day-to-day operations to improve, communicate and collaborate better. It's been so instructive on our own internal employee level; I hope our community will feel the same way when they see how the Goodwill Resource Center works."
The Goodwill Resource Center processes 1,200 tons of material a day and moves an average of 2.5 million pounds a month throughout recycling operation. In 2014, they achieved more than 84 percent diversion from landfill. Goodwill targets four populations with the highest unemployment rates in our community: those lacking skills or education, those facing homelessness, people with criminal backgrounds, and people with disabilities. Currently, The Goodwill Resource Center and Outlet employ 150 people, but the majority of job placements for people served are made externally, in the Central Texas community.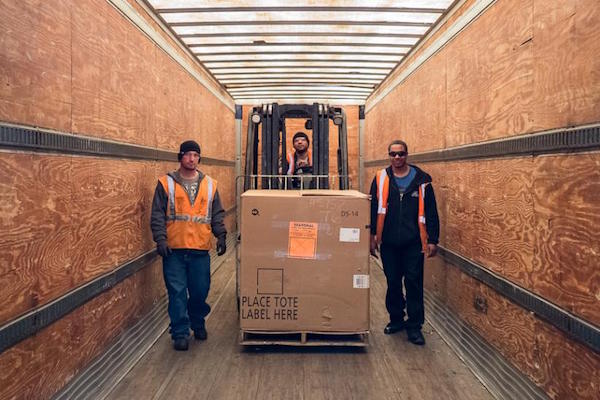 Forklift Danceworks is proud to announce that this project is supported in part by an award from Mid-America Arts Alliance, the National Endowment for the Arts, the Texas Commission on the Arts, and foundations, corporations and individuals throughout Arkansas, Kansas, Missouri, Nebraska, Oklahoma and Texas. Funding for RE Source has also been received from The Alice Kleberg Reynolds Foundation, Dell and Dell Reconnect, Butler Nonprofit Consulting, the Awesome Foundation, the Creative Fund and the Cultural Arts Division of the City of Austin Economic Development Department believing an investment in the Arts is an investment in Austin's future. For sponsorship opportunities and more information about RE Source visit, www.forkliftdanceworks.org/resource
ABOUT FORKLIFT DANCEWORKS
Founded in 2001 by Artistic Director Allison Orr, Forklift Danceworks actively engages wide and diverse communities through the creation of unique dance projects featuring all kinds of people. Using the movement that comes from daily life as the choreographic starting point while casting community members as the primary performers in these projects, Forklift aims to keep the community at the center of their art-making while presenting innovative and award-winning art projects to thousands of patrons.
Past Forklift productions include The Trash Project, the company's large scale-production with Austin Resource Recovery, which was named the year's #1 Arts Event upon its premiere. The company's work is consistently recognized by Austin critics. Allison Orr has been named the year's most outstanding choreographer by The Austin Critics Table three times and as the Austin Chronicle's "Best Movement Illuminator" in 2012. Forklift has garnered national attention with features in The New York Times, The Washington Post, Dance Magazine, Texas Monthly, BBC Radio, The National Geographic Channel, PBS and NPR.
Forklift's ongoing community-based educational programs serve people who may not have access to dance any other way. Focusing on programs for children from low-income backgrounds and adults with disabilities, Forklift's educational programs have served over 7,000 people since 2001. Through the company's unique style of community-based dance making, Forklift seeks to broaden access to contemporary dance, engage wide and diverse communities, and spark the creative spirit in everyone. More at www.forkliftdanceworks.org
---
Re Source
by Allison Orr and Good Will employees
Forklift Dance Works
Friday-Saturday,
February 12 - February 13, 2016
Goodwill Resource Center
6505 Burleson Road
Austin, TX, 78744
RE Source will be performed at 7pm on February 12 and 13, 2016, at the Goodwill Resource Center located at 6505 Burleson Rd, Austin, TX 78744. Reservations will be available on the Forklift Danceworks website.