Priscilla, Queen of the Desert
by Zach Theatre
Sep. 28 - Oct. 30, 2016
Wednesdays-Sundays
Priscilla Queen of the Desert, the Musical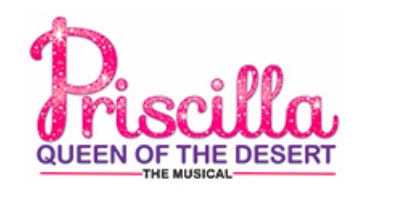 Book by Stephan Elliott and Allan Scott
Based on the Latent Image/Specific Films Motion Picture distributed by Metro-Goldwyn-Mayer Inc.
Directed by Abe Reybold
Musical Direction by Allen Robertson
The ZACH Theatre 2016-17 season celebrates a colorful kick-off with the Olivier and Tony Award-winning musical Priscilla Queen of the Desert, on stage in the Topfer Theatre September 28 – October 30, 2016 starring JOSH DENNING in the role of Tick, JACK DONAHUE as Bernadette, and ANTHONY VINCENT TOUDJEROV as Felicia.
Based on the hit 1994 film of the same name, Priscilla Queen of the Desert is the heartwarming, uplifting adventure of three friends from Down Under who journey through the Outback in search of love, friendship, and family. With hundreds of outrageous costumes and headdresses, and a playlist of dance floor hits including "I Will Survive," "Hot Stuff," "I Say A Little Prayer For You," and "I Love The Nightlife," this fresh and funny musical is a journey to the heart of FABULOUS! ZACH Theatre's production is directed by ZACH Associate Artistic Director ABE REYBOLD and features scenic and costume design in collaboration with Ogunquit Playhouse.
The cast of Priscilla Queen of the Desert also includes JACKSON BLACKWELL sharing the role of Benji; MICHAEL MILLER as Bob; CHANEL HAYNES-SCHWARTZ, SARA BURKE and ABENA MENSAH-BONSU as Divas; and KWAME MICHAEL REMY as Miss Understanding. The ensemble includes LARA WRIGHT, KIM STACY, STEPHEN ANTHONY DOMINGUEZ, REBECCA LEE LERMAN, NATHAN GARLAND, KIRK KELSO, SETH MARSTRAND, BOYCE TEMPLIN, KYLE KIRCHHOFF, HUNTER REGIAN, MICHAEL REYNA, DEVIN PRICE, ALAINA VI MADERAL and LESLIE HETHCOX.
Interview with Joshua Denning, Austin Entertainment Weekly
Priscilla Queen of the Desert is directed by ZACH Associate Artistic Director Abe Reybold (The King & I, Sophisticated Ladies, James and the Giant Peach) with Musical Direction by Allen Robertson (A Christmas Carol, Mary Poppins) and Choreography by Dominique Kelley (Sophisticated Ladies). STANLEY MEYER is the Scenic Designer; STEVE BAGLIO is Properties Designer; BARRY DOSS is Costume Designer with SERRET JENSEN as Hair and Makeup Designer; MATTHEW WEBB as Lighting Designer; CRAIG BROCK as Sound Designer with CATHERINE ANNE TUCKER and BRYAN BRADFORD as Stage Managers. This musical is based on the Latent Image/Specific Films Motion Picture distributed by Metro-Goldwyn-Mayer Inc. with a book by Stephan Elliott and Allan Scott.
Recommendation: Thirteen and older, includes adult language
Run Time: Approximate two hours and 20 minutes including one intermission
VISA and Capital Metro are the Leading Sponsors for Priscilla Queen of the Desert. James Armstrong and Larry Connelly are the Executive Producers and Austin Nites Party Bus is a Production Partner.
CAST
Josh Denning - Tick/Mitzi
Jackson Blackwell - Benji #1
Jack Donahue - Bernadette
Anthony Vincent Toudjerov - Adam/Felicia
Michael Miller-Bob
Chanel Haynes-Schwartz - Diva 1 / Ensemble
Sara Burke - Diva 2 / Ensemble
Abena Mensah-Bonsu - Diva 3 / Ensemble
Kwame Michael Remy - Miss Understanding
Lara Wright - Marion / Ensemble
Kim Stacy - Shirley / Ensemble
Stephen Anthony Dominguez - Jimmy / Ensemble
Rebecca Lee Lerman - Cynthia / Ensemble
Nathan Garland - Frank / Ensemble
Kirk Kelso - Ensemble (Pastor & u/s Bernadette)
Seth Marstrand - Ensemble
Boyce Templin - Ensemble (Farrah)
Kyle Kirchhoff - Ensemble (u/s Frank)
Hunter Regian - Ensemble (u/s Adam/Felicia)
Michael Reyna - Ensemble (u/s Miss U./Tick)
Devin Price - Ensemble (u/s Jimmy)
Alaina Vi Maderal - Swing
Leslie Hethcox - Swing
Production Team
Abe Reybold - Director
Allen Robertson - Music Director
Dominique Kelley - Choreographer
Stanley Meyer - Scenic Designer
Steve Baglio – Properties Designer
Barry Doss - Costume Designer
Serret Jensen - Hair and Makeup Designer
Matthew Webb - Lighting Designer
Craig Brock - Sound Designer
Catherine Anne Tucker - Stage Manager
Bryan Bradford - Takeover Stage Manager
About ZACH Theatre
A non-profit organization, ZACH creates intimate theatre experiences that ignite the imagination, inspire the spirit, and engage the community. As Austin's leading professional producing theatre, ZACH employs more than 300 actors, musicians, and designers annually to create its own diverse array of nationally recognized plays and musicals under the leadership of Producing Artistic Director Dave Steakley and Managing Director Elisbeth Challener. Each year, ZACH serves nearly 115,000 Central Texans – 55,000 of which are children and youth who participate in our education and outreach programs, as well as inspiring camps and classes. ZACH Theatre is honored to host private and community events across the beautiful rental-ready spaces on our three-stage campus located in the heart of Austin. Founded in 1932 and in its 84nd season, ZACH is the longest continuously running theatre company in the state of Texas, and one of the ten oldest in the country. Visit www.zachtheatre.org for more information.
ZACH Theatre's 2016-17 Season is sponsored in part, by AT&T, Austin Catering, Baylor Scott & White Health, H-E-B, Holiday Inn-Lady Bird Lake, Kirk Tuck Photography, Marquee Event Group, OnRamp Access, and Schlotzsky's; and by grants from The Shubert Foundation, the Junior League of Austin, The National Endowment for the Arts, Texas Commission on the Arts, and the Cultural Arts Division of The City of Austin Economic Development Department.
---
Priscilla, Queen of the Desert
by Stephan Elliott and Allan Scott
Zach Theatre
Wednesdays-Sundays,
September 28 - October 30, 2016
Tickets start at $25 and are available online at www.zachtheatre.org, by phone at 512-476-0541 ext. 1, or in person at the ZACH Theatre Box Office, in the Topfer Theatre, 202 South Lamar Blvd. (corner of Riverside Drive and South Lamar Blvd.) Monday through Saturday, 12 noon – 7 p.m. ZACH Theatre is wheelchair accessible. Discounts are available for groups of 8 or more. Student Rush Tickets are $18 one hour before show time (with valid ID).
Special events in celebration of Priscilla Queen of the Desert the Musical include:
GLBT Wilde Party Night: Thursday, September 29, 2016
Wednesday Post-Show Talkback – October 5, 2016
Sign Interpreted and Open Captioned Performance: October 5, 2016
Champagne Opening Night: Thursday, October 6, 2016
Z Lounge: Musical entertainment in the Topfer Theatre's Main Lounge.