Review: Priscilla, Queen of the Desert by Zach Theatre
by Brian Paul Scipione
How long does it take to become a classic?
Priscilla Queen of the Desert was first produced as an independent Australian film in 1994. In 2006, it was adapted for the musical stage and debuted in Sydney, Australia. It is the sweet story of a drag queen who is shocked to learn he has a son from his former life. In stereotypical fabulous style, he decides he can't just jump in the car and drive out and attempt to re-connect with his old/new family. His homecoming will be a musical lip syncing tour complete with one up-and-coming and one experienced artist from the genre: there is a fourth and titular character on the adventure with them, Priscilla, the garishly adorned pink tour bus.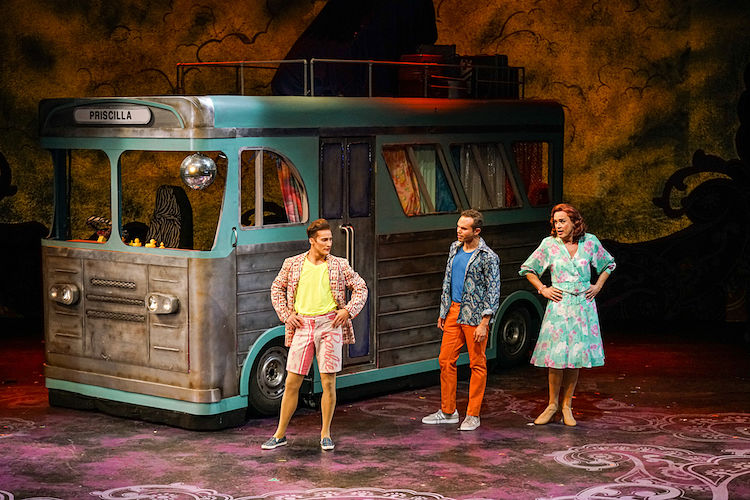 It is Pricilla's tendency to break down (a quality she shares with all the other members of the group) that interjects the biggest twist in an otherwise straight-forward journey. The men are stranded in a small town in the outback: a small town complete with small town character types. It is no surprise that while they do garner a bit of a following from some of the locals, most of the red-neck type characters are very unaccepting.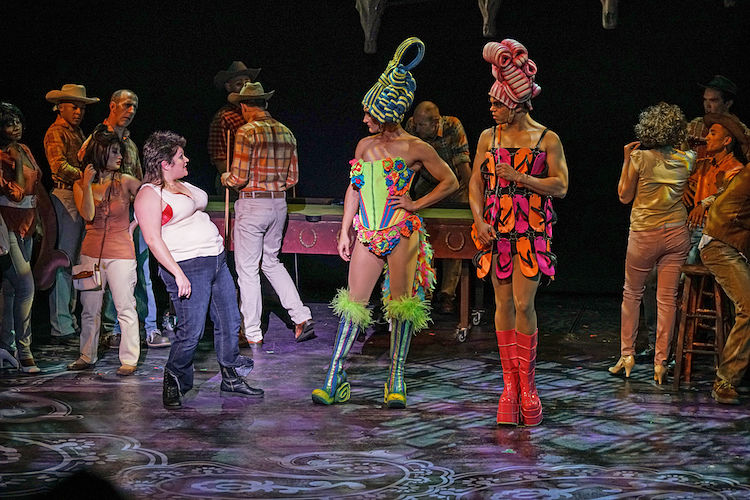 In this way, the stranding of Priscilla in the desert becomes a metaphor for the transgressional roles that society pushes people into when it does not accept them as they are. This issue is, unfortunately, still very topical today ten years after the premiere of the musical and nearly twenty-five years since the movie's release.
Zach's production is one of the first regional performances in the USA. So the answer to my original query, how long does it take to become a classic, is not easy to untangle. The film's cult status originated mere years after its release. The themes are, if anything, more relevant today. Through its ten years of life, the musical has travelled the world, making stops in the Philippines, Greece, Sweden and Korea. It has all the makings of a classic but in many ways it's still in its heyday.
The Austin debut only strengthens its legacy.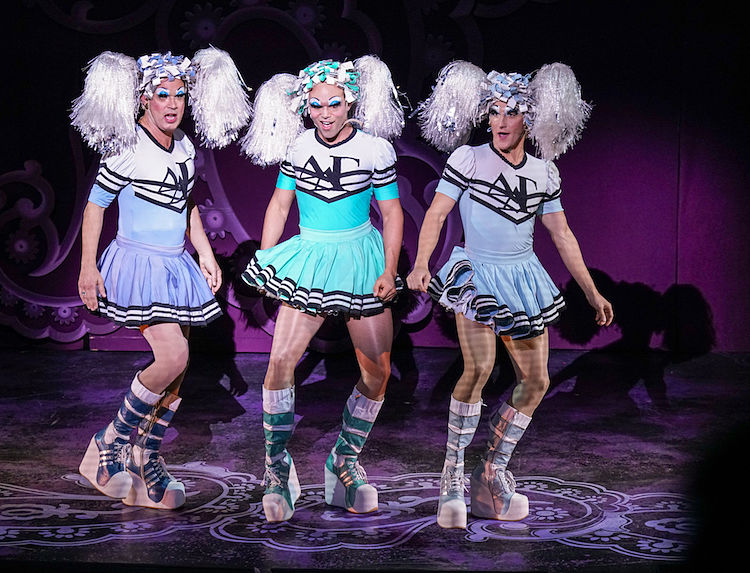 Director Abe Reybold writes in the program notes, "Those of you who know our Whisenhunt Stage wouldn't have recognized it as the seats were temporarily removed to make room for fitting and altering the over 500 costumes pieces, shoes, and wigs." This unseen back stage chaos translates into a dazzling on stage spectacle. Never has there been such a case where the term fabulous could not be over-used.
The principal actors are at times rowdy and uproarious but in quieter moments they are wistful and languorous, bringing the audience through the full gamut of human emotions. While most of the jokes can be considered stock, they're still alive and funny in the delivery. But let's face it: this production is about the music and the costumes, and these are certainly the strong suits of the cast and crew. Intensely elaborate and well-orchestrated, the production races along never allowing a dull moment (and sometimes not even a moment for the audience to catch their breath). As a gala season opener for Zach Theatre's newest season, Priscilla cannot be beat.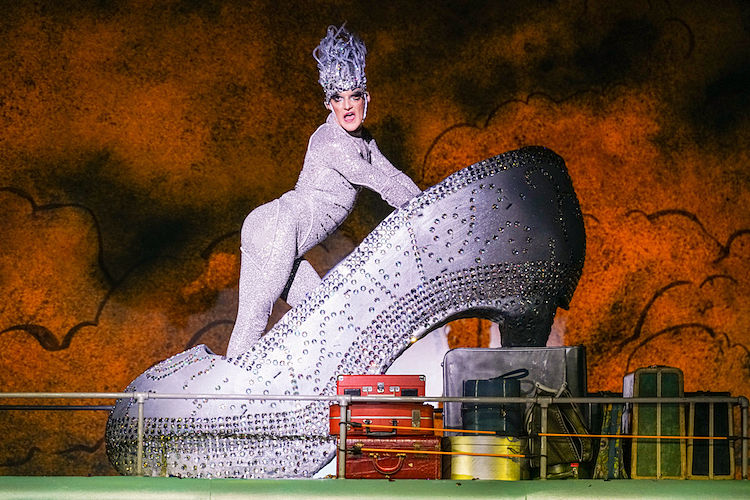 ---
Priscilla, Queen of the Desert
by Stephan Elliott and Allan Scott
Zach Theatre
Wednesdays-Sundays,
September 28 - October 30, 2016
Tickets start at $25 and are available online at www.zachtheatre.org, by phone at 512-476-0541 ext. 1, or in person at the ZACH Theatre Box Office, in the Topfer Theatre, 202 South Lamar Blvd. (corner of Riverside Drive and South Lamar Blvd.) Monday through Saturday, 12 noon – 7 p.m. ZACH Theatre is wheelchair accessible. Discounts are available for groups of 8 or more. Student Rush Tickets are $18 one hour before show time (with valid ID).
Special events in celebration of Priscilla Queen of the Desert the Musical include:
GLBT Wilde Party Night: Thursday, September 29, 2016
Wednesday Post-Show Talkback – October 5, 2016
Sign Interpreted and Open Captioned Performance: October 5, 2016
Champagne Opening Night: Thursday, October 6, 2016
Z Lounge: Musical entertainment in the Topfer Theatre's Main Lounge.