Nov. 10 - Nov. 20, 2016
Thursdays-Sundays
Six of the world's leading dramatists in partnership with six world-renowned scientists combined their talents to create an extraordinarily imaginative, theatrical, politically provocative response to the global food crisis.
Meet Ruth, who ignores her father's advice and spends her savings to establish an organic carrot farm in Colombia. Explore the powerful imagery of a single baguette. Consider what you might trade for a glass of water.
Mouthful offers an intimate and compelling exploration of the careful path we must tread in the face of rising populations and shrinking resources. Food for thought, indeed.

Featuring guest artists Jarrett King and Carla Nickerson

"Pulls out all the stops." The Times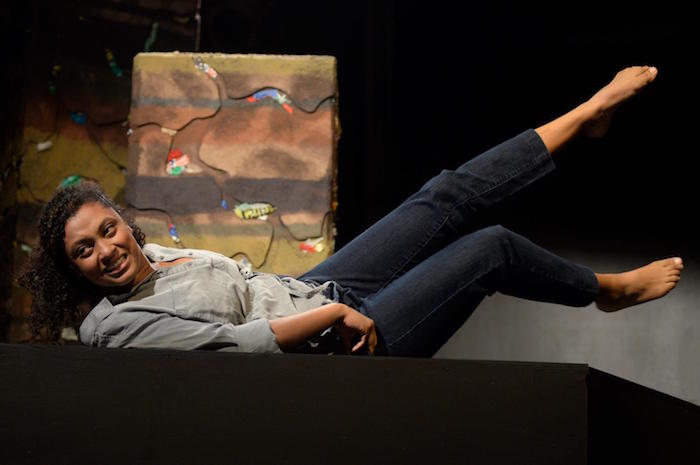 ---
Mouthful
by Inua Elams, Neil Labute, Lydia Adetunji, Bola Agbaje, Clare Bayley, Pedro Rozo
Mary Moody Northen Theatre
Thursdays-Sundays,
November 10 - November 20, 2016
Nov. 10 – 20, 2016
7:30 p.m. Thursdays–Saturdays
2 p.m. Sundays
WHERE: Mary Moody Northen Theatre
St. Edward's University
3001 S. Congress Avenue
Austin, TX 78704
Campus map: http://www.stedwards.edu/map/maincampus.
TICKETS: $25 Adult ($18 Students, Seniors, St. Edward's community)
MMNT Box Office: 512-448-8484
Online: www.stedwards.edu/theatre
Box Office Hours are 1-5 p.m. Monday–Friday
Student discount nights: November 11 and November 17, $10 with student ID
Please join us for added programming:
On November 11, local nonprofit agency Urban Roots will discuss ways to address some of Austin's most pressing food needs.
On November 17, Sustainable Food Center's Andrew Smiley leads a post-play Q&A.
Campus Ministry and MMNT host a food drive throughout the run of the show. Donate a non-perishble food item when you purchase your ticket and receive a $2 discount.