Review: Mouthful by Mary Moody Northen Theatre
by Michael Meigs
The collection of six short plays packaged as Mouthful and presented by the Mary Moody Northen Theatre at St. Edward's University in Austin is an odd assortment. Loosely themed to concerns about nutrition and the world food supply, this evening is more a potluck than a smörgåsbord. A potluck meal usually unites the like-minded around a meal that's anything but predetermined, often with dishes of varied quality and appeal, while the classic Scandinavian smörgåsbord presents an extensive collection of varied but highest quality dishes often prepared by the experienced culinary team of a single kitchen.
With that thought one might be tempted to identify the precise dish with which to qualify each of these one-acts. That would require a more sardonic character than my own, and it would waste your time and mine. My concern is the nearly complete failure of 5 of the 6 playwrights to craft a story with believeable characters that combine to deliver the intended message.
Director Aleandra B. Shaw provides the background: "Mouthful. . . is a theatrical work by six playwrights hailing from Nigeria, Colombia, the United Kingdom and the United States [. . . .][who] collaborated with scientists to each investigate an element of our global food crisis." The pedagogic intent is manifest, and in fact it coincides wth teaching themes St. Ed's is presenting to this year's incoming new students.
By far the most successful is Clare Bayley's The Protectors, set in a dystopian future where 'real' food has been all but suppressed by nameless forces, presumably evil corporations (Monsanto, anyone?). Bayley creates characters with depth and emotion -- a mother (Carla Nickerson) and her impatient, indifferent, somewhat rebellious daughter Dinah (Jessica Thompson) who have journeyed to a remote corner of the world where agricultural preservationist Ikka (Jarrett King) is hiding. He's dedicated to the clandestine and presumably illegal cultivation of potatoes. We see and quickly appreciate the relationship of mother and daughter, as tense as it is, and we witness the girl's gradual graspling of this literally underground activity. Dialogue is elliptical but revelatory, and each character is deftly drawn. Bayley doesn't push our noses into the future horror but instead gradually reveals the scope and reality of the situation. We learn as Dinah learns. The women's visit unintentionally calls down catastrophe, revealing the whereabouts of this resistence movement. The ominous beat of distant helicopters grows louder as this little family tries to elude summary execution -- and as Dinah gets her first taste of food actually grown in the earth.
Bola Agbaje's Chocolate is a trifle -- okay, I promised to avoid food analogies, but I'm not referring to the English dessert. Sierra Boudoin and Jackson Prat play a pair in which each has a food obsession. Rashida (Boudoin) is a chocoholic who won't be talked out of her obsession, while Steven's a diligent physical culturalist insistent on the purest organic non-GMO nutritionally sanctified food. She takes her choco-pleasure while he winds up clutching a whirling blender full of green paste.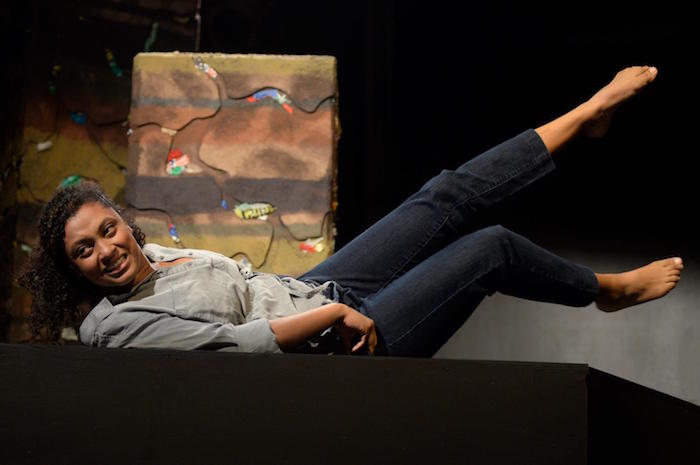 A similarly cheerful number is the 'bite-sized' musical that opens the second half. Try Me is about entomophagy -- the consumption of insects as food. Lyrics by Poppy Burton-Morgan are mostly drowned out by the music, but Benjamin Taylor Ridgeway's costuming is fabulous, an eye-popping mix of colors and fantasy costumes that might have been imagined by Peter Max. Those many-tone high-heel shoes practically danced by themselves.
Each half of the evening is weighted with a scenario in which naïve young persons are set in situations where they witness for the first time the savagery of warfare and the misery of grinding poverty in undeveloped regions. Pedro Miguel Rozo's Organica has a foolishly prating well-off young locavore foodie (Luxy Banner) purchase a remote plot for subsistence farming, only to learn of mass graves and killings there. A scarcely explained 'peace process' gives the authorities the excuse to look the other way. Inua Ellams' Turned offers the ideological conversion of a young British soldier and the story of a brilliant young African man who fled the affluence of a London university to join fighters resisting exploitation of their starving villages by corrupt officials and commercial interests. The effort in each of these one-acts is to feed the audience with the appalled indignation felt by the protagonists. We're reminded of our mindless acceptance of our own affluence. The writing is not impressive. Turned provides Equity actor Carla Nickerson a rich opportunity to portray the baleful, injured dignity of a village mother whose life has been destroyed. David Herrera as the soldier tells a largely unconvincing story suggesting that his brilliant African friend was driven from the West by a brief moment of homoeroticism. Herrera has a sombre sincerity. Considering the resources available to the producing theatre, it was odd that no one worked with him so he could tell the shaggy dog story in at least a faint semblance of some UK accent.
For those two scenarios I'd much rather have attended and absorbed a story placed entirely in the depicted milieu. The playwrights seem to have been more intent on making audience members shift uneasily at the sins of colonialism and discomfits of world poverty rather than creating credible characters (Nickerson's village woman is the honorable exception). Those situations are far more complex. The West shares the blame, certainly, but not in greater degree. I speak as a person who lived in Africa for twelve years and in Latin America for seven.
The last of these entertanments is anything but. U.S. playwright Neil Labute has regularly put profound misogynism on the stage and has made it pay for him. Other plays of his at least have a dark, searng wit. 16 Pounds, the piece he delivered for this commission, is grim, joyless, not credible and not instructive. It is a rant and an extended exercise in humiliation with virtually no story or plot. Jarrett King as Didi (!) is the supplicant, virtually voiceless, who has stood in some long unexplained line to endure accusations by an arrogant unexplained private individual in order to receive a gift of two gallons of water -- 16 pounds. The world's water is gone, this is the last source, and humans have committed unimaginable -- entirely unbelievable -- atrocities for something to drink. I disliked the text and despised the playwright both for his arrogant disregard for plot and for his patent thesis that human beings are irredeemably evil and selfish. Michlynn Langlois as Gogo (!) the foul tempered dispenser of water, meets the challenge, womans up, sneers and berates and brings her despicable character fully to life. LaBute's irrelevant naming of these fleshless characters after those in Beckett's enduring play about waiting, abandonment and nothingness is, as you might expect of LaBute, an act of sneering cultural appropriation.
EXTRA
Click to view the program for Mouthful by Mary Moody Northen Theatre
---
Mouthful
by Inua Elams, Neil Labute, Lydia Adetunji, Bola Agbaje, Clare Bayley, Pedro Rozo
Mary Moody Northen Theatre
Thursdays-Sundays,
November 10 - November 20, 2016
Nov. 10 – 20, 2016
7:30 p.m. Thursdays–Saturdays
2 p.m. Sundays
WHERE: Mary Moody Northen Theatre
St. Edward's University
3001 S. Congress Avenue
Austin, TX 78704
Campus map: http://www.stedwards.edu/map/maincampus.
TICKETS: $25 Adult ($18 Students, Seniors, St. Edward's community)
MMNT Box Office: 512-448-8484
Online: www.stedwards.edu/theatre
Box Office Hours are 1-5 p.m. Monday–Friday
Student discount nights: November 11 and November 17, $10 with student ID
Please join us for added programming:
On November 11, local nonprofit agency Urban Roots will discuss ways to address some of Austin's most pressing food needs.
On November 17, Sustainable Food Center's Andrew Smiley leads a post-play Q&A.
Campus Ministry and MMNT host a food drive throughout the run of the show. Donate a non-perishble food item when you purchase your ticket and receive a $2 discount.